SenseCAP Sensor Hub 4G Industrial-grade Data Logger
$38200

$382.00

Save $68

(Exc. GST)
---
Available in stock
---
$ We Ship from our stock in AU (Perth) with pickup option, and Prices are Exc. GST
$ We Offer Quantity Discounts for Large Orders 10+ qty (Request for Quote)
$ We Accept Purchase Orders & Net 30 Payment for Eligible Accounts
SenseCAP Sensor Hub 4G Industrial-grade Data Logger 
with MODBUS-RTU RS485 protocol
An easy-to-deploy, industrial-grade 4G cellular station, Sensor Hub uses the MODBUS-RTU RS485 protocol to communicate with sensors and is able to collect various sensor data simultaneously. IP66-rated, waterproof and dustproof, Sensor Hub 4G Data Logger is suitable for long-term, reliable outdoor applications such as in smart agriculture, smart weather stations and smart city, etc.
Features
Support collection of various environmental data simultaneously
Support local storage of data
Support using with standard MODBUS-RTU RS485 sensors
Support uploading data to any server (SenseCAP Server / User's private server)
Support 4G/3G/2G communication, supporting global LTE frequency band
Built-in GPS positioning function
Support remote upgrade and maintenance
Two power supply options available: DC only, built-in rechargeable battery
Easy to install and deploy, without requirements of engineering background
Industry standards, suitable for harsh outdoor environments
SenseCAP Sensor Hub is a powerful 4G data logger that can connect to a maximum of 32 RS-485 sensors. It is designed with industry standards, robust and stable. IP66 rated, waterproof and dustproof, it is highly suitable for long-term remote environmental monitoring in outdoor application scenarios.
Sensor Hub Data Logger is an easy-to-deploy 4G cellular station. It uses the MODBUS-RTU RS485 protocol to communicate with sensors and is able to collect various sensor data simultaneously.
Sensor Hub consists of 4 RS485 data channels. With extension hubs / RS485 splitters, it can connect with a maximum of 32 sensors at one time. The data is collected and sent to the cloud (either to the SenseCAP server or the client's private server) via 4G/3G.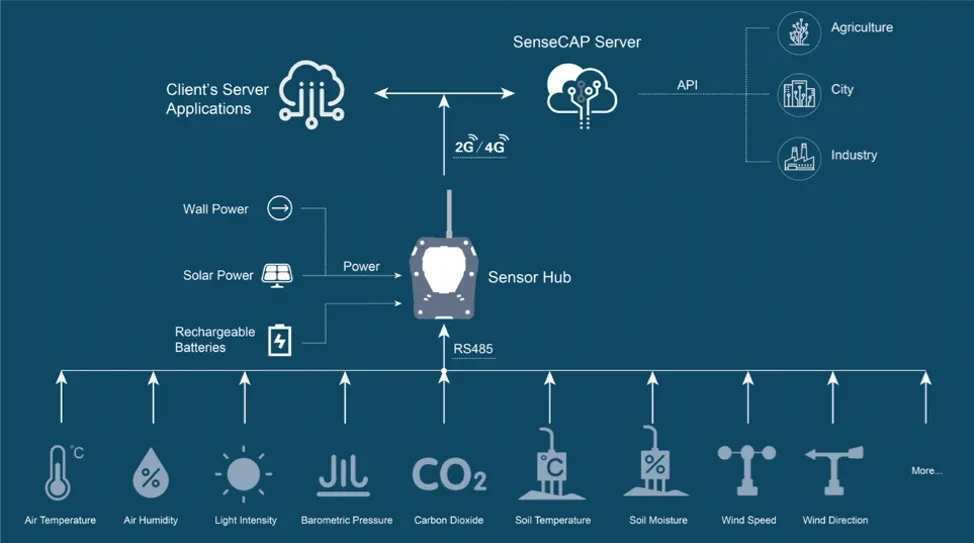 (SenseCAP Sensor Hub system architecture)
Designed with industry standards and IP66 rated, Sensor Hub is suitable for outdoor and harsh environments, resistant from UV, rain, and dust, etc. GNSS is embedded for location tracking.
Sensor Hub is also equipped with 10MB onboard memory, to store more than 700,000 measurements locally in case of a bad connection. For the version with a built-in rechargeable battery, the large-capacity lithium battery ensures the devices work for up to 2 weeks after a power outage or during rainy weather.
Designed with an easy-to-deploy mindset, Sensor Hub can be deployed and set up within a few minutes. It is fit for both pole and wall mount.
We also provide software and cloud services for quick configuration, making it easy to deploy Sensor Hub and manage devices and data:
SenseCAP Sensor Hub 4G Data Logger can work with any sensors that support MODBUS-RTU RS485 protocols. And we also provide a wide range of industrial-grade RS485 sensors for your selections.
Applications
Other wireless Sensing Applications

---
We Also Recommend