Phidget Wi-Fi USB Adapter 802.11b/g - 3702_0
Phidget Wi-Fi USB Adapter 802.11b/g - 3702_0
This wireless adapter will allow your SBC to connect to a wireless network. Recommended for the PhidgetSBC2.
The wireless USB adapter comes with a removable antenna and is fully compatible with 802.11b/g Wi-Fi standards. We ran throughput tests on this adapter running on the 1073 - PhidgetSBC3 using the Iperf network testing tool. At a range of approximately 10 meters through walls in our office, an average of 4.17 Mbps was recorded. Throughput depends on many variables including the performance of the computer running it and the operating system being used. You can read more of the test results here.
Antenna
This compact 2.4GHz omnidirectional Wi-Fi antenna provides broad coverage and 3 dBi gain. It is a coaxial sleeve design with an omnidirectional pattern.
This flexible antenna features a tilt-and-swivel reverse-polarity SMA connector, allowing them to be used vertically, at a right angle, or any angle in-between.
Packaging
The Wi-Fi comes packaged in a resealable plastic bag and includes:
A Wi-Fi dongle adapter
An RP-SMA Antenna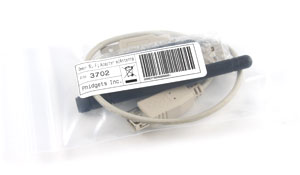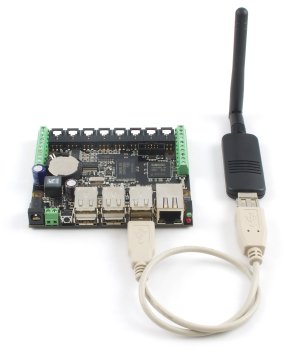 ---
We Also Recommend