5G NB IOT CLICK MikroElektronika Cellular Module
$6700

$67.00

Save $27

(Exc. GST)
---
Available in stock
---
$ We Ship from our stock in AU (Perth) with pickup option, and Prices are Exc. GST
$ We Offer Quantity Discounts for Large Orders 10+ qty (Request for Quote)
$ We Accept Purchase Orders & Net 30 Payment for Eligible Accounts
5G NB IOT CLICK MikroElektronika Cellular Module
5G NB IoT Click is a Click board™ based on Gemalto's Cinterion® ENS22 NB-IoT Wireless Module platform that boosts highly efficient future 5G connectivity for the IoT. The 5G NB IoT click combines single mode NB-IoT connectivity with extreme power efficiency, extended coverage range and advanced security features providing steadfast reliability for data only solutions. The module offers built-in internet services, protected by an enhanced security concept.
5G NB IoT Click board™ is supported by a mikroSDK compliant library, which includes functions that simplify software development. This Click board™ comes as a fully tested product, ready to be used on a system equipped with the mikroBUS™ socket.
HOW DOES IT WORK?
The Gemalto Cinterion® ENS22 IoT wireless module marries future 5G connectivity with expanded coverage and enhanced security features to connect and protect industrial IoT solutions. Delivering data speeds up to 27 Kbit/s downlink and 63 Kbit/s uplink, the ENS22 IoT module is ideal for long life data-only solutions such as utility meters and smart city solutions.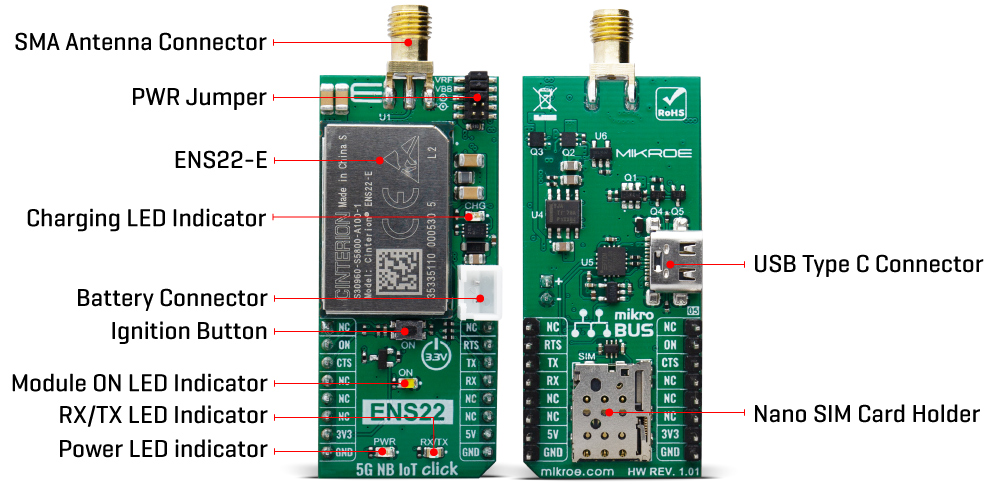 5G NB IoT Click features an integrated NB-IoT transceiver, multi-band mobile cellular devices. The module can operate over 698-960 MHz and 1695-2180MHz with a 200 kHz system bandwidth. It is designed to communicate with mobile network operator (MNO) infrastructure equipment using the 3GPP NB-IoT radio protocol.
The Cinterion ENS22 IoT module platform offers a suite of NB-IoT connectivity solutions optimized specifically for IoT applications and prepared to support release 14 without the need to migrate to a new chipset. It delivers Five Band LTE (3, 5, 8, 20, 28) connectivity with deep indoor coverage and extended range in rural areas. The module offers a built-in IP stack which supports a range of internet services protected by an enhanced security concept.
Incremental Firmware Over The Air (FOTA) updates allow revision of only the portion of code that needs updating, saving power and bandwidth to extend the life span of IoT solutions. The module's simplified power supply design and advanced management system extends battery lifetime and improves TCO.
This Click board™ is equipped with the USB type C connector. It allows the module to be powered and configured by a personal computer. The FT230X IC requires drivers in order to work. FTDI offers drivers for all major OSes on their official driver download web page. Also, Windows OS drivers are included in the download section, below.
5G NB IoT Click have fully-integrated Li-Ion or Li-Polymer battery charger witch in combination with module up to 10 ~ 15 years of battery life allow user using it completely standalone and battery powered ony.
J1 jumper can be used for power consumption monitoring.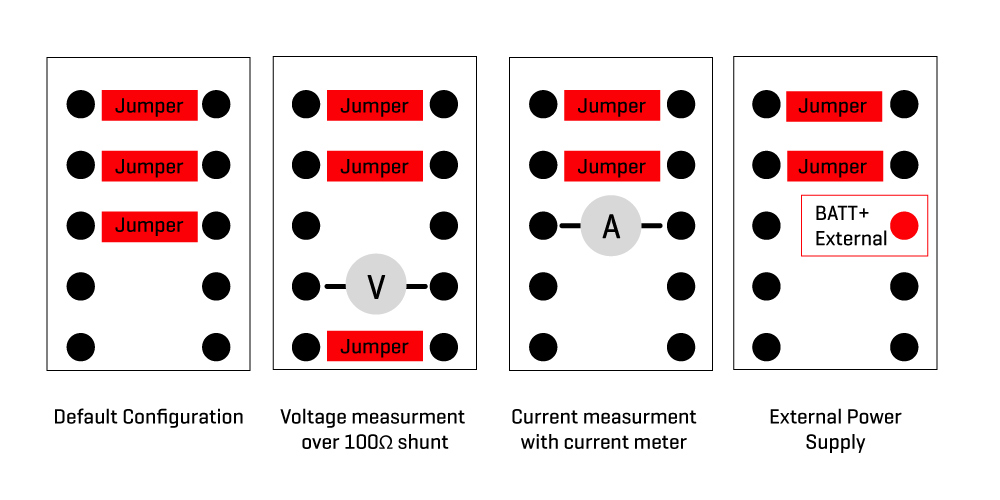 SPECIFICATIONS
| | |
| --- | --- |
| Type | LTE IoT |
| Applications | 5G NB IoT click is ideal for stationary IoT applications that send data only at intermittent intervals such as metering and smart city applications |
| On-board modules | ENS22 |
| Key Features | Optimized specifically for IoT applications, Five Band LTE (3, 5, 8, 20, 28) connectivity with deep indoor coverage and extended range in rural areas, a built-in IP stack which supports a range of internet services protected by an enhanced security concept |
| Interface | UART,GPIO |
| Compatibility | mikroBUS |
| Click board size | L (57.15 x 25.4 mm) |
| Input Voltage | 3.3V,5V |
RESOURCES
DOWNLOADS
---
We Also Recommend