Industrial RS485 to 4G LTE WiFi Modem Router GW-R4513-AU
$13500

$135.00

Save $47

(Exc. GST)
---
Available in stock
---
$ We Ship from our stock in AU (Perth) with pickup option, and Prices are Exc. GST
$ We Offer Quantity Discounts for Large Orders 10+ qty (Request for Quote)
$ We Accept Purchase Orders & Net 30 Payment for Eligible Accounts
Industrial RS485 to 4G LTE WiFi Modem Router GW-R4513-AU
Freq. Bands: B1-B2-B3-B5-B7-B8-B28 (Telstra and all other AU providers)
GW-R4513 is a 4G LTE wireless router with the functions of RS485 to 4G transmission, which provides users with an industrial 4G router and DTU integration solution.
It adopts the high-performance embedded system and provides reliable data transmission for the various industrial control and monitoring.

List of LTE networks: https://en.wikipedia.org/wiki/List_of_LTE_networks
Features:
1 wired LAN ports, 1 wired WAN ports (WAN ports can be switched to LAN ports).
Support WIFI wireless 802.11b/g/n.
Support multiple LED communication indicators.
SSH, TELNET, Web multi-platform management configuration mode 
One button to restore factory settings. 
The wired net ports support 10/100Mbps rate.
VPN Client (PPTP/L2TP/IPSEC/GRE/OPENVPN/SSTP) and supports VPN encryption and static IP functions.
Supports APN automatic checking network, 2/3/4G system switching, SIM information display, support APN/VPDN special network card.
Supports for wired wireless multi-network simultaneous online and multi-network intelligent switching backup function.
Remote upgrade and remote monitoring.
Dynamic Domain Name System (DDNS), Static Routing, PPPOE, DHCP, Static IP Function.
Supports mandatory portal (WIFIDOG), this function needs to be customized according to customer needs.
Supports the firewall, NAT, DMZ host, access control black-and-white list, IP speed limit, NTP, MAC speed limit.
Support SMS AT command.
Supports 4 network work mode: TCP Server, TCP Client, UDP Server and UDP Client.
Every connection supports 20KB serial data cache. When the connection is abnormal, cached data can 't be lost.
Support for sending registration package/heartbeat data.
Support network transmission mode, HTTPD mode, UDC mode and USR-Cloud.
AT command.
Supports external hardware watchdog design to ensure system stability.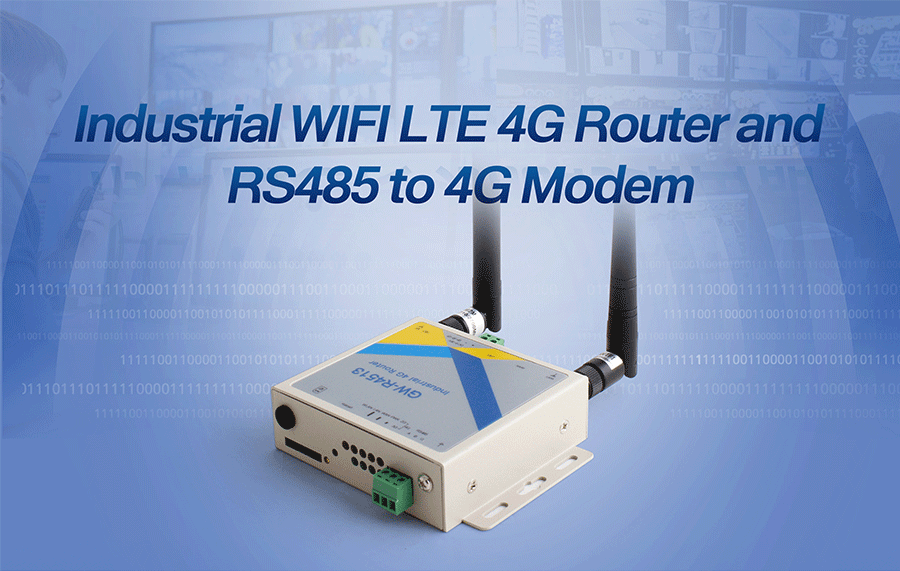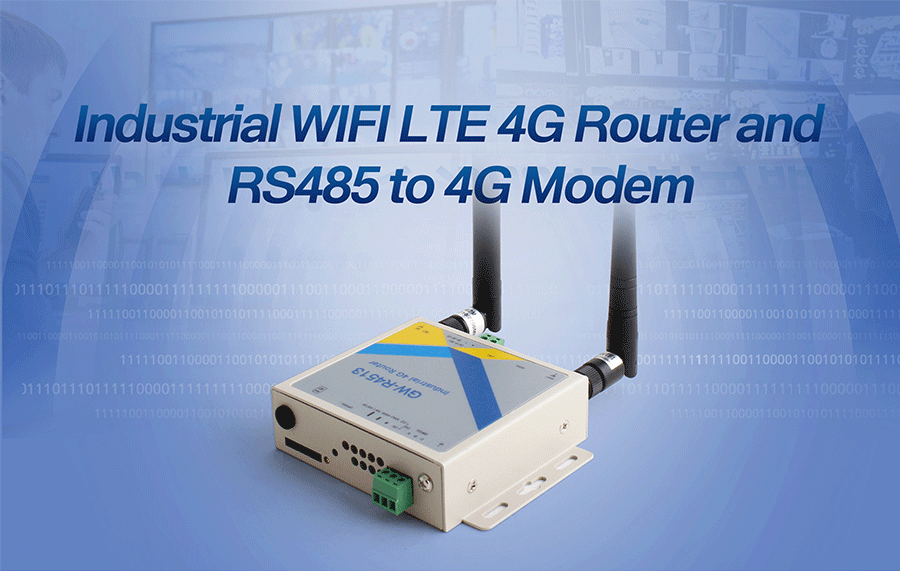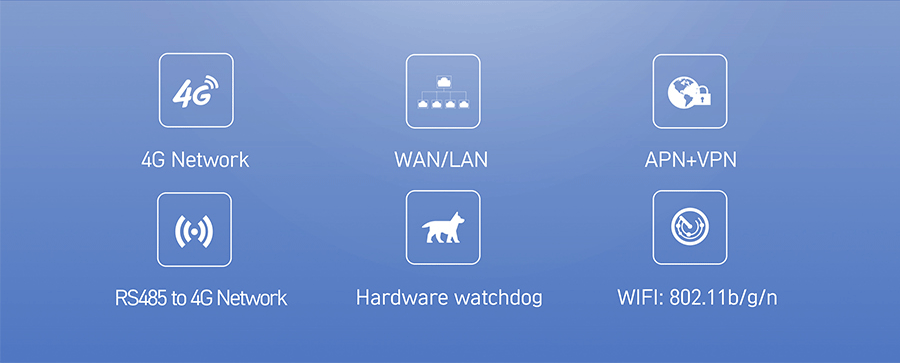 4G parameters

Standard

TD-LTE

GSM/GPRS/EDGE

Frequency band of GW-R4513-E

(European version)

Band 38/39/40/41

Band1/3/5/7/8/20

Band1/5/8

GSM/GPRS/EDGE

Band 3/8

Frequency band of GW-R4513-AU

(Australian version)

Band40

Band1/3/4/5/7/8/28

Band1/2/5/8

GSM/GPRS/EDGE

Band 2/3/5/8

Transmit power

+23dBm(Power class 3)

+23dBm(Power class 3)

+24dBm(Power class 2)

GSM Band8

+33dBm(Power class 4)

GSM Band3

+30dBm(Power class 1)

TD-LTE

3GPP R9 CAT4 down 150 Mbp

up 50 Mbps

 

Technical specifications

3GPP R9 CAT4 down 150 Mbp

up 50 Mbps

HSPA+ down 21 Mbps

up 5.76 Mbps

3GPP R9 down 2.8 Mbps

up 2.2 Mbps

down 3.1 Mbps up 1.8 Mbps

GSM/EDGE

MAX: down 384 kbps up 128 kbps

Function

DDNS

Support

APN

Support

VPN

Support

Port mapping

Support

Firewall

Support

Intelligent backup

Support

RS485 to 4G Data transmission

Support

Net /WIFI

LAN Port

1

WAN Port

1

Ethernet port rate

10/100M

RS485

Support

Electromagnetic isolation protection

1.5KV

Automatic switching between crossover and direct connection

1

TBD

1

Power

VCC

9V-36V

Working current

Average 270mA/max 400mA/12V

Power interface

DC

Power protection

Anti reverse connection

Interface

Antenna

WIFI Antenna x 1, 4G antenna x 1

Status lamp

signal intensity/4G/WIFI/LAN/WAN/power

Software

V-COM

Windows 2000 (32 or 64 bit)

Setting method

Webpage, support SSH, telnet ,GW-R4513 setting software

Work environment

Work temperature

-20~75c

Storage temperature

-40C~125C

Storage humidity

1%~95%RH(non condensation)
Note: This kit includes all antennas and AU Power Adapter.
---
We Also Recommend