MINI-32 for PIC32MZ - MikroElektronika PIC32 Development Board
MINI-32 for PIC32MZ - MikroElektronika PIC32 Development Board
MINI-32 for PIC32MZ is a small PIC32 development board containing the PIC32MZ microcontroller (1 MB Live-Update Flash and 512 KB SRAM) with FPU from Microchip.
This compact and powerful development board is designed to work as a standalone device or as an MCU card in DIP40 socket.
MINI-32 for PIC32MZ development board operates on a 3.3V power supply. The onboard voltage regulator allows the board to be powered directly from the USB cable.
What's on board
All these features make the MINI-M3 for PIC32MZ a small and efficient development system: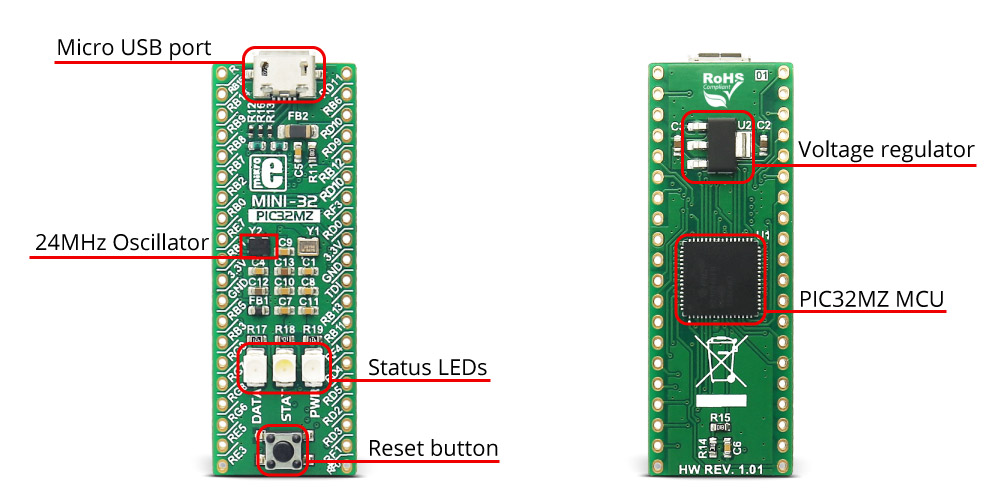 USB HID bootloader
MINI-32 for PIC32MZ is pre-programmed with USB HID Bootloader so it is not necessary to have an external programmer.
Microcontroller features
This 32-bit (1 MB Live-Update Flash and 512 KB SRAM) microcontroller with FPU is rich with on-chip peripherals.

The PIC32MZ EF family features high core performance up to 200 MHz, an integrated Floating-Point Unit (FPU), a wide selection of peripherals and excellent connectivity options including Controller Area Network (CAN).
Onboard oscillators
The board is equipped with a 24MHz crystal oscillator and 32.768kHz crystal which can be used for internal RTCC module.
Key features
PIC32MZ microcontroller

512 KB SRAM
1 MB Live-Update Flash

Pre-programmed with Bootloader
3.3V power supply
---
We Also Recommend