1 Port Serial RS485 Modbus to Ethernet Converter MQTT Gateway USR-N510-MQTT
1 Port Serial RS485 Modbus to Ethernet Converter MQTT Gateway USR-N510-MQTT
1 port RS485 Ethernet device servers USR-N510-H7-4 can realize bi-directional transparent transmission between RS485 and the network.

● 1-port 485 Ethernet device servers
● Power supply accepts a wide voltage input range DC 5-36V
● Modbus Gateway: Modbus RTU to Modbus TCP, Modbus Polling
● Support flow control XON/XOFF
● Configuration via Web Server page, AT commands, and Windows Utility
● MQTT/SSL/Modbus RTU to JSON/SNMP/Telnet/Edge Computing(Special firmware, contact sales)
Specifications
System Information
Processor
ST Cortex-M7
Basic Frequency
400MHz
Flash
128K+4M byte
Ethernet
Port Number
1
Interface Standard
8 pin RJ45
Rate
10/100 Mbps, MDI/MDIX, auto switch between cross and direct connection
Protection
2KV electromagnetism isolation, shell insulation blocking
Network Protocol
IP,TCP,UDP,DHCP,DNS,HTTP,ARP,ICMP,Web socket,Httpd client
Receive Buffer
Max 16k bytes buffer
Serial
Port Number
1
Interface Standard
RS-485: 2 wire (A+,B-) Half-Duplex
Data Bits
7,8
Stop Bit
1,2
Check Bit
Even,Odd 
Baud Rate
600bps ~ 921600Mbps
Flow Control
XON/XOFF
Buffer
Send and receive 4k bytes respectively
Protection
RS-485: anti-static 2KV,lightning protection
RS-485 Pull-up and Pull-Down Resistor
2.2 KΩ
Software
Virtual Serial(USR-VCOM)
Windows 2000 or higher(32 bit/64 bit)
Configuration
Built-in webpage, computer set-up software, serial command
Basic Parameter
Size
88 x 81 x 24 mm
Operating Temp.
-40 ~ 85°C (industry)
Storage Temp.
-40 ~ 85°C, 5 ~ 95% RH (no condensation)
Input Voltage
DC 5 ~ 36V
Working Current
53mA @ 12V
Power
<1W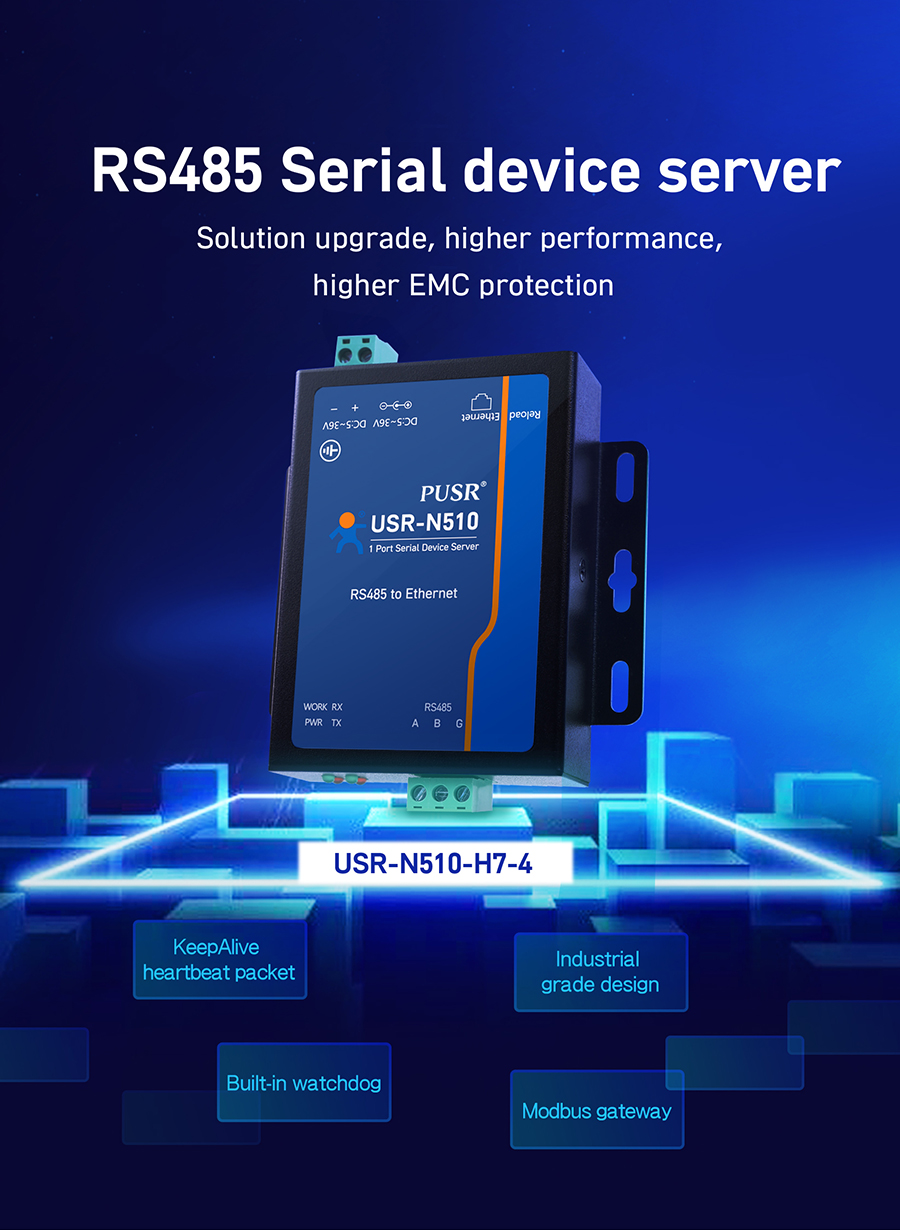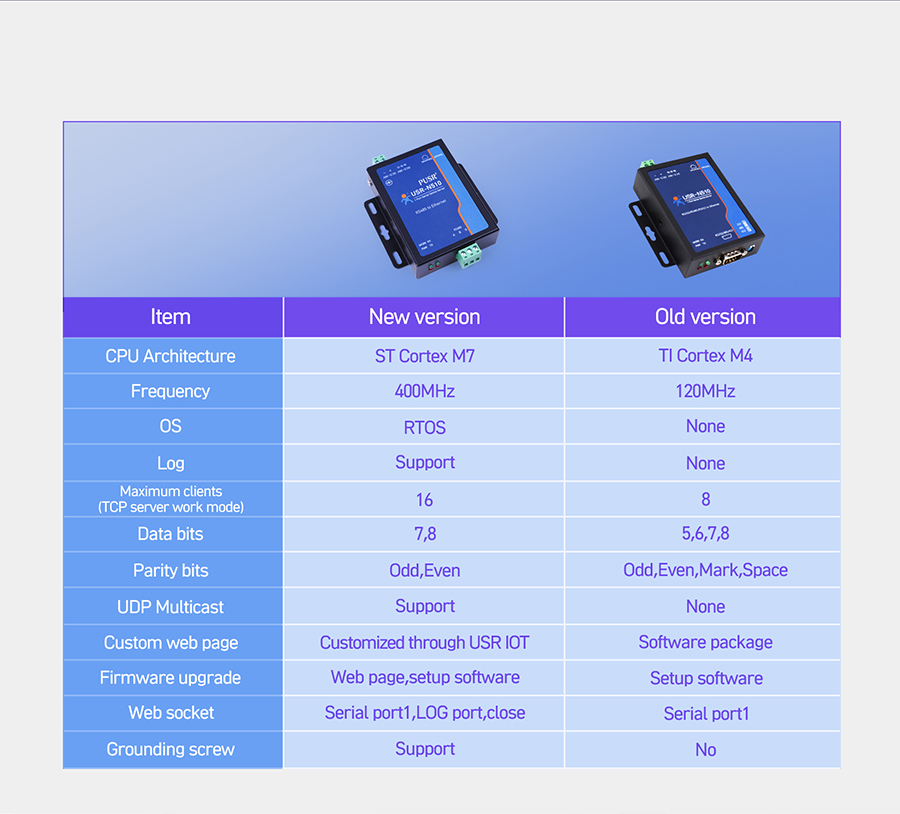 Comparison of new and old schemes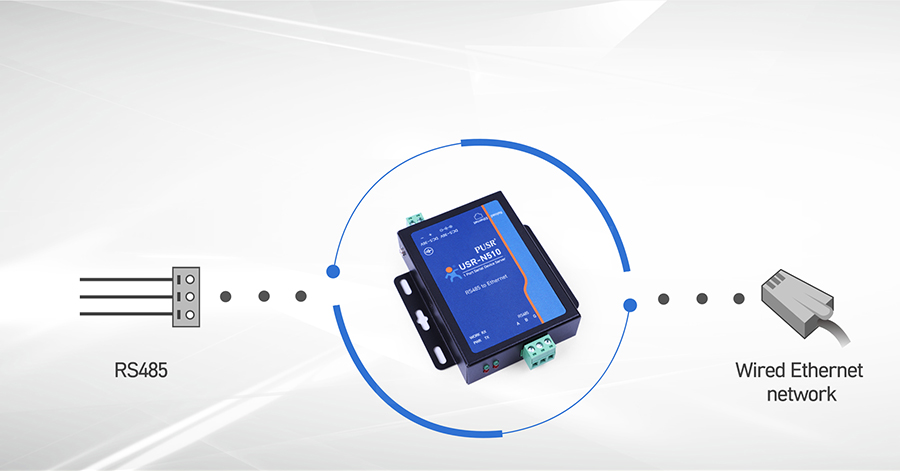 Basic Function-transmission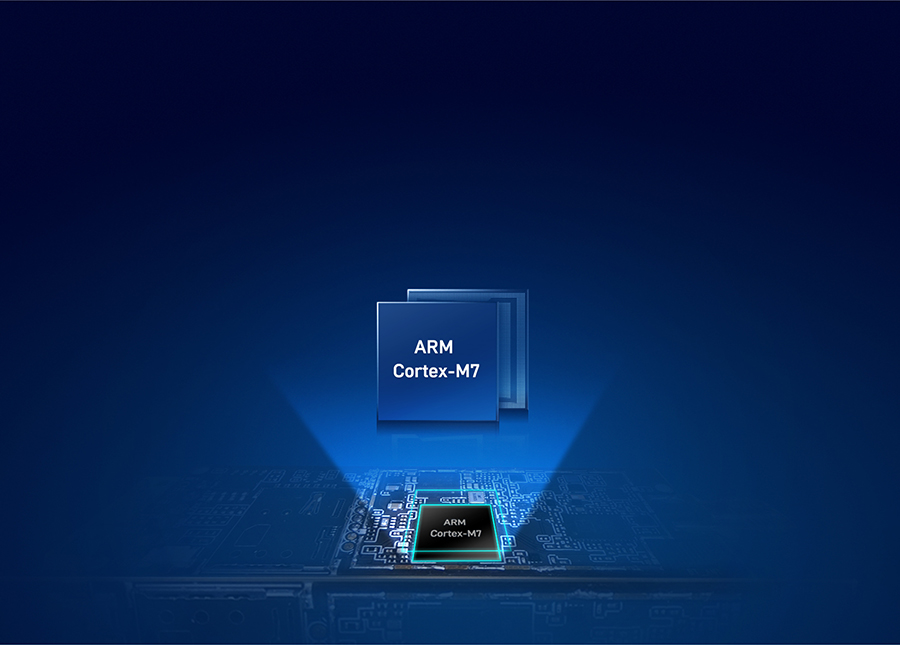 Scheme upgrade to provide better experience
Master chip adopts ST crotex-M7 core, the main frequency
is up to 400Mhz, fast processing speed,
high stable and reliable performance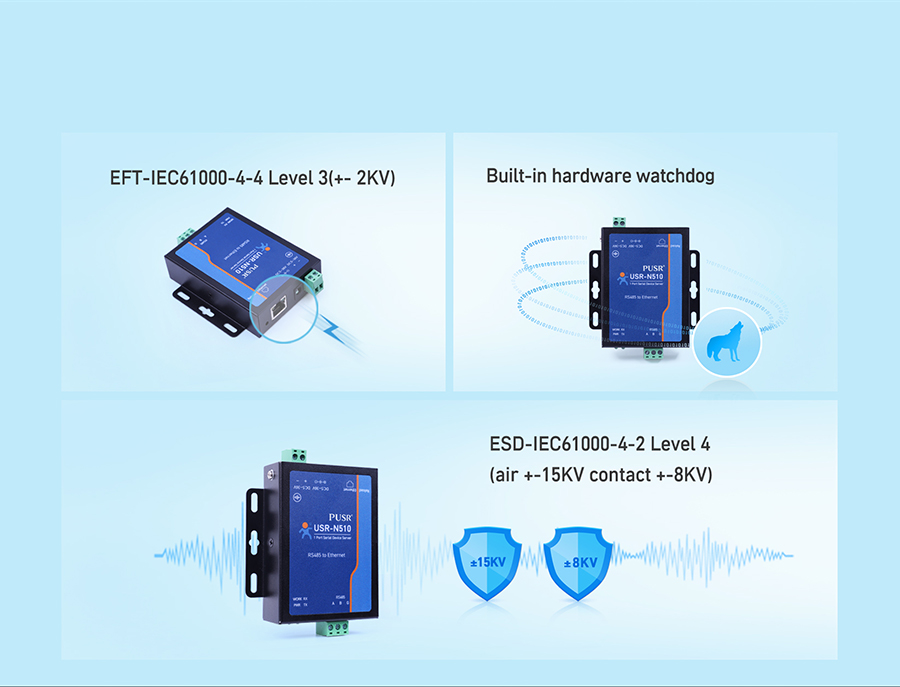 Multiple hardware protection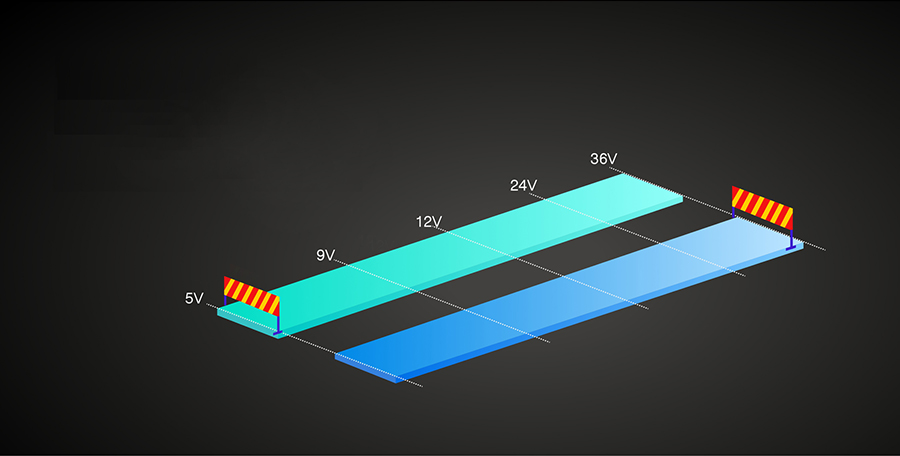 Redundant Power Supply
Wide input voltage DC 5-36V,
with reverse polarity protection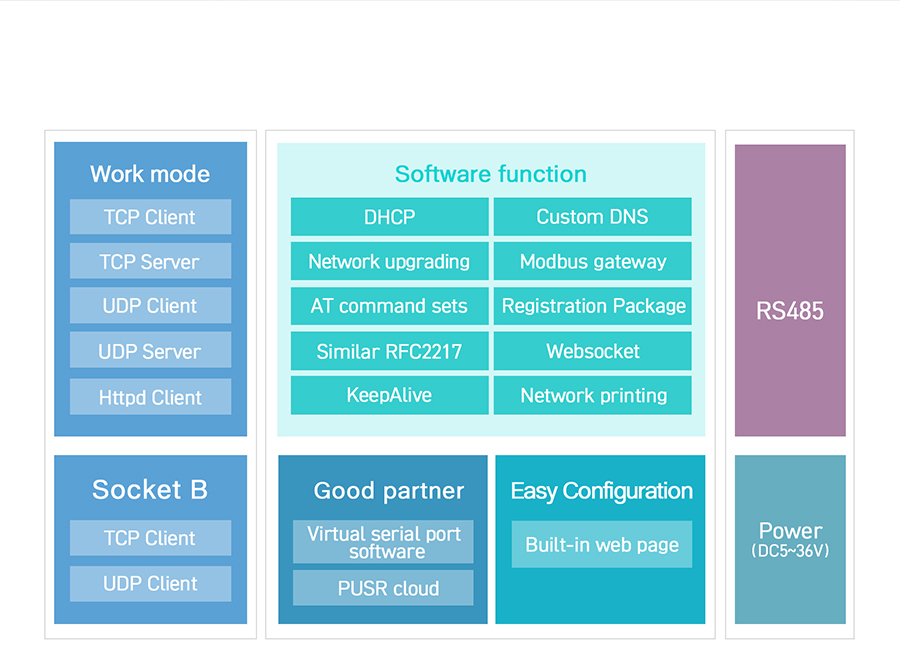 Block Diagram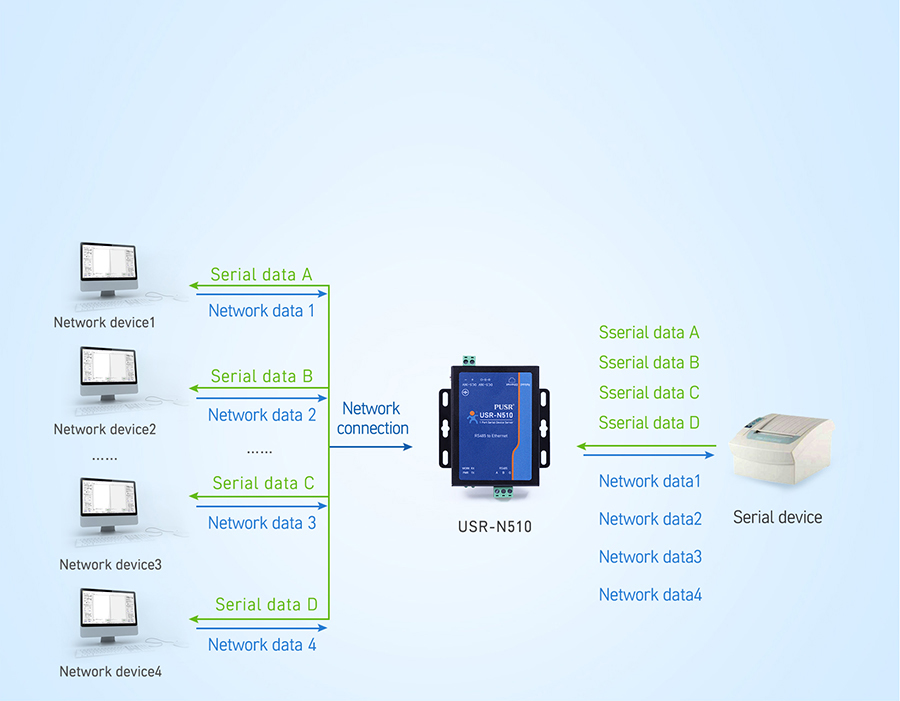 Modbus gateway
Support modbus RTU and modbus TCP protocol conversion
Support modbus multi-host polling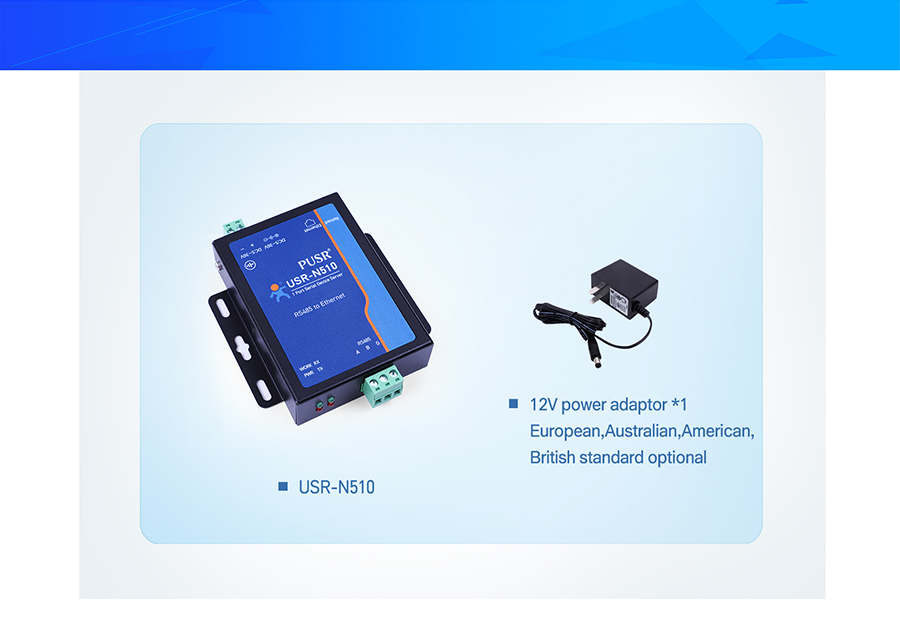 Packaging list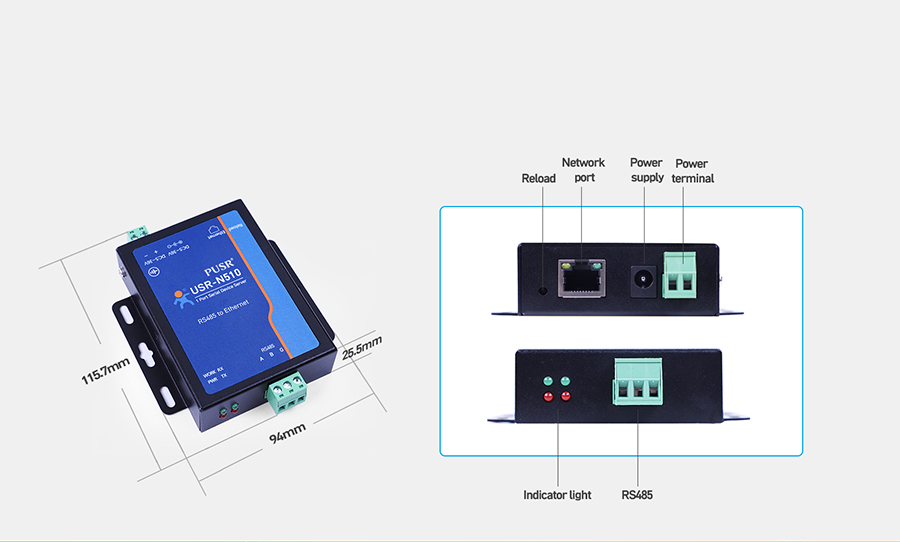 Product details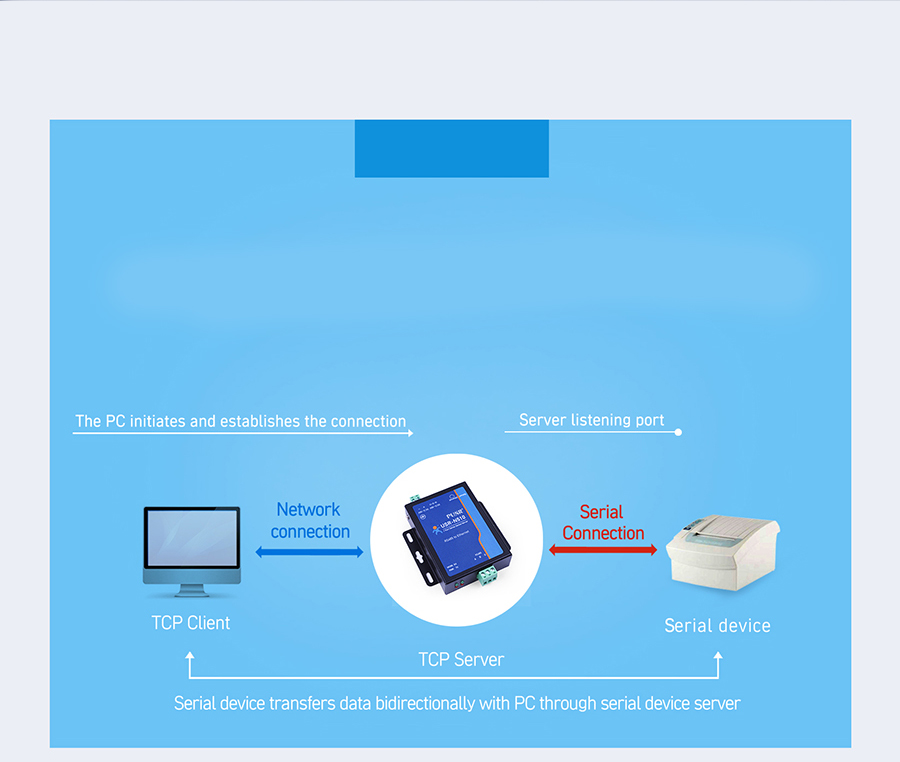 Work mode
TCP Server
The server listens to the specified port and waits for the TCP client to connect,
The data sent by the serial device will be
transparently transmitted to all successfully
connected clients through the serial device server.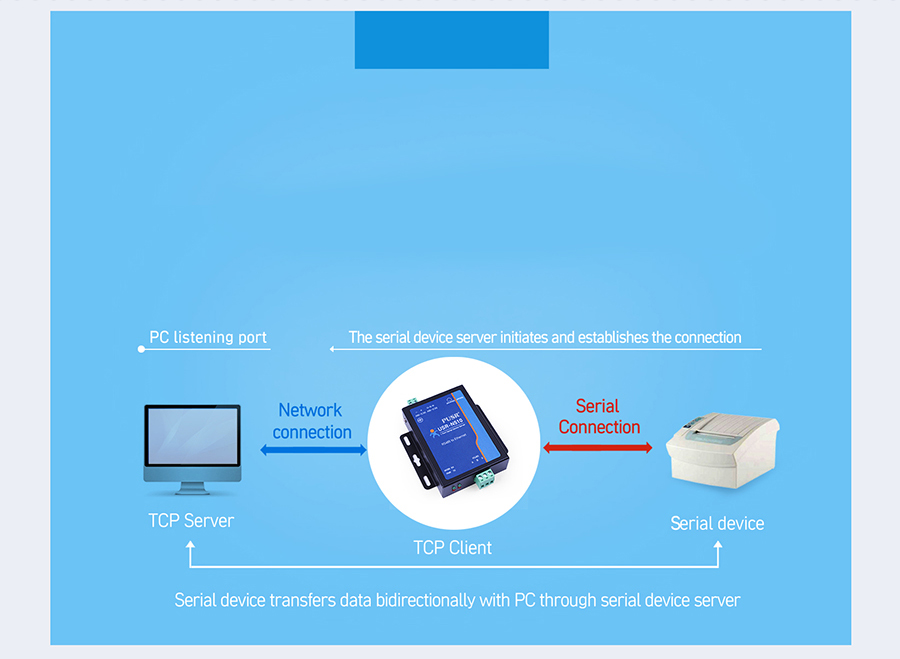 TCP Client
The serial device server initiates a TCP connection to the specified IP address.
If the connection fails, the serial server will continue to try to reconnect until it succeeds.
If the connection is successful, the server can transparently transmit
data with the serial device in two-way.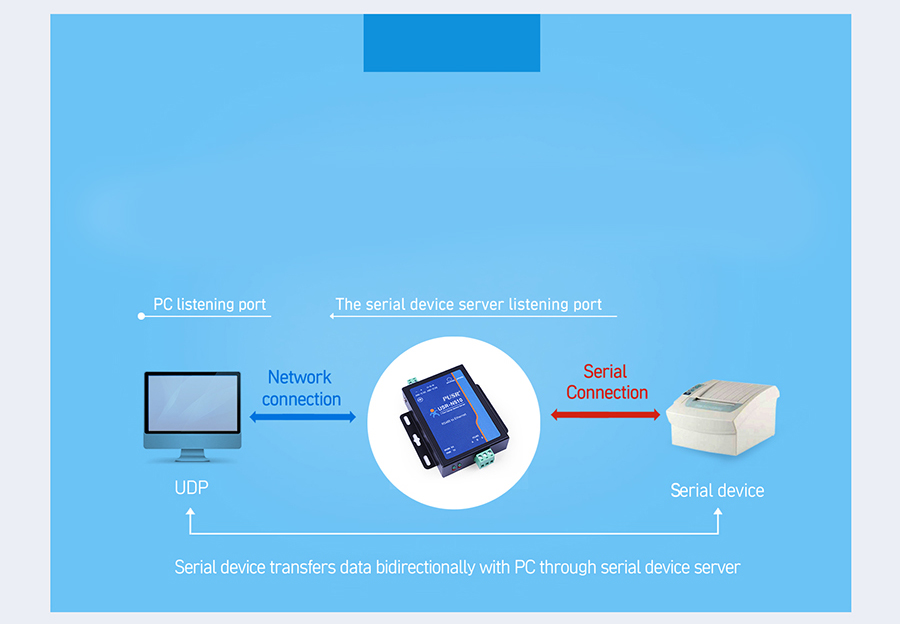 UDP mode
The serial device server sends the data of the
serial device to the designated IP network device.
The serial device server monitors the port meanwhile and
forwards all received data to the serial device.
HTTPD Client
Serial port data can be submitted to a specified server by GET or POST method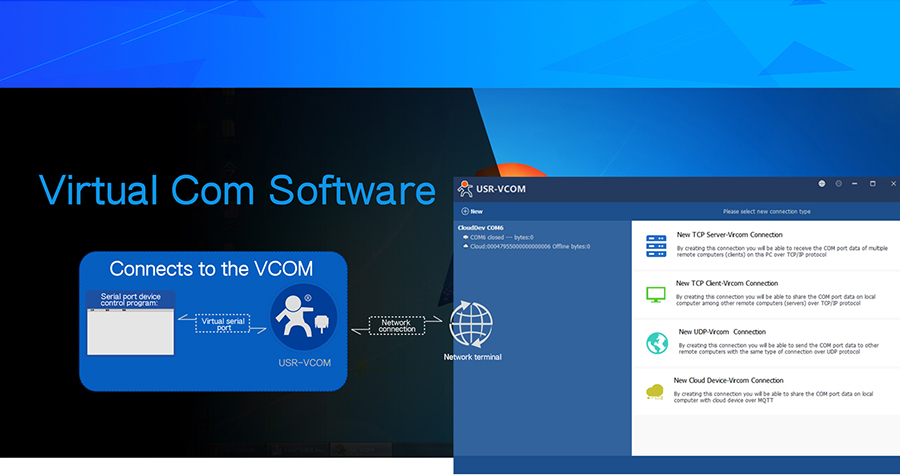 More Features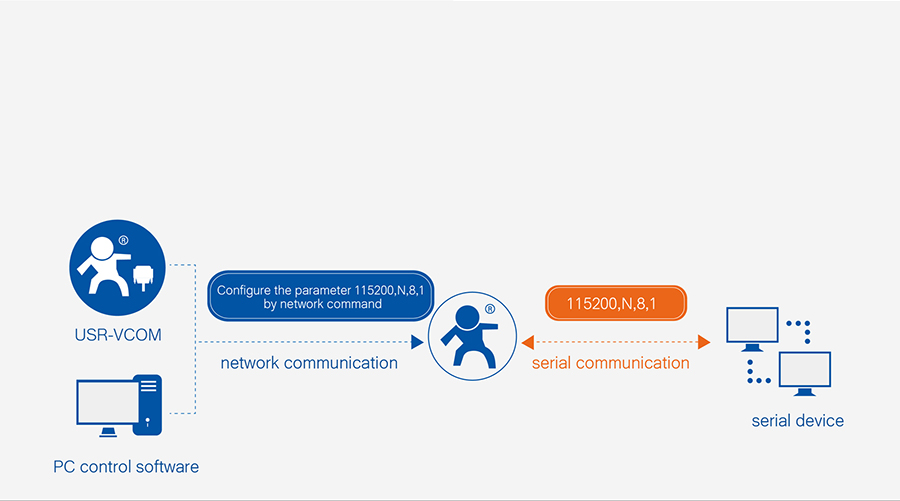 Synchronized baud rate
Change the baud rate, data bit, check bit and stop bit dynamically via network protocol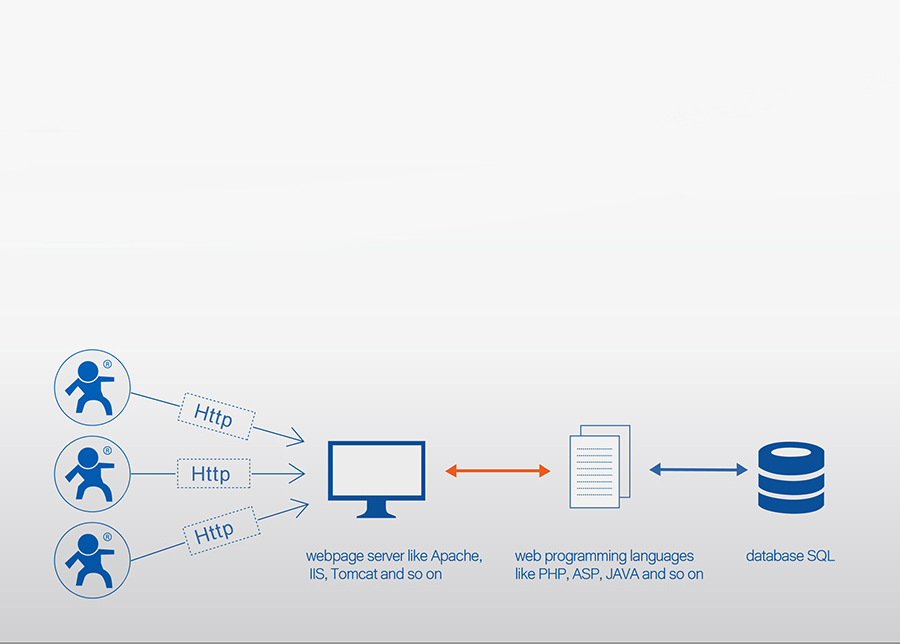 Registration package mechanism
When N510 is used as a TCP Client, it will automatically send a predetermined registration
package for identification after the link is established.The registration package data
can be IMEI code, ICCID code and custom registration data.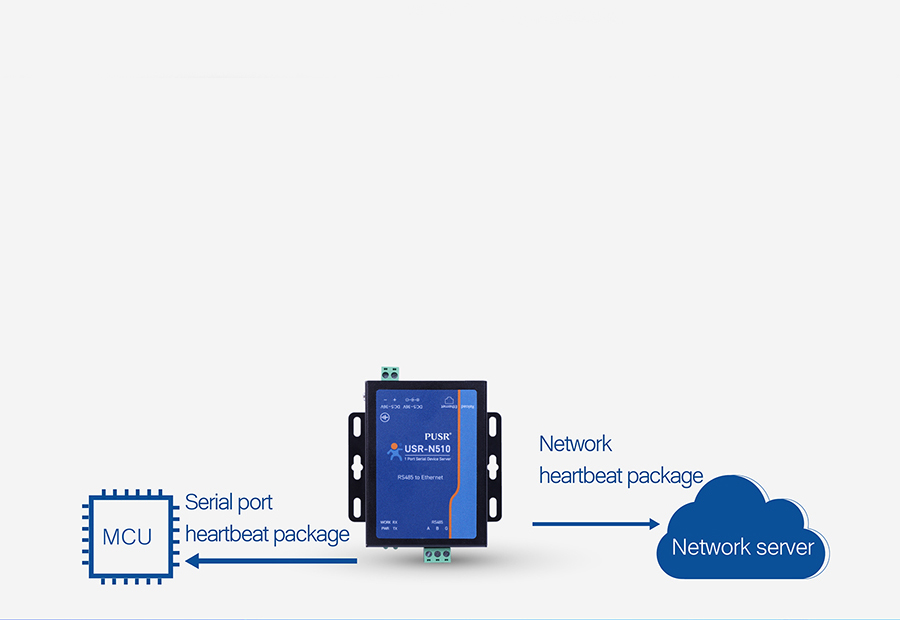 Serial / Network heartbeat packet
Network heartbeat packet: The serial device server sends a heartbeat packet regularly to notify
the server that it is active and maintains a normal network connection with the server.
Serial heartbeat packet: The serial device server notifies the serial device
it is active via packet, and this packet can also be used to actively capture sensor data.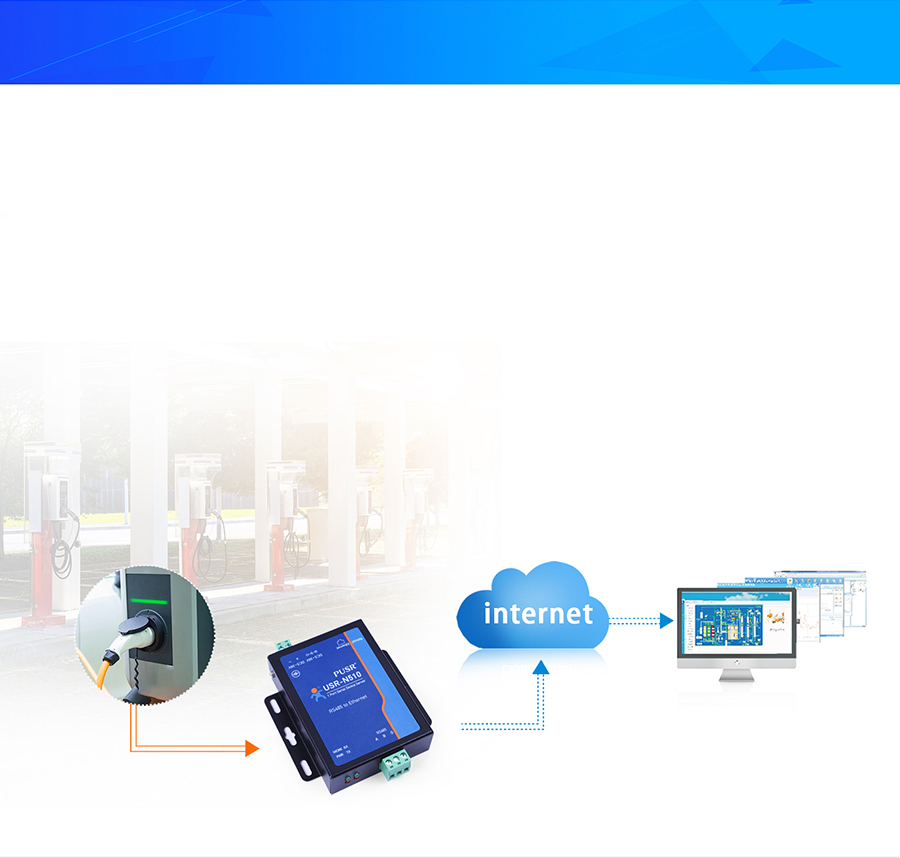 Charging pile application case
N540 can connect the charging pile to the charging intelligent
service platform to realize two-way data transmission between
the charging device and the platform.The billing information
and power usage can be viewed remotely through the platform
to facilitate operation and maintenance.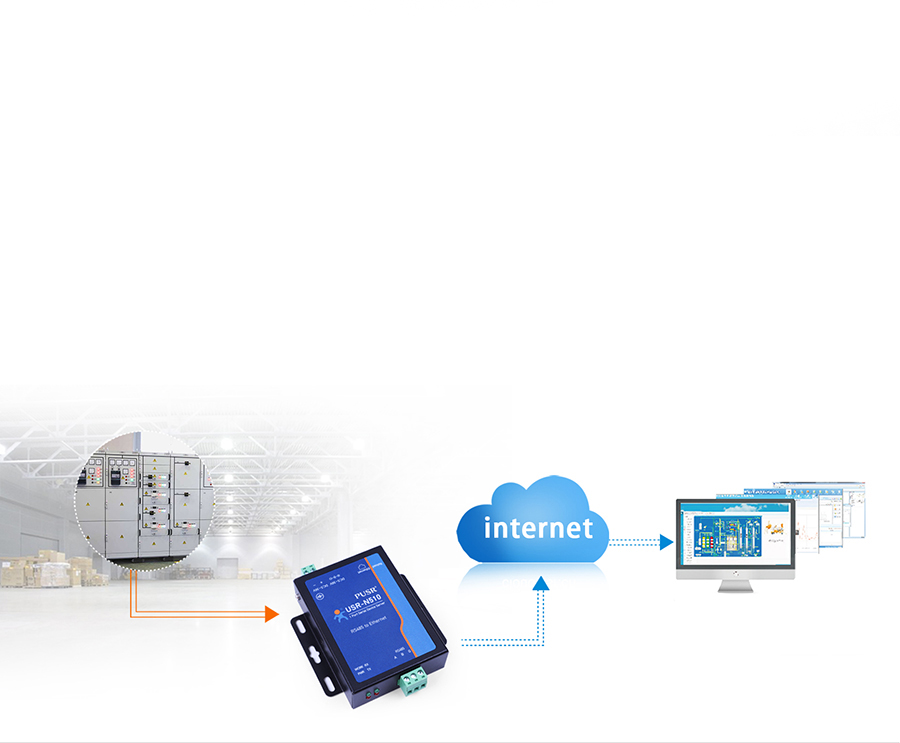 Industrial automation application case
he application of N540 in traditional industrial scenarios can
effectively solve the problem that workers need to monitor
equipment on-site, save labor costs, and increase production
efficiency and safety factors. Data management makes the
production process control more refined.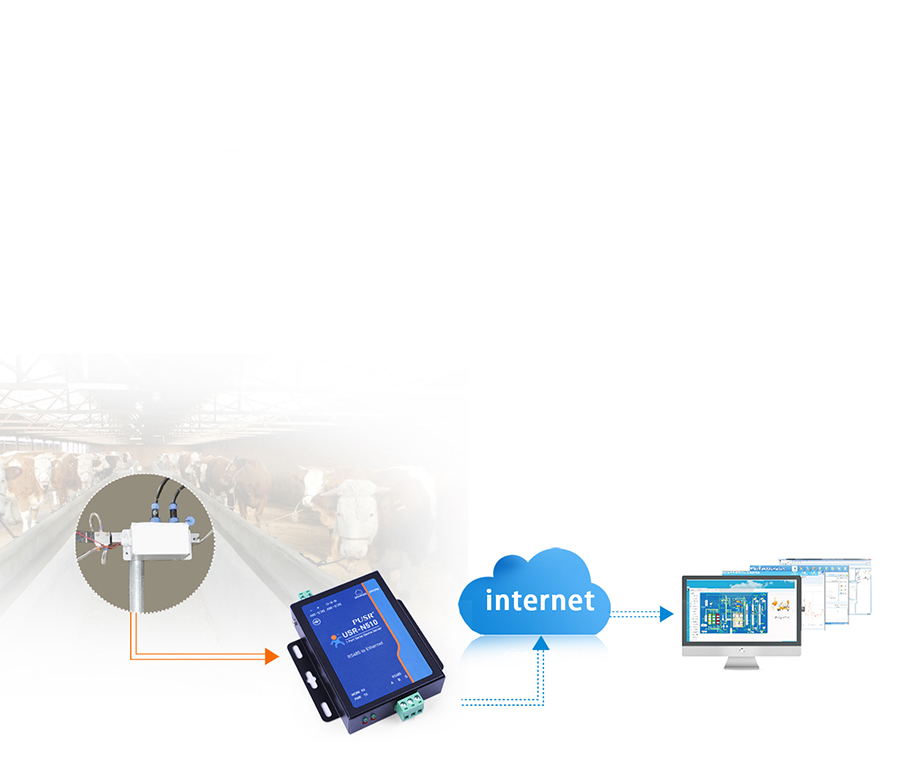 Documents
Utilities
---
We Also Recommend