13.3 Inch 2K AMOLED Touch Display 2560×1440 Toughened Glass, Metal Case
$26800

$268.00

Save $68

(Exc. GST)
---
In stock with a short lead time. Ship within 5-12 days
---
$ We Ship from our stock in AU (Perth) with pickup option, and Prices are Exc. GST
$ We Offer Quantity Discounts for Large Orders 10+ qty (Request for Quote)
$ We Accept Purchase Orders & Net 30 Payment for Eligible Accounts
13.3 Inch 2K AMOLED Touch Display 2560×1440 Toughened Glass, Metal Case
13.3inch 2K AMOLED Touch Display, 2560×1440, HDMI/Type-C Display Interface, 100%SRGB And 100%DCI-P3 Color Gamut, Optical Bonding Toughened Glass Panel, Metal Case
Device & System Support
Raspberry Pi
Supports Raspberry Pi OS, 10-point touch, driver free
Supports Ubuntu / Kali / WIN10 IoT, single point touch
Jetson Nano
Supports Ubuntu, single point touch, driver free
PC
Supports Windows 11 / 10 / 8.1 / 8 / 7, 10-point touch, driver free
Smartphone
Huawei, Samsung, OPPO...(wired projection)
For the moment, only the Raspberry Pi 4B and CM4 have adequate CPU performance to drive this 2K display completely.
Supports more powerful future versions as long as its GPU performance is equivalent to or better than the Pi 4B.
Connection Examples
Working With Raspberry Pi 4B
Working With Jetson Nano
Working With PC *
Working With Smartphone *
Please make sure that the smartphone or PC itself features a full-featured Type-C interface
For reference only, the above controller boards or hosts are NOT included
AMOLED Display Panel
Excellent Display Performance With 178° Wide Viewing Angle
2K High Resolution
2560×1440 High Resolution, Clearer Picture & More Details
Wider Color Gamut Display
With 100% SRGB, 100% DCI-P3 Color Gamut Coverage
Makes The Color More Vivid, More Delicate
AMOLED Active Light-Emitting Screen
With 3.68M Active Light-Emitting Pixels, The AMOLED Screen Features Precise Light-Control Capability, Representing More Vivid Colors And Image
One-Hundred-Thousand Grade Contrast Radio
Features Striking One-Hundred-Thousand Grade Contrast Radio, Which Means Hundredfold Light/Dark Performance, Displaying Gradations And Details Of The Deep Starry Sky Before Your Eyes.
Brighter Highlight, Darker Shadow
Unlike Regular LCD, The AMOLED Features Active Emissive Technology, Each Pixel On The AMOLED Will Light Up By Itself, To Create Brighter Highlight Or True Black Shadow, Making It Virtually Close To 0nit True Black.
Capacitive 10-Point Touch
up to 10-point touch, depending on the operating system
up to 6H hardness toughened glass panel
Optical Bonding, display well and dustproof
Supports DDC/CI Brightness Adjustment
Full-Featured Type-C Interface
Audio And Video Transmission In One Connection, Plug And Play,
Instantly Zoom In The Smartphone Screen
(For Supported Mobile Phone Models, Please Contact Customer Service)
Computer Dual Screen For Collaborative Processing
One Screen For Work, One Screen For Entertainment, Without Interfering With Each Other
Dual-Track Speaker
Ferrite Hi-Fi Speaker, Larger Volume, Wider Sound Range, Better Sound Quality
Comes With Triangular Stand
VESA Mounting Support
Interface Introduction
Product Show
for reference only, the Rasbpberry Pi 4B is NOT included
Dimensions
Support Touch Screen Customization
Support The Following Ways To Customize The Touch Screen Display In Bulk Order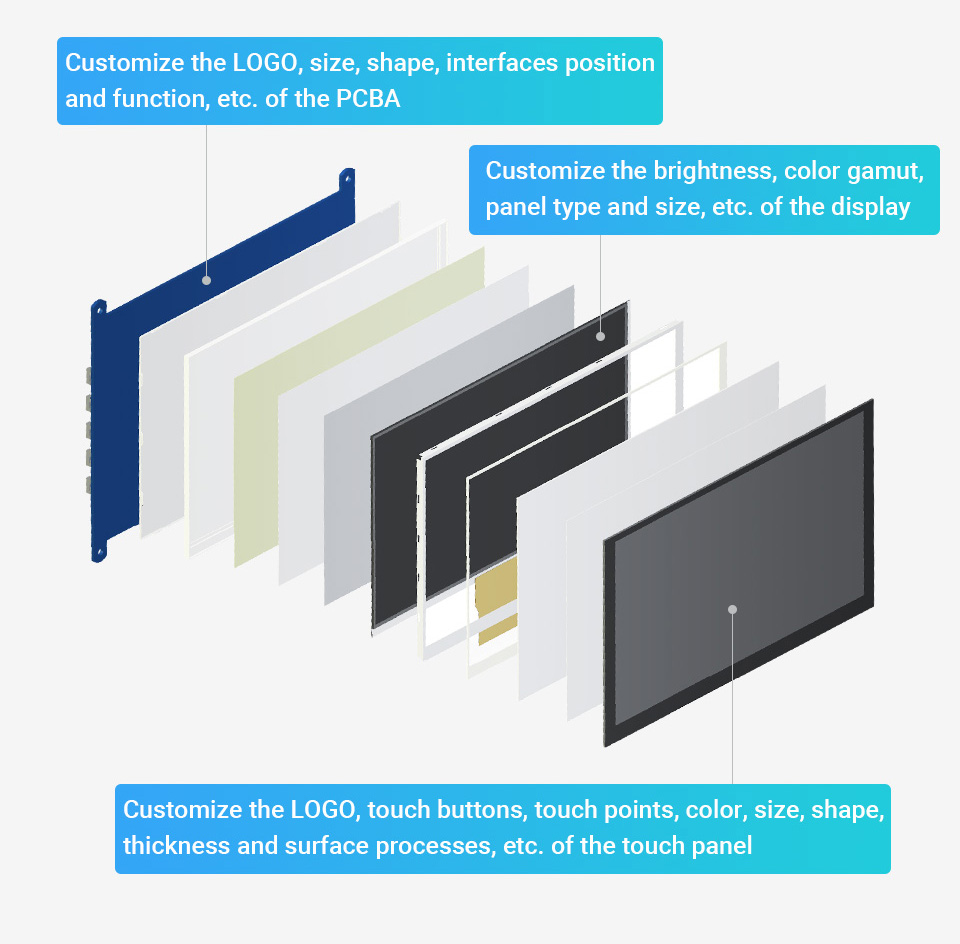 ---
We Also Recommend