8 Ports Serial Modbus RS485 to Ethernet Converter USR-N580
$19500

$195.00

Save $20

(Exc. GST)
---
Available in stock
---
$ We Ship from our stock in AU (Perth) with pickup option, and Prices are Exc. GST
$ We Offer Quantity Discounts for Large Orders 10+ qty (Request for Quote)
$ We Accept Purchase Orders & Net 30 Payment for Eligible Accounts
8 Ports Serial Modbus RS485 to Ethernet Converter USR-N580
Note: This kit includes the AU power adapter, DB9 cable, and connectors.
USR-N580 is an 8 Ports RS485 Serial Ethernet Converter and designed to realize bidirectional data transparent transmission between the serial port and the Ethernet port. The 8 RS485 ports can work independently and do not affect each other. Each port can be configured for different baud rates. It supports 600bps~921600bps wide baudrate.

8 serial ports support RS485 communication, indicator lights (TX/RX)

Functions of Modbus gateway, Modbus RTU to Modbus TCP, Modbus polling

Support TCP Server, TCP Client, UDP Client, UDP Server, HTTPD Client working modes

Support virtual serial port and provide corresponding software USR-VCOM

Serial baud rate from 600bps to 921.6Kbps; Parity of None, Odd, Even

Functions of Modbus gateway, Modbus RTU to Modbus TCP, Modbus polling
Specifications
Classify

Parameter

Value

Hardware Parameters

Operating Voltage

DC 9.0~36.0V

Operating Current

120mA@12V

Net interface format

RJ45,10/100Mbps

Serial baud rate

600~921.6K(bps)

No. of serial ports

RS485*8

Software parameters

Net protocol

IPV4, TCP/UDP, HTTP

IP mode

Static IP, DHCP

DDNS

supports

User Configuring

Software/webpage configuring, serial/network AT commands

Operation mode

TCP server, TCP client, UDP server, UDP client  Support two-way socket

Similar RFC2217

support

HTTPD client

support

TCP server

Support up to 8 TCP Clients (user-defined)

Net buffer

48Kbyte

Serial buffer

Dynamic packet buffer

E.g: When the packet length is 10Byte, can buffer200 packets (2KB).

When the packet length is 1460Byte, can buffer 5 packets (7.3KB).

Average delay

<10ms

Related software

USR-VCOM, set-up software

485_EN switching speed

<100us

Flow control

XON/XOFF

Registration packet

User-defined, MAC, USR Cloud

Web to serial

Websocket function

Heartbeat packet

UART, NET

Others

Hardware protection

Electrostatic protection ESD: level 3

Anti-surge: level 3

Pulse group: level 3

Dimension

222*122*35mm(L*W*H With the terminal, ears)

Operating temperature

-40~+85°C

Storage temperature

-40~105°C

Operating humidity

-40~+85°C (Industrial)

Storage humidity

-45~105°C, 5~95%RH (non-condensing)

Accessories

Power adaptor, Ethernet cable

Packaging

Electrostatic bubble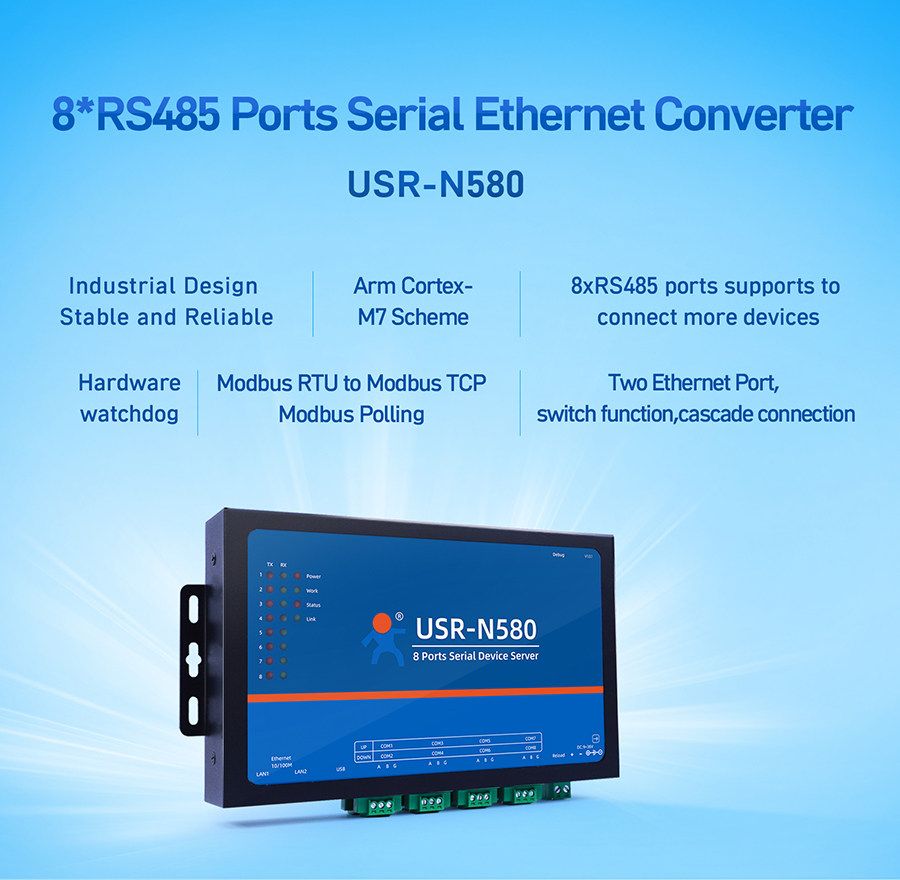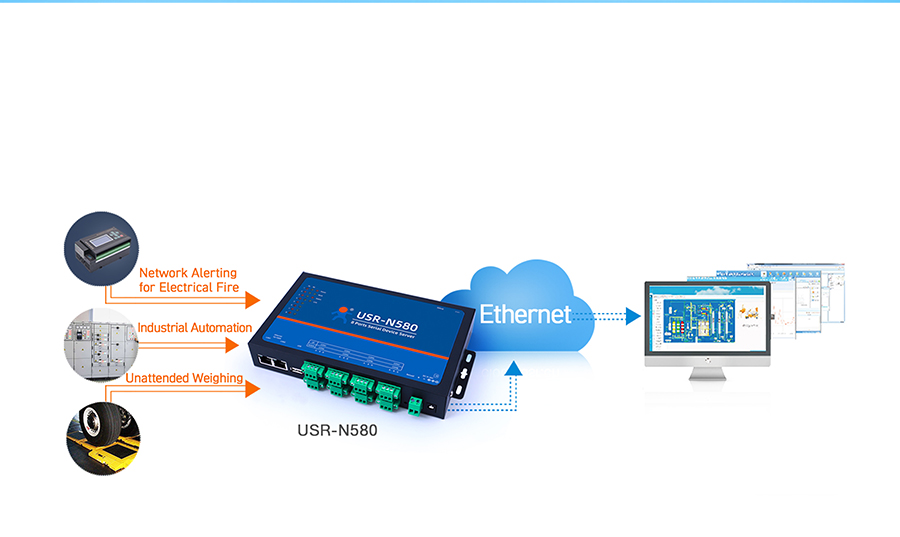 Basic Function
Bi-directional data transmission between RS485 port and Ethernet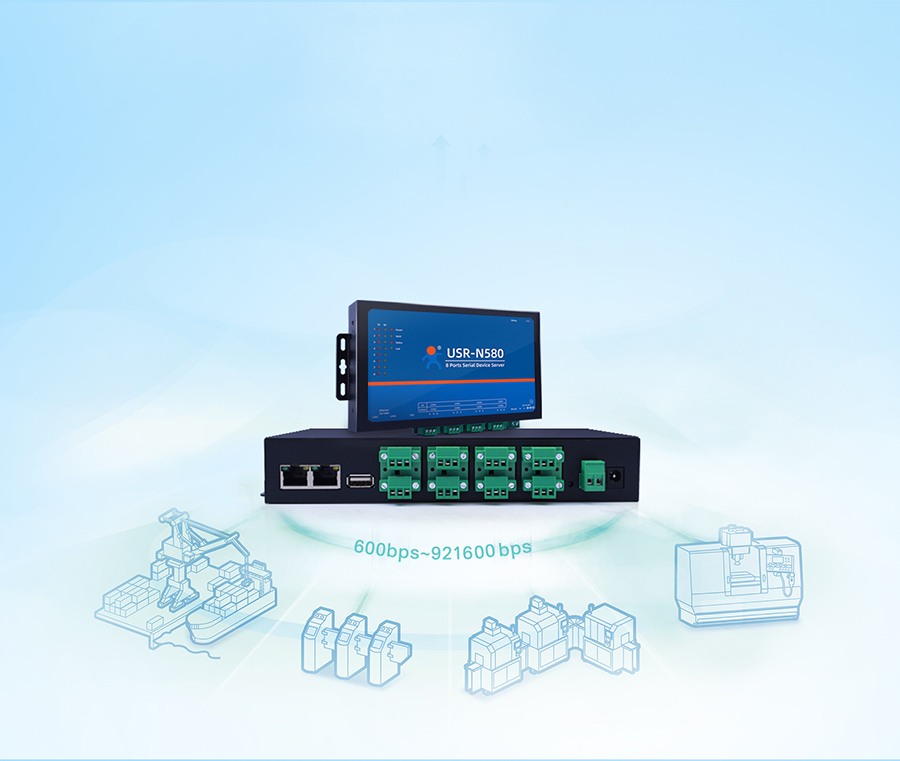 Wide Baudrate
The 8 RS485 ports can work independently and do not affect each other. Each port can be configured for different baud rates. It supports 600bps~921600bps wide baudrate.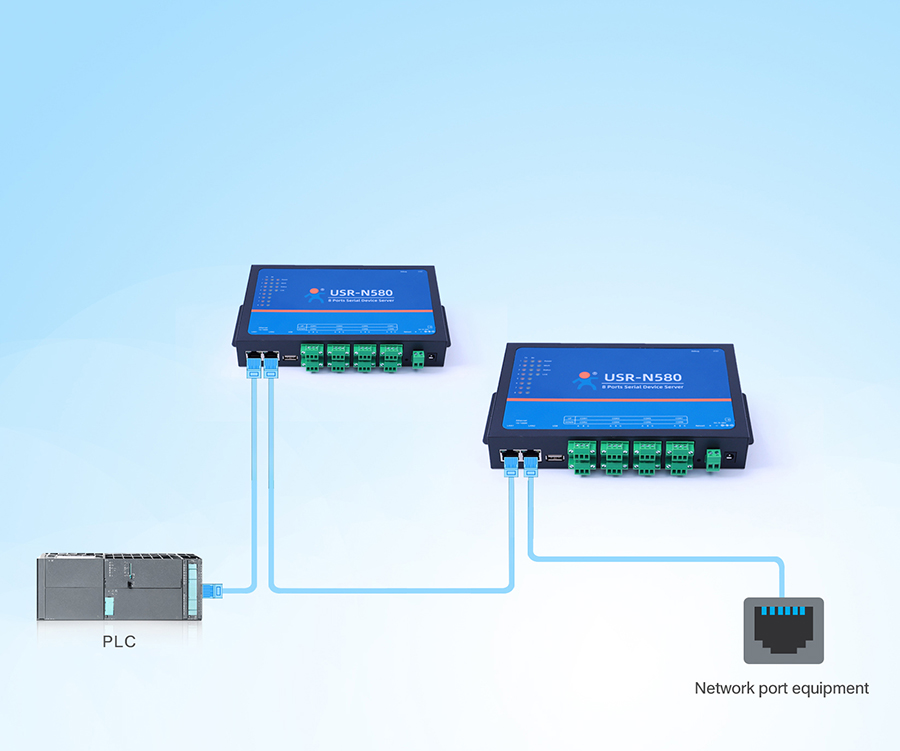 Cascade Connection Function
Dual Ethernet port 10/100mbps It supports switch function. Other devices can be cascaded through USR-N580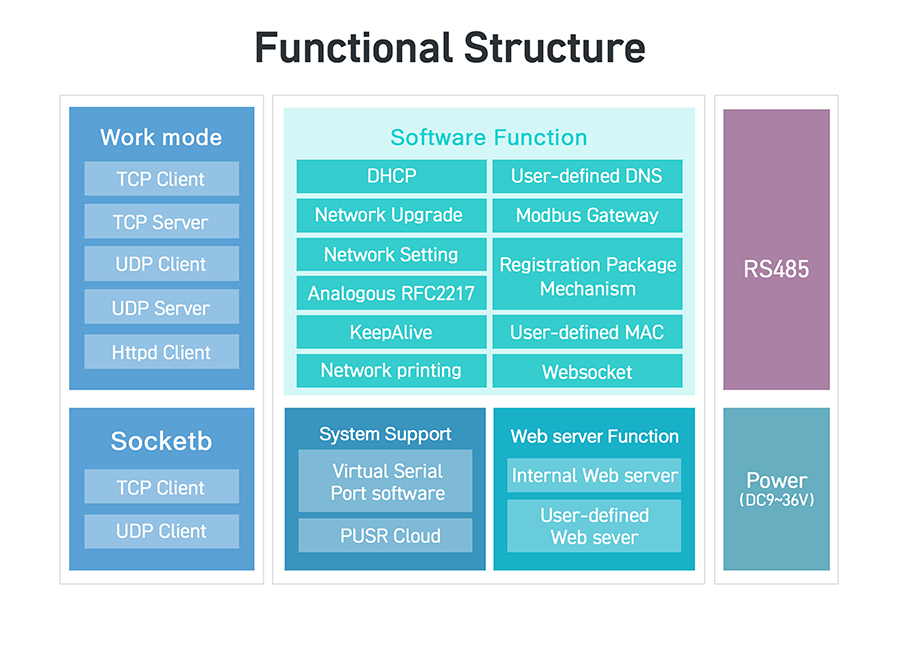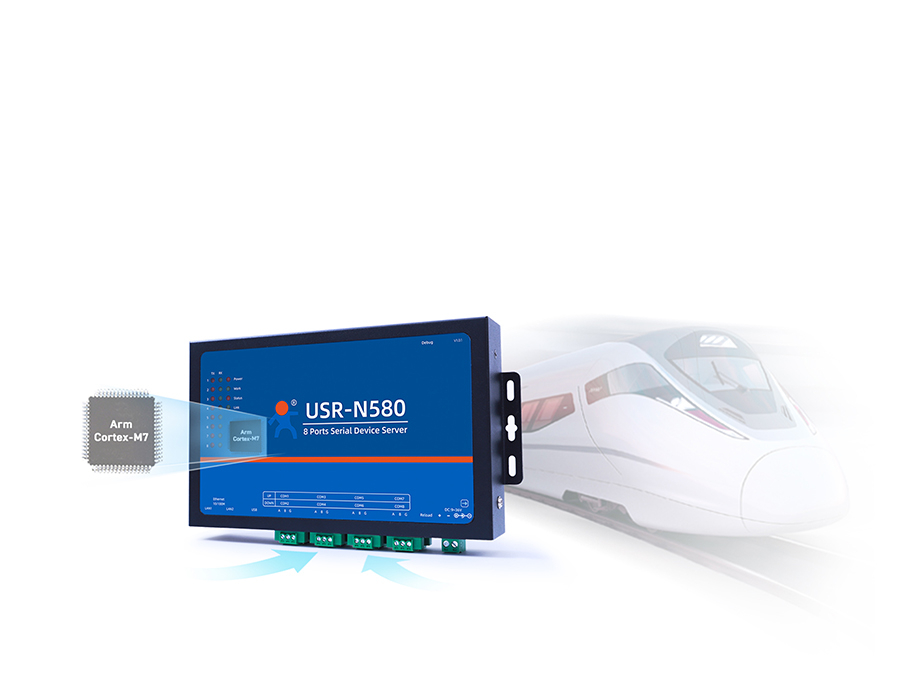 Arm scheme (Cortex-M7 core)to provide a better experience 
Arm Cortex-M7 Scheme,480Mhz CPU, 1M RAM +4M Flash The scheme features short transmission delay, fast data transmission speed, flexible expansion, and stable.
(MQTT/SSL/IPV6 and other major protocols will come soon,please enquire directly for more information ).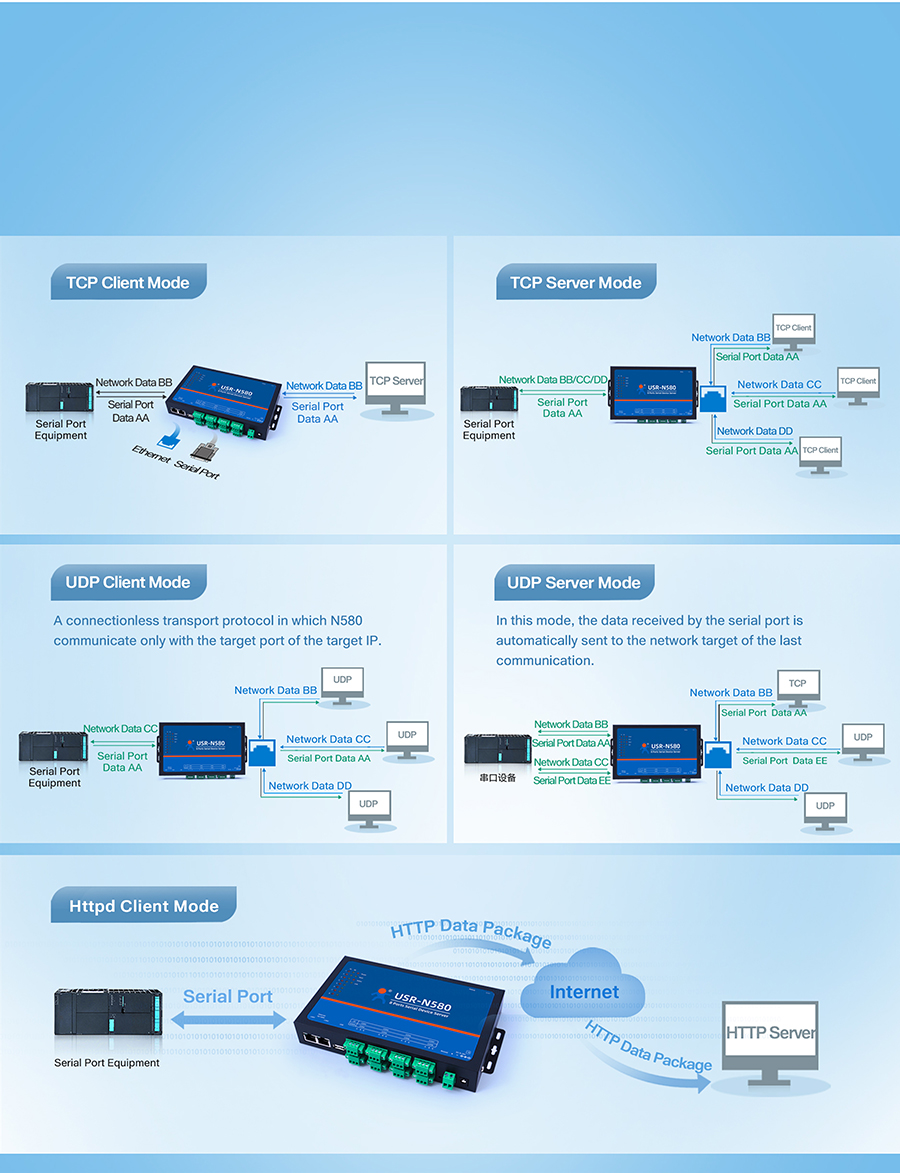 Free Choice of Multiple Working Modes
N580 supports TCP Client、TCP Server、UDP Client、UDP Server、Httpd Client (later support MQTT Client) and other modes; only a simple configuration, you can achieve data pass-through function.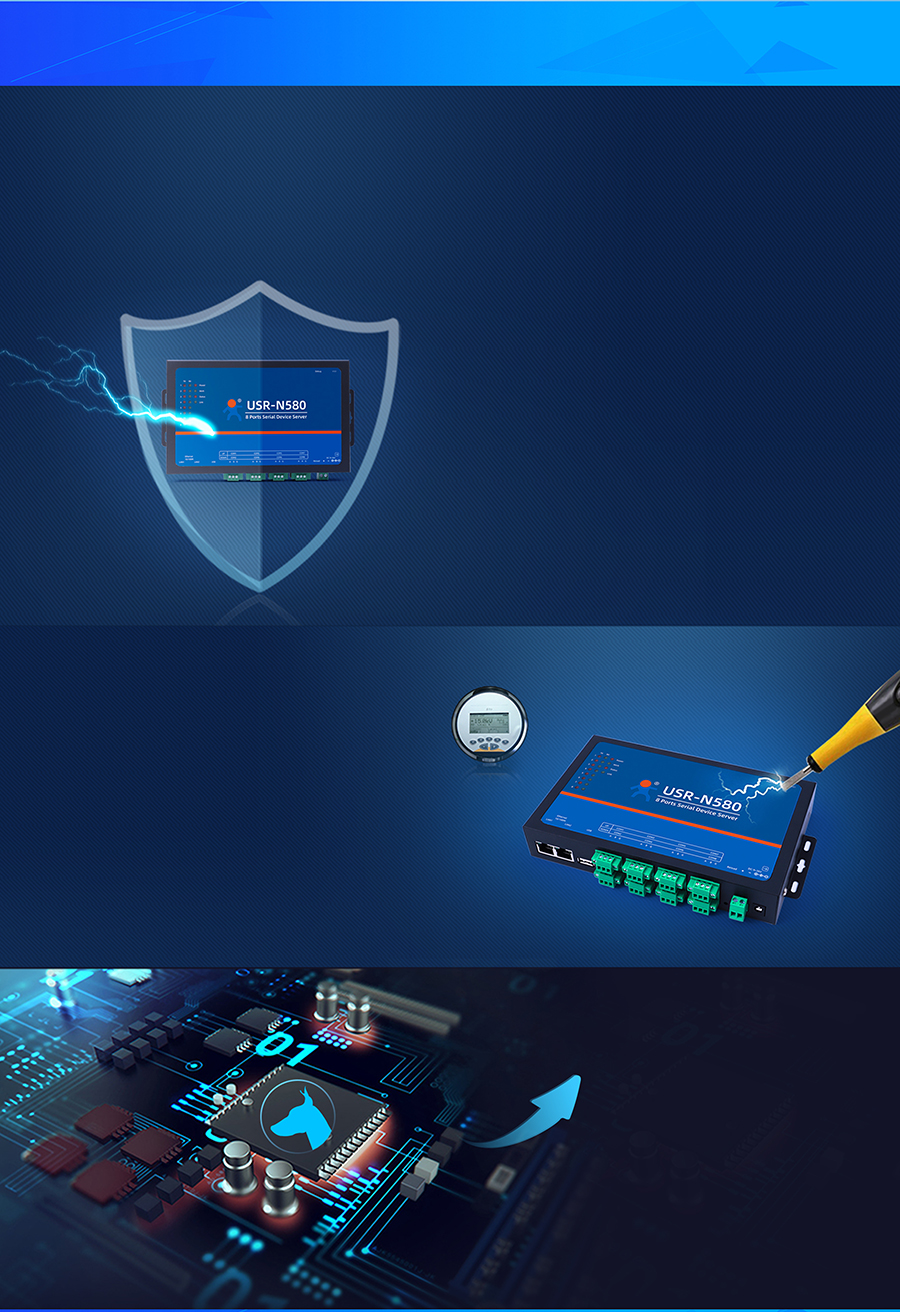 Advanced Hardware Protection
N580 supports Level 4 ESD (Static), level 3 Surge (Surge), level 3 EFT (Electrical Fast Transients), internal process watchdog, and external hardware watchdog, to ensure normal operation of the equipment and immunity from the outside environment interference.
ESD Protection
Prevent electrostatic damage to equipment, such as human electrostatic, dust electrostatic, electric power application of environmental arc, etc.
Contact Level 4 (±8KV)
Air Level 4 (±15KV)
No Restarting
EFT Protection
Avoid instantaneous big electric current because of the circuit such as lightning
stroke, power switch, etc.) when causing damage to equipment hardware.
Pulse Group: Level 3 (2KV) No Restarting
Surge Protection
Anti Surge: Level 3 (2KV) No Restarting
Watchdog
internal process watchdog and external hardware watchdog work 24 hours without stopping steadily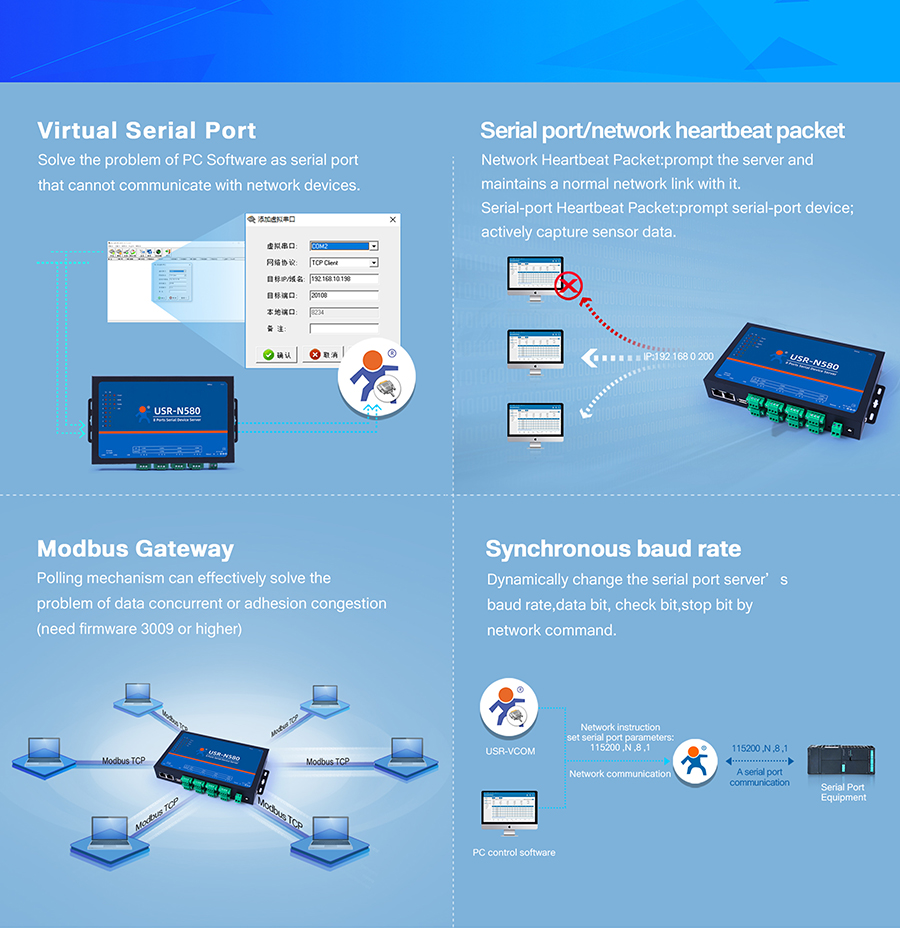 More Features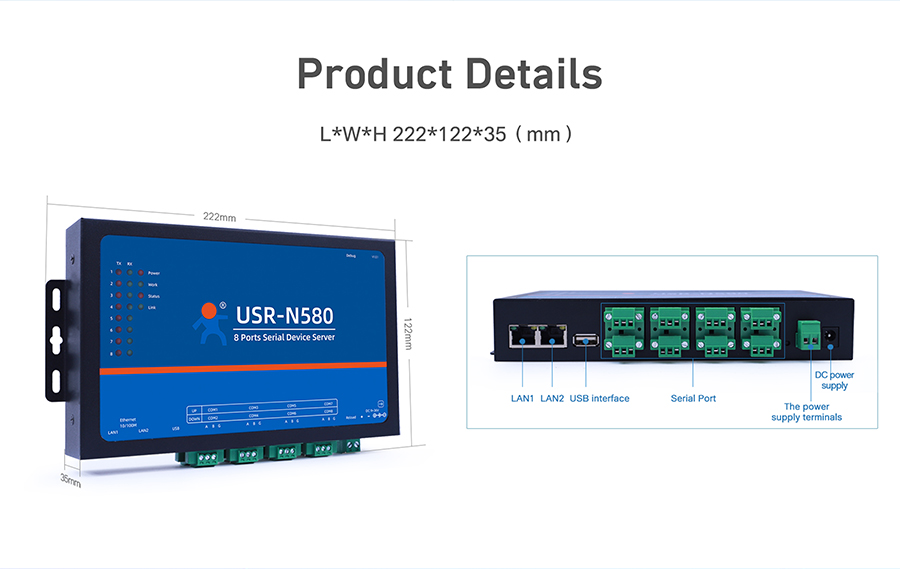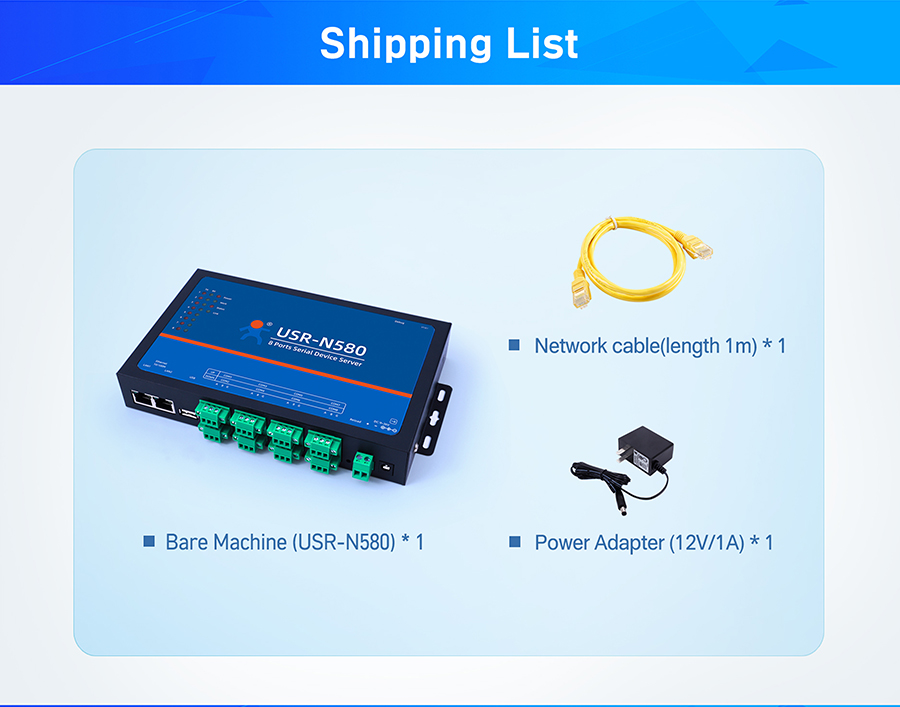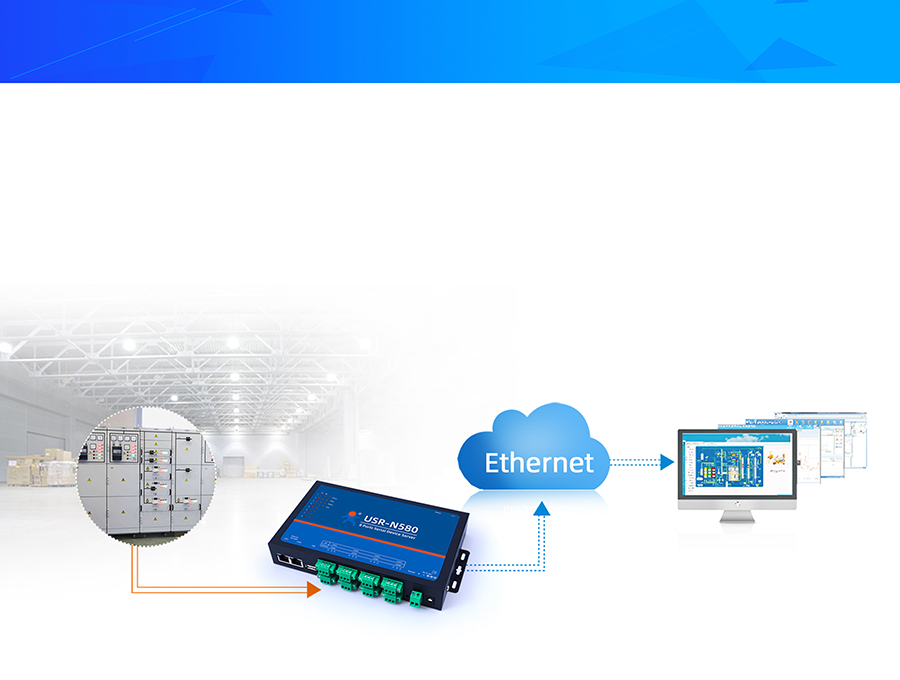 Application Case
Network Monitoring of Industrial Automation
Traditional network monitoring of industrial automation actually without networking. N580, integrating optimized TCP/IP protocol stack, provides network scheme of serial port data to TCP/IP, which can greatly improve the level of industrial automation.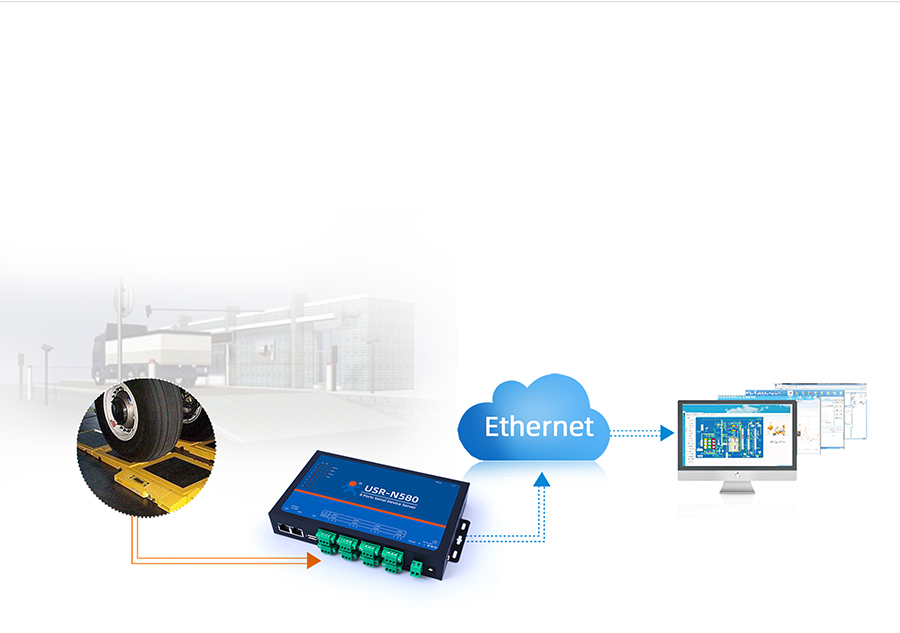 Unattended Weighing
N580 is connected with the barrier gate to facilitate the control center to control
the gate switch remotely through Ethernet. At the same time, many serial ports of
N580 can connect peripherals like weighing instruments, LED displays, RFID
readers, vehicle induction coils, ticket printers, fitting more application scenarios.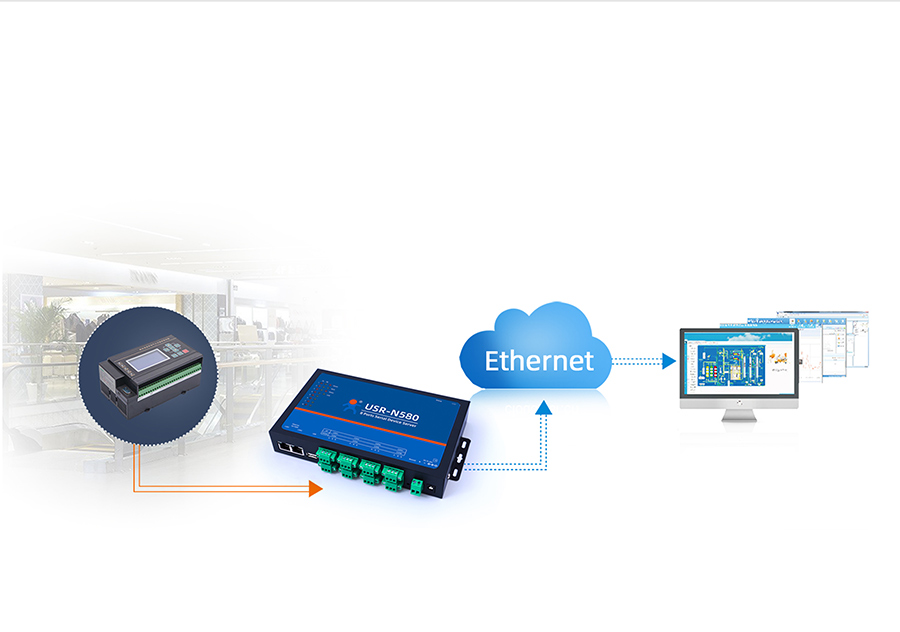 Network Alarm for Electrical Fire
N580 can communicate with the serial port of the electric fire alarm to transmit the
alarm information to the server platform quickly, and remind the staff to pay attention
to the fire information, and reduce the loss of people and property.
Downloads
Utilities
USR-N580 configuration utility
Development Files
Documents
ARM Cortex-M7 Series AT command manual V1.0.0
---
We Also Recommend