Industrial LTE CAT-1 Serial Cellular Modem USR-G771
$11400

$114.00

Save $20

(Exc. GST)
---
Available in stock
---
$ We Ship from our stock in AU (Perth) with pickup option, and Prices are Exc. GST
$ We Offer Quantity Discounts for Large Orders 10+ qty (Request for Quote)
$ We Accept Purchase Orders & Net 30 Payment for Eligible Accounts
Industrial LTE CAT-1 Serial Cellular Modem USR-G771
USR-G771-E is an LTE CAT 1 cellular modem, which supports LTE and GSM, covers the mainstream frequency bands of European operators. It has perfect software function, supports TCP/UDP transparent transmission, SMS transmission, HTTPD Client mode, and AT command configuration. Also, it is simple to configure, has high reliability and built-in hardware watchdog, supports FOTA upgrading.
USR-G771-E has wide-voltage power supply terminals and DC interfaces, standard RS232 and RS485 interfaces meet the needs of different application scenarios.
9-36V wide power supply range
LTE Cat 1 & GSM with sim card
Transparent transmission and AT command mode
HTTP,MQTT,SMS
SMS,NET,Serial AT command configuration
FTP Upgrade and FOTA self-upgrade
Socket Distribution Protocol
Transparent Transmission, Stability, High Cost-effective, RS232/RS485 serial port to LTE Cat-1
LTE Cat 1 network, downlink peak rate 10Mbps, uplink peak rate 5Mbps
Built-in hardware watchdog, wide-voltage, power supply based on 9-36V, and remote FOTA upgrade
Low latency, 4G LTE network carrier, millisecond latency experience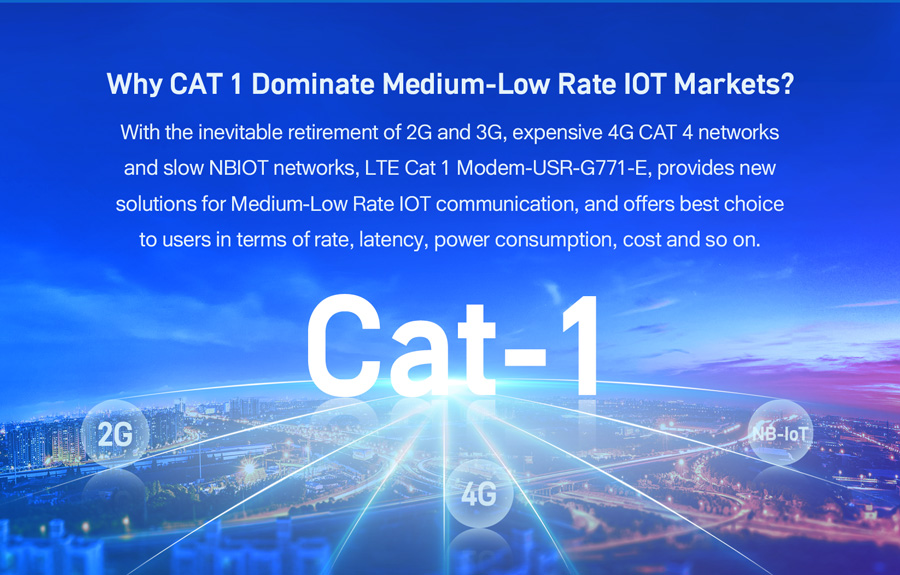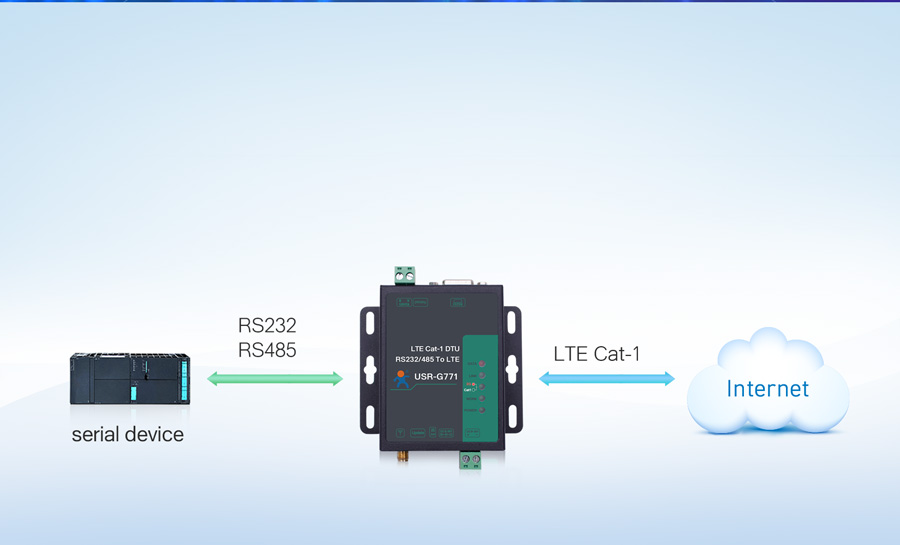 Basic Function
USR-G771 quickly delivers the bi-directional transparent transmission of data at serial ports and networks.
Network Mode
Provide wide coverage and high stability based on existing 4G operator networks.
Provide network access through a general 4G network adapter.
Support the GPRS network, and ensure the availability of communication.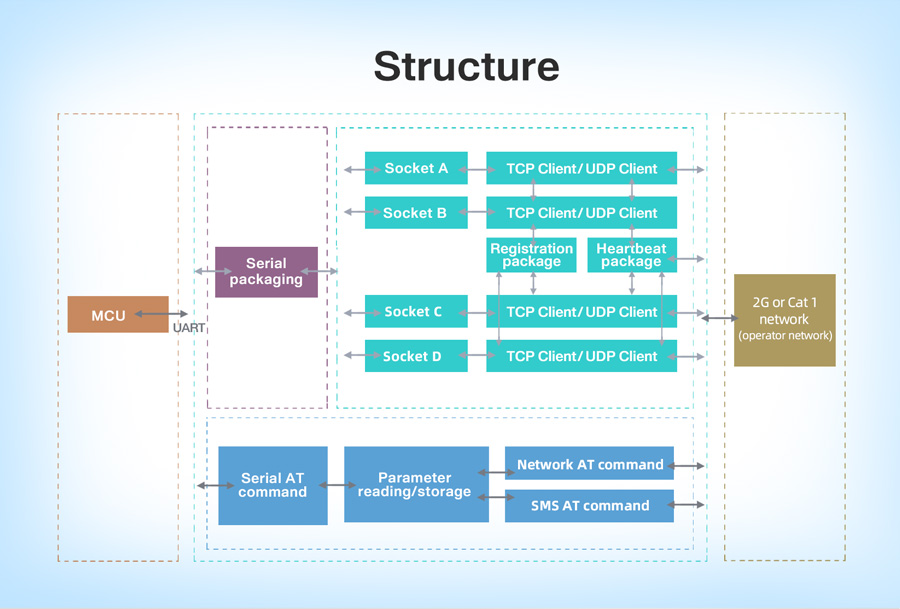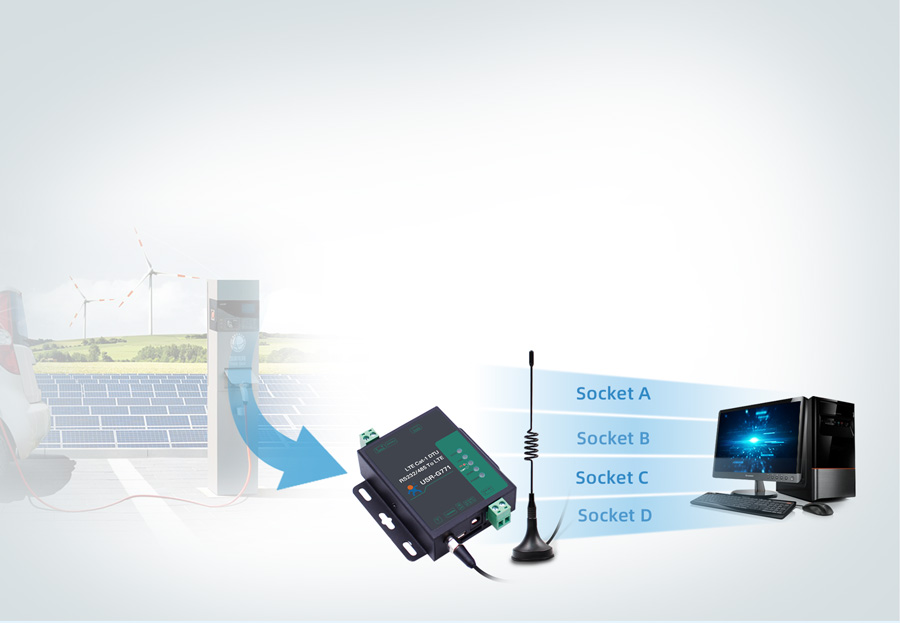 Transparent Transmission mode
The serial device is connected with the network server through G771 to deliver bi-directional transparent transmission of data.
The product supports 4 socket links, and keeps these 4 links independent of each other.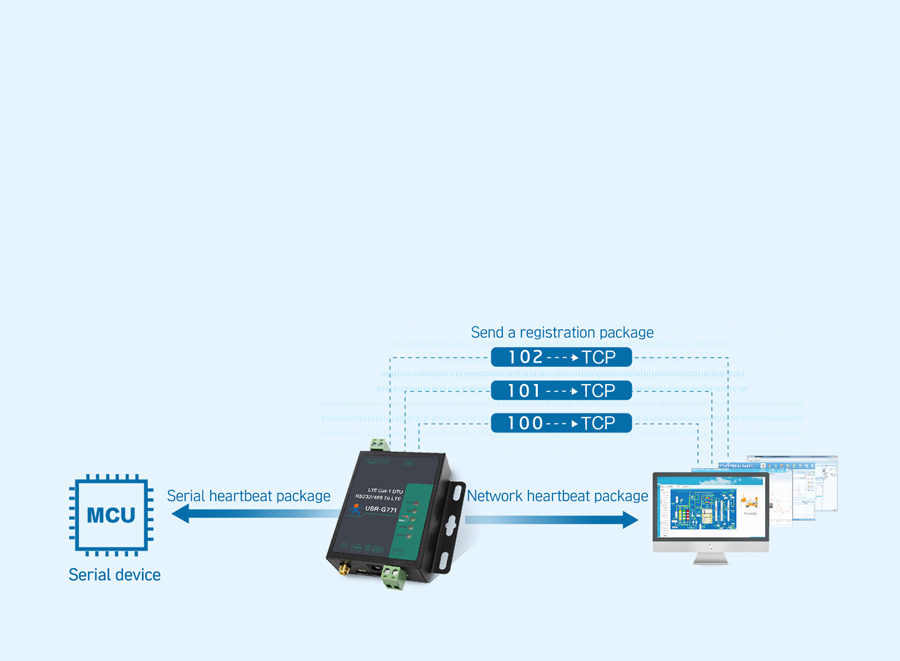 Registration Package plus Heartbeat Package
A registration package is sent to a server to identify the device, and a heartbeat packet is sent to a server to judge the active state of the device.
A heartbeat packet is sent to a serial terminal to actively collect data.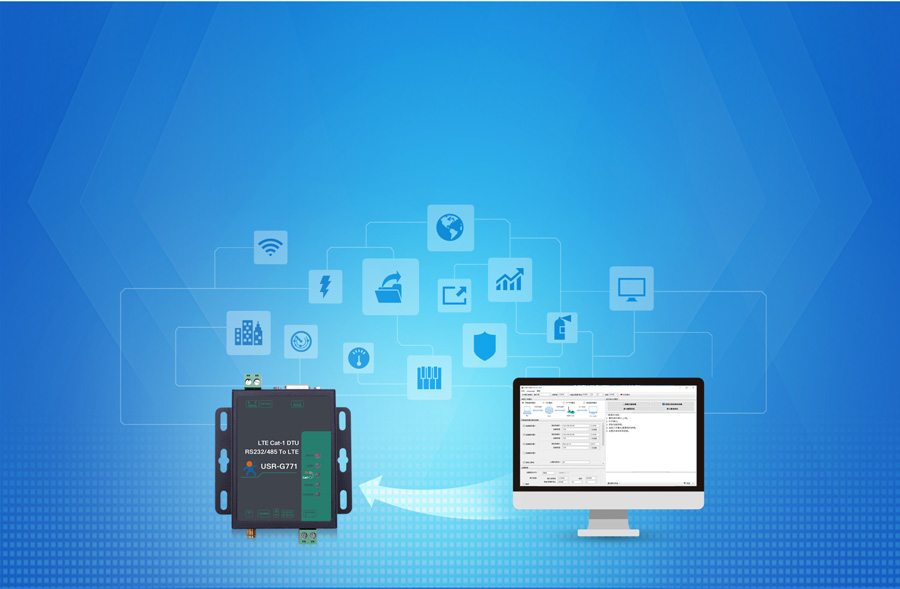 Parameter Configuration
Support the parameter configuration of serial, network, and SMT AT commands, and provide the configuration tool for the PC.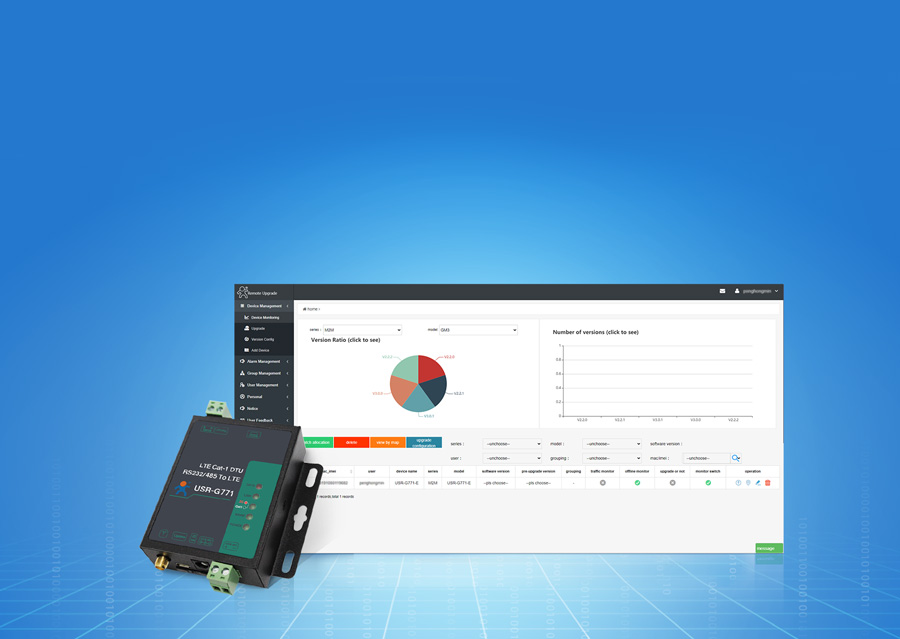 Remote FOTA Upgrade
With the remote management platform, it can realize the automatic firmware upgrade
Have a small upgrade package of a differential algorithms, and this can save upgrade traffic and time.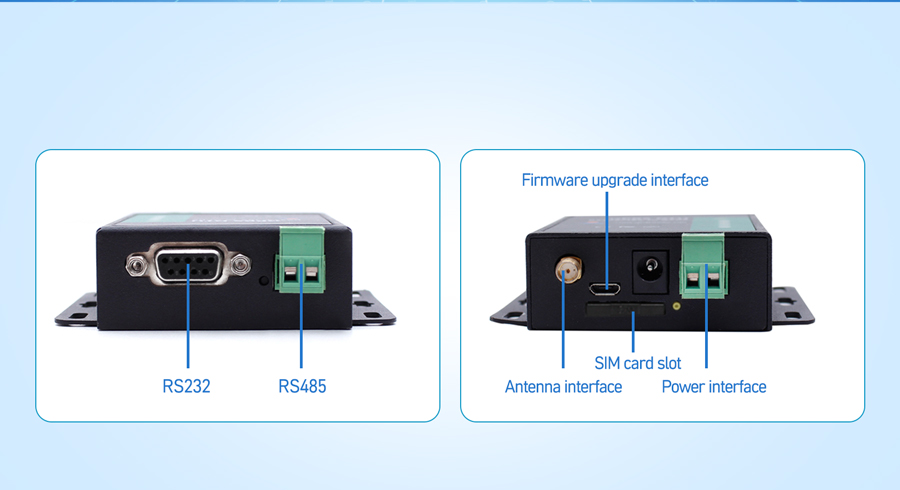 Product Details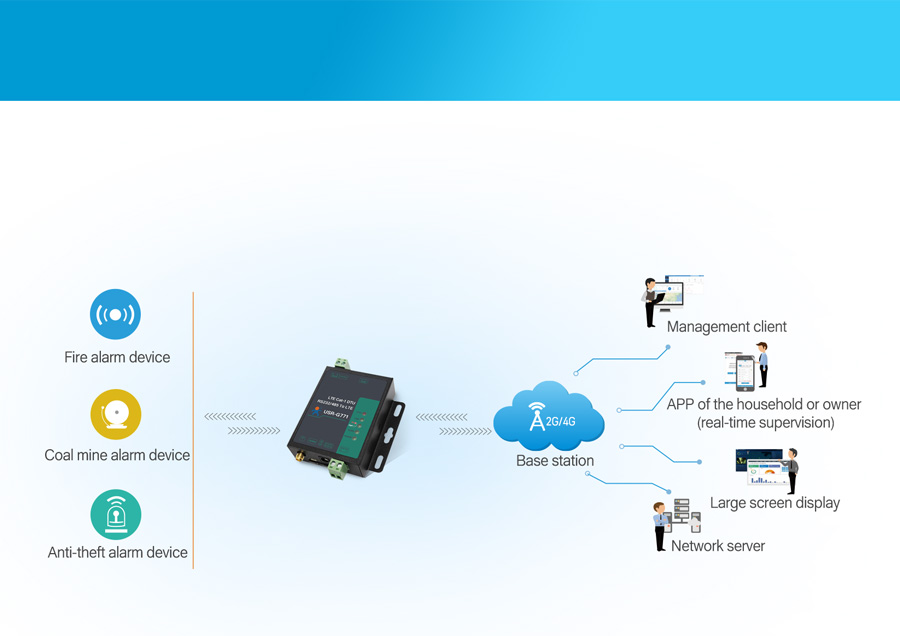 Application Case
Quickly responding, G771 uploads the alarm data via Internet as soon as possible, thus ensuring the safety of lives and property.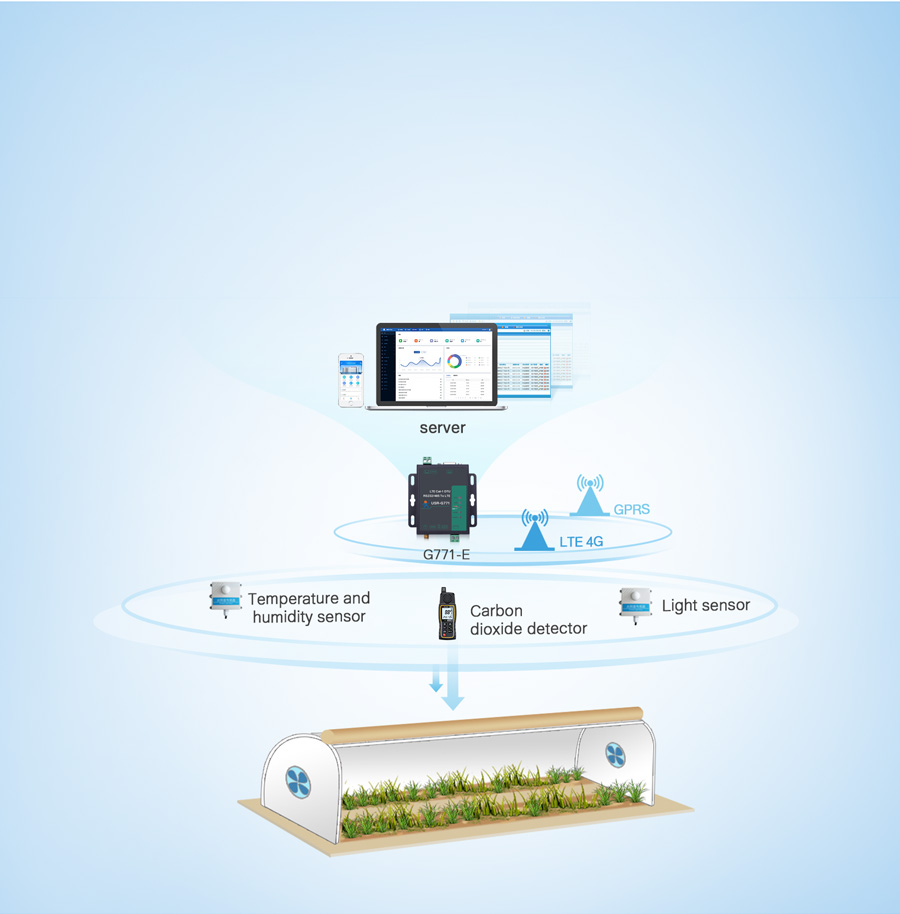 Case of Agricultural IoT Environmental Monitoring
G771 can quickly upload the data collected by sensors in agricultural greenhouses to remote servers through the LTE or GPRS network to facilitate the control center to monitor the greenhouse dynamics in real-time and respond in time.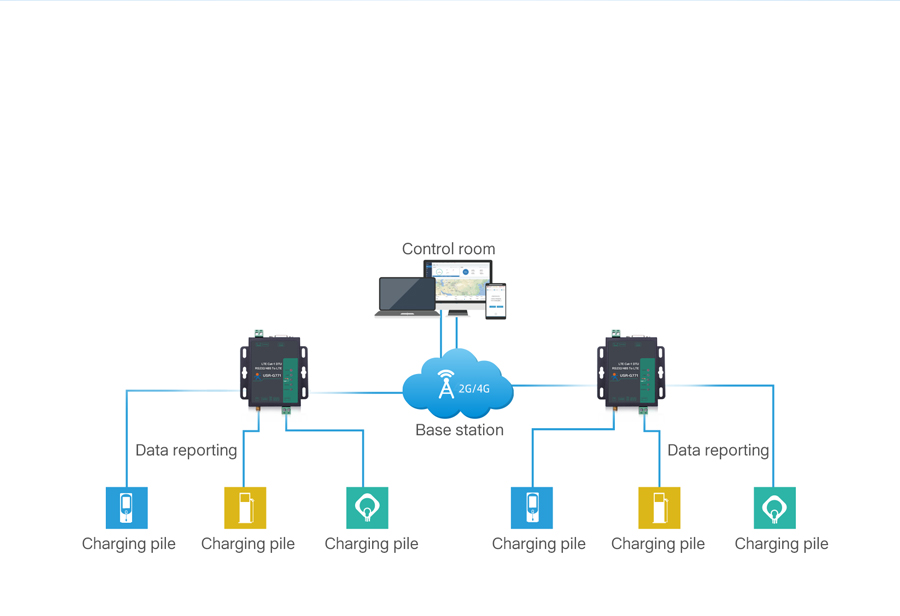 Transmission of Charging Pile Data Through Internet
As a charging pile works, its running data can be quickly uploaded to
a cloud server through the connected G771 to help the back-end operating
personnel uniformly manage the data.
Downloads
Development Files
Downloads
LTE Cat 1_ordering guide_V1.0.1
Utilities
USR-CAT1 Setup Software V1.0.6
Documents
---
We Also Recommend