Liquid Level Transmitter Sensor 4-20mA
$11600

$116.00

Save $20

(Exc. GST)
---
Available in stock
---
$ We Ship from our stock in AU (Perth) with pickup option, and Prices are Exc. GST
$ We Offer Quantity Discounts for Large Orders 10+ qty (Request for Quote)
$ We Accept Purchase Orders & Net 30 Payment for Eligible Accounts


Liquid Level Transmitter Sensor 4-20mA
This throw-in type liquid level transmitter adopts high-performance pressure sensing chip, with advanced circuit processing and temperature compensation technology. The level transmitter receives different pressures at different depths of liquid, which can be converted into corresponding current signals and output through the
sensor. In this way, the depth of the liquid can be measured.
The shell of the transmitter is made of stainless steel, anti-corrosion and easy to clean. It can be directly placed in the liquid like water, oil or even mash with large viscosity. This product can provide a steady performance in all sorts of measurement conditions such as a river, reservoir, city water supply, groundwater in urban, and basin.
The converter in the kit can convert current into a voltage signal which can be read by your Arduino controllers or other controllers. The throw-in type liquid level transmitter can be used in waterworks, refinery, sewage disposal work, construction, light industry, mechanical and so on.
Notes:
1. Please connect the power supply exactly as the connection instruction.
2. The product is a precision device, so it is not allowed to disassemble and crash the device or make it fall from the high place, what's more, don't touch its diaphragm with any sharp objects in case of causing device damage.
3. Power the transmitter up then you can use it. But it can provide more steady output after preheating for 30 minutes. Please turn off the power and stop using if any abnormality is found during use.
4. The liquid level lead should be vertically downward. Please prevent water from entering the terminal, and the joint is required to be waterproof.
5. Place the liquid level probe in water, try to fix it and keep it away from the inlet.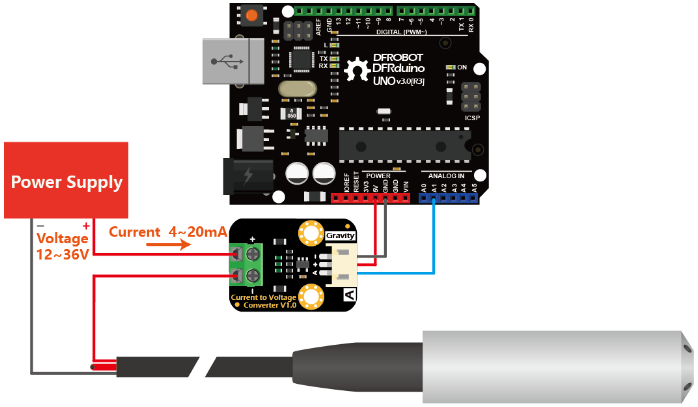 Connection Diagram

                                               Dimension Diagram                                                         
SPECIFICATION
Cable Length: 5m
Measuring Range: 0-5m
Accuracy: 0.5%
Output Signal: 4-20mA
Operating Voltage: 12-36V
Operating Temperature: -20℃-70℃
Overload Capacity: 300%
Service Life: 1*10^8 Pressure Circulation (25℃)
Material: 316L stainless steel
Protection Class: IP68
DOCUMENTS


SHIPPING LIST
Throw-in Type Liquid Level Transmitter x1
---
We Also Recommend