Odyssey Blue Intel Celeron J4125 Quad-Core Win10 Mini PC 128GB SSD
$31600

$316.00

Save $20

(Exc. GST)
---
Available in stock
---
$ We Ship from our stock in AU (Perth) with pickup option, and Prices are Exc. GST
$ We Offer Quantity Discounts for Large Orders 10+ qty (Request for Quote)
$ We Accept Purchase Orders & Net 30 Payment for Eligible Accounts
Odyssey Blue Intel Celeron J4125 Quad-Core Win10 Mini PC 128GB SSD
 Odyssey Blue J4125 allows you to simply build Edge Computing applications with powerful CPU and rich communication interfaces. The Odyssey Blue J4125, based on Intel Celeron J4125, is a Quad-Core 2.0GHz CPU that bursts up to 2.7GHz. There is also an onboard ATSAMD21 Core, an ARM Cortex-M0+ MCU that allows you to program Arduino on the x86 platform.
Odyssey Blue J4125 128 GB is a powerful mini PC with super low power consumption. It's a perfect device for personal, commercial, and industrial applications. You can use it as office equipment such as a desktop PC, NAS, router, or a home server for 4K media theater, NVR, Home Automation, gaming PC, and many more! The compact and stylish design will keep your desk clean and neat.

It's small, it's inexpensive for a fully activated Windows system or Ubuntu desktop. We also have Windows 10 pre-installed. Just simply connect it to a mouse, a keyboard, and a monitor with the ODYSSEY Blue. You can start playing your favorite game right away. Are you a Linux user? Just install your favorite Linux distribution! ODYSSEY Blue provides full support for popular Linux OS, like Ubuntu, Mint, Manjaro, etc. There are also abundant tutorial resources to help everyone no matter you are a mini PC beginner or a developer!
Odyssey Blue has been recognized and featured by leading industry media and community: ArsTechnica, Tom's Hardware, The New Stack, CNXSoftware, TechRadar, HACKADAY, Notebook Check, Hackster, ExplainingComputers, Android Central, Linux Gizmos, PC Perspective, ETAPrime, and many more! 
Features
Fast processor: Intel® Celeron® J4125, Quad-Core 2.0-2.7GHz and Intel® UHD Graphics 600
Integrated Arduino Coprocessor ATSAMD21 ARM® Cortex®-M0+
Hybrid connectivity: Dual-Band 2.4GHz/5GHz WiFi, Dual Gigabit Ethernet, LTE capability with additional module
Install whatever OS you like: Pre-installed Windows 10 (Unactivated), support Linux OS.
Plenty of I/Os: Raspberry Pi 40-pin GPIO, Arduino headers, M.2 PCIe, SATA III, USB 2.0, Micro SD card slot; SIM Card slot, etc
Stylish mini PC with transparent acrylic 

re_computer case
Applications
Office PC/ NAS/ Soft Router/ Firewall/ 4K Home Theater/ NVR/ Home Automation/ Gaming/ Virtual Machine Monitor, and many more! 
It can also be a NAS work with Open Media Vault and FreeNAS, it's both fast and large enough with external SSDs. If you want higher performance and more storage, you can use a standard M.2 PCIe or SATA SSD.
Flashing OpenWrt firmware, you can use Odyssey as the most trusted high-speed router with OpenWrt or OPNSense / pfSense with Dual Gigabit Ethernet. With 4G, even 5G cellular network connectivity via two of M.2 PCIe (B Key and M Key), it can also be a hybrid speed gateway.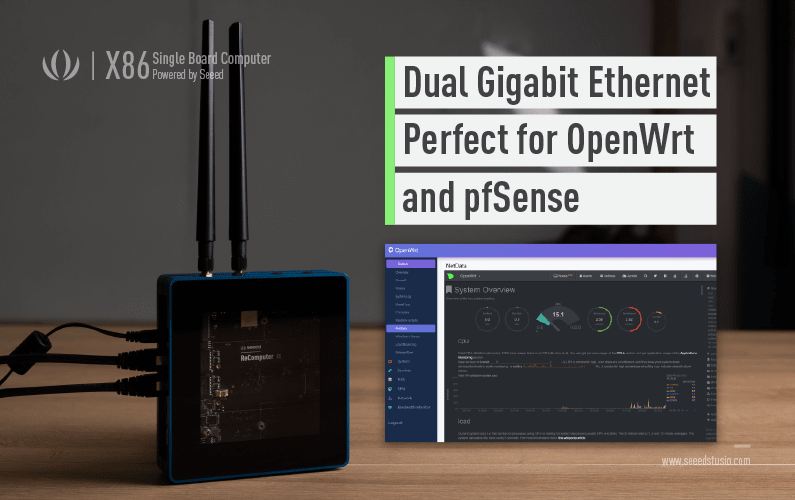 Media Server? Of course, let Odyssey steam 4K for you with Plex, and enjoy family sharable entertainment. Plus, without any Ads using Pi-hole!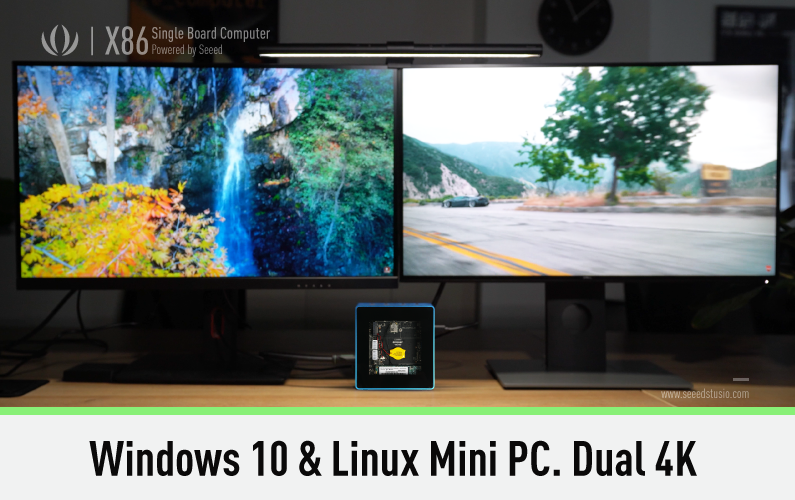 The J4125 supports Intel Hyper V virtualization and can be virtualized with Promox or VMware ESXi to create multiple instances or install multiple systems which makes it perfect for homelab option. For more information, please check this blog for ESXi installation.
Perfect work with Home Assistant, use Odyssey as your center of private and local home automation. 
Connecting to IP cameras, it can also work as an NVR system, even with local processing AI capability with Frigate. (we recommend you can also add Coral AI accelerator for a faster inference, we tested there is 10FPS without Coral, enough tho!)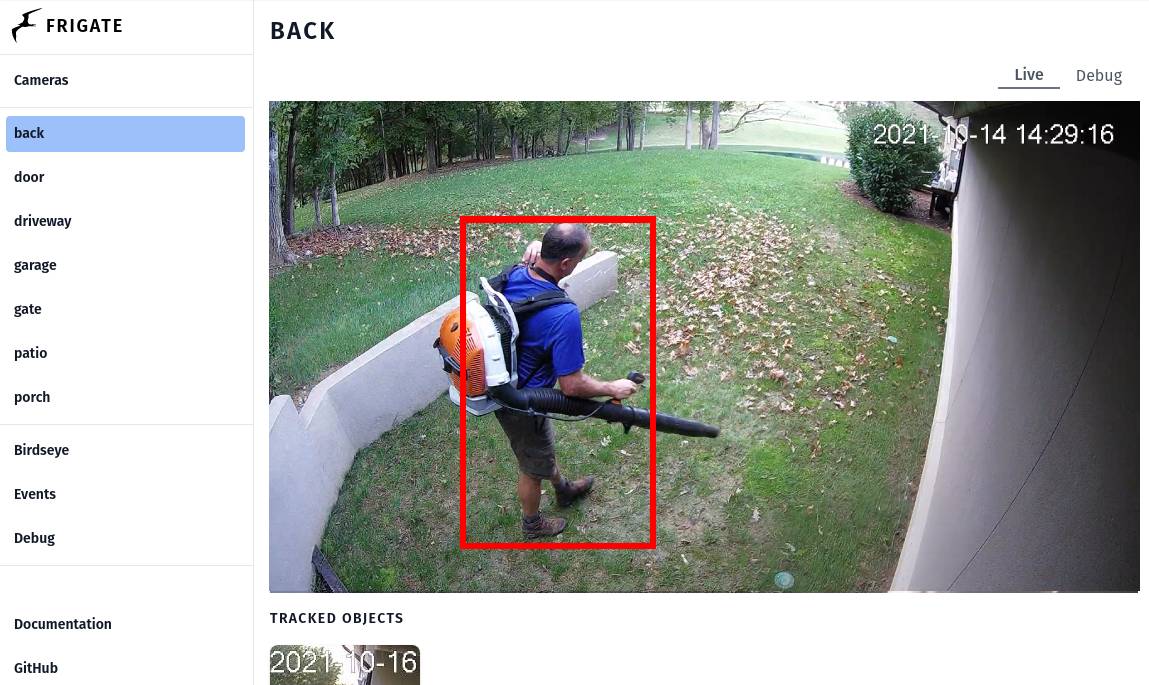 Also an Arduino fan? Program Arduino with onboard ATSAMD21 Core, an ARM Cortex-M0+ MCU. The ODYSSEY Blue J4125 128 GB is more than just a computer, with the Arduino Co-processor onboard, it can be used to connect with sensors, gyroscope, and much more. Why don't you start exploring your IoT journey from here! 
Specification
Components

ODYSSEY Blue J4125 128 GB

Processor

Intel® Celeron® J4125 (Frequency: 2.0 - 2.7GHz)

Coprocessor

Microchip® ATSAMD21G18 32-Bit ARM® Cortex® M0+

Graphics

Intel® UHD Graphics 600 (Frequency: 250 – 750MHz)

Memory

LPDDR4 8GB

Storage

External 128GB SSD

Wireless

Wi-Fi 802.11 a/b/g/n/ac @ 2.4/5 GHz HT160 

Networking

Intel® I211AT PCIe Gigabit LAN, Supports Wake-On-LAN, Supports PXE

Audio

Microphone + headphone Combo Connector

USB

USB 2.0 Type-A x2, USB 3.1 Type-A x1, USB 3.1 Type-C x1

Video Interfaces

HDMI2.0a: Up to 4096x2160 @ 60Hz 24bpp / DP1.2a: Up to 4096x2160 @ 60Hz 24bpp

Expansion Slots

M.2(Key B, 2242/2280): SATA III, USB2.0, UIM; M.2 (Key M, 2242/2280): PCIe 2.0 ×4; Micro SD card Socket; SIM Card Socket; SATA III

 

Operating temperature

 

 0°C~45°C

 

Storage temperature

 

 -20°C~60°C

 

TPM

Built-in TPM 2.0

Power

DC Jack 5.5/2.1mm or Type-C PD; DC Jack input: 12-19V DC; Type-C input: 15V DC

Dimensions

130x120x50mm

Certifications

FCC, CE, TELEC
Hardware Overview
Part List
ODYSSEY - X86J4125 x 1
User Manual x 1
International Power Adapter
Antenna x 2(Assembled)
RTC Battery x 1(Assembled)
Heat Sink(Assembled)
Cooling Fan (Assembled)
re_computer case x 1
External 128g SSD (Assembled) x 1
---
We Also Recommend