Plastic Shell Enclosure for the Phidget RFID Read-Write 1024
$1100

$11.00

Save $6

(Exc. GST)
---
Available in stock
---
$ We Ship from our stock in AU (Perth) with pickup option, and Prices are Exc. GST
$ We Offer Quantity Discounts for Large Orders 10+ qty (Request for Quote)
$ We Accept Purchase Orders & Net 30 Payment for Eligible Accounts
Plastic Shell Enclosure for the Phidget RFID Read-Write 1024
This sturdy plastic enclosure protects your Phidget and has mounting holes on the underside.
The 3853 Enclosure is designed to protect the 1024 - PhidgetRFID Read/Write while still giving you access to the USB port and terminal block through openings in the enclosure. Tags can be read by placing them flat on the face of the enclosure where the Phidgets logo is.
There are mounting holes that go through the bottom of the enclosure, so the board can be mounted to a flat surface and the cover can snap on top.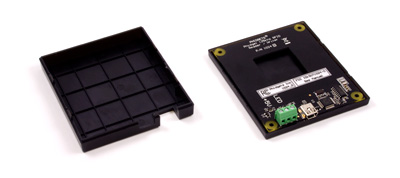 Note: PhidgetRFID and mounting screws not included.
Resources
Projects
---
We Also Recommend