Solar Power Manager 12V Lead Acid Battery
$4000

$40.00

Save $7

(Exc. GST)
---
Available in stock
---
$ We Ship from our stock in AU (Perth) with pickup option, and Prices are Exc. GST
$ We Offer Quantity Discounts for Large Orders 10+ qty (Request for Quote)
$ We Accept Purchase Orders & Net 30 Payment for Eligible Accounts
Solar Power Manager 12V Lead Acid Battery
This Solar Power Manager series is designed for IoT projects and renewable energy projects, providing safe and high-efficiency embedded solar power management modules for makers and application engineers. This medium-power high-efficiency solar power management module allows you to charge a 12V lead-acid battery with a maximum of 4A using a standard 18V solar panel.

Solar Power Manager For 12V Lead-Acid Battery is a medium-power high-efficiency solar power management module, which is able to charge a 12V lead-acid battery with a maximum of 4A using a standard 18V solar panel. It is suitable for applications within 100W, such as 12V lighting equipment, security monitoring, small robots, pumps or environmental monitoring stations. It features as MPPT(Maximum Power Point Tracking) function, maximizing the output power of solar panels under various sunlight. Compared with common PWM solar controllers, it can improve charging performance by 10%-30%. Benefited from its small size and lightweight, it is easier to embed it in your projects. The module provides dual high-power outputs 5V 5A (OUT1) and 12V 8A (OUT2) and dual USB outputs 5V 2.5A (USB1/USB2). Except USB1, all outputs can be turned ON/OFF by I/O pins of most controllers (3.3V/5V compatible). This feature helps to dynamically power loads and reduce power consumption. Various protection functions are also employed to ensure the safety and stability of the solar systems.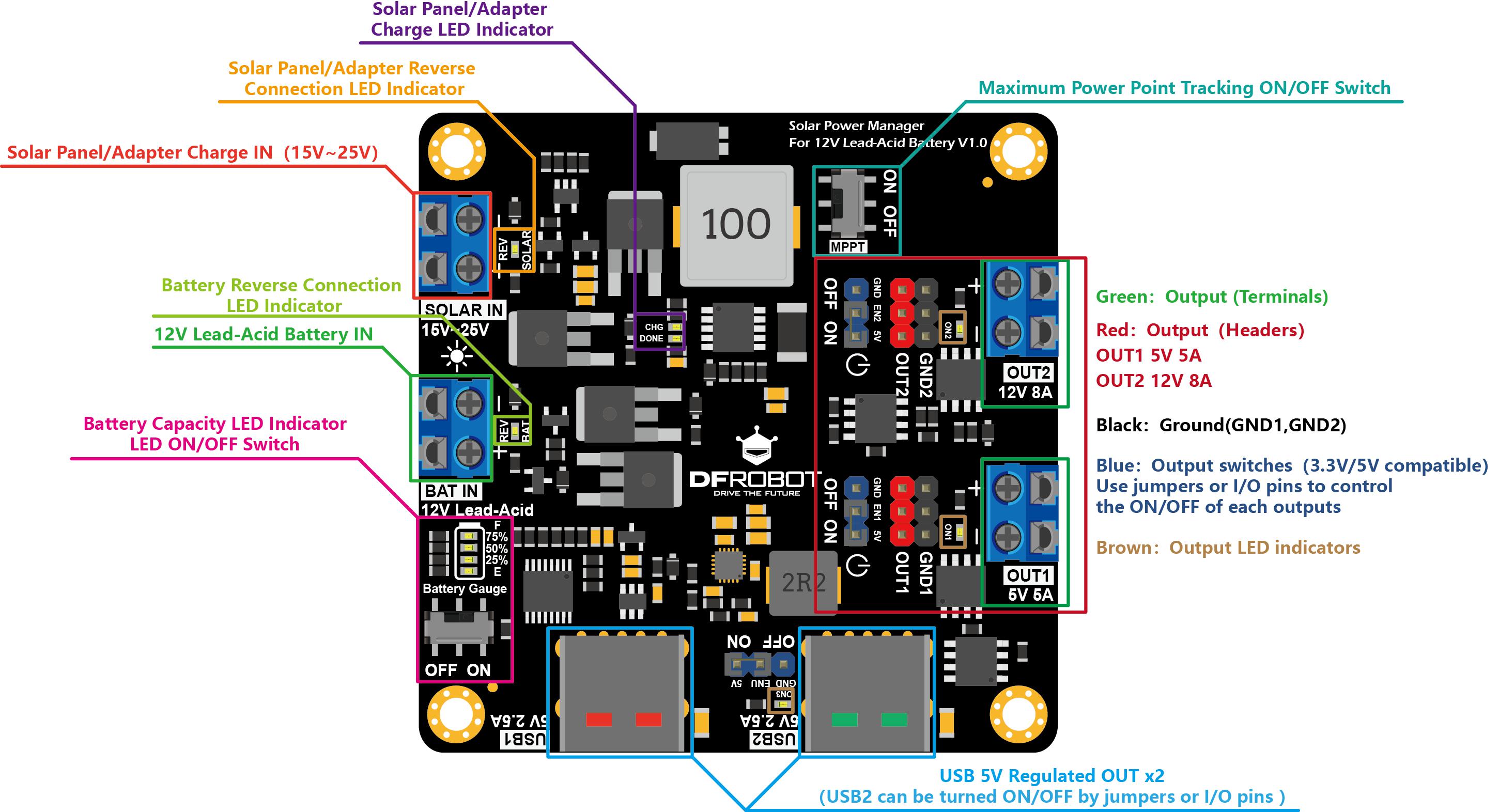 Solar Power Manager For 12V Lead-Acid Battery Board Overview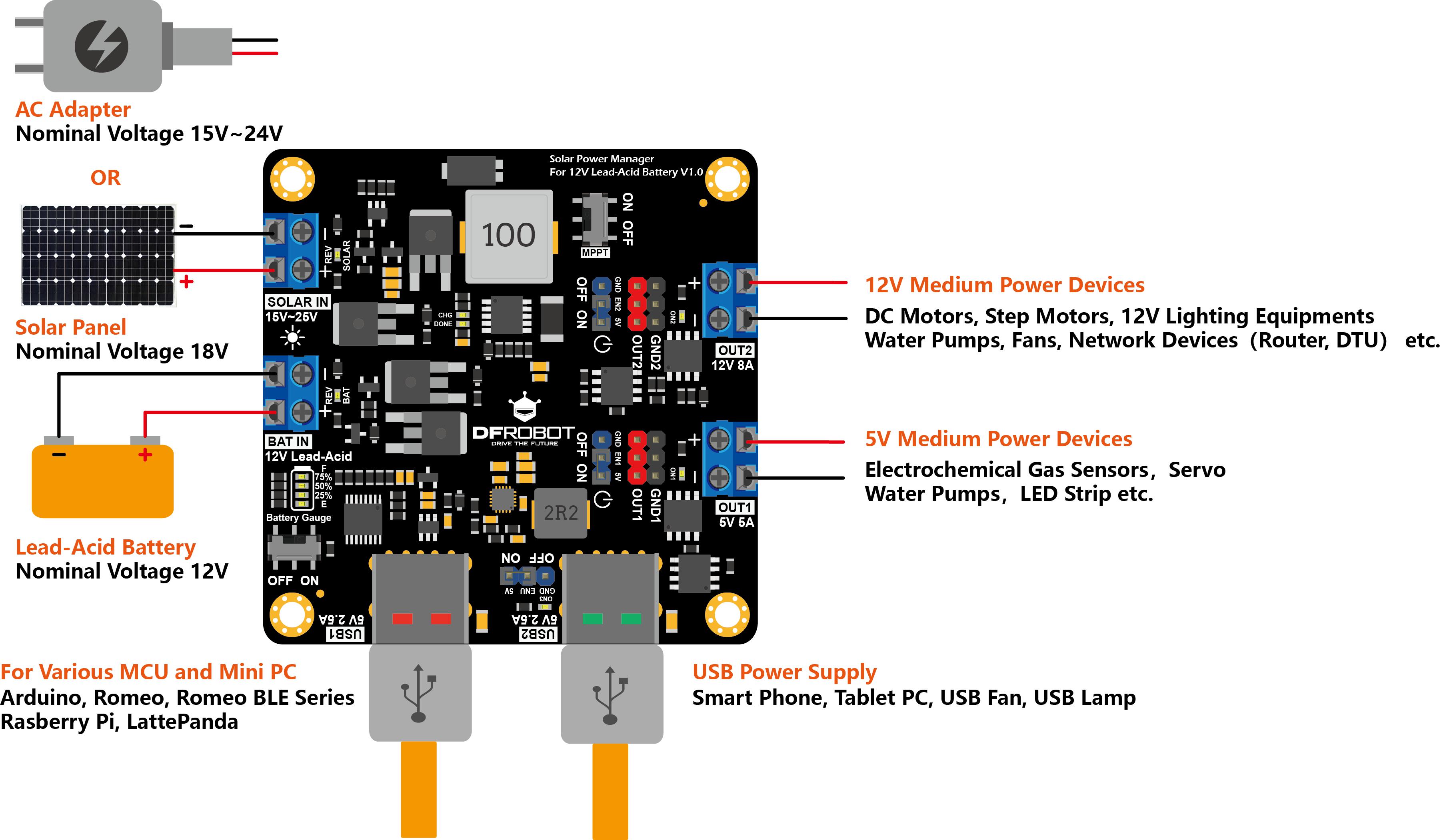 Build a solar powered system
FEATURES
Constant voltage (18V fixed) MPPT algorithm, maximizing solar energy conversion
Designed for standard 18V solar panels and 12V lead-acid battery
Multiple high efficiency outputs for 12V or 5V large power devices
Full protection functions, a safe and high efficiency solar power module
A variety of status indicators, system status at a glance
APPLICATIONS
Street lighting
Intelligent Agriculture
Environmental Monitoring Station
SPECIFICATION
Solar Power Management IC: CN3767
Solar Input Voltage (SOLAR IN): 15V~25V
Battery Input (BAT IN): 12V Lead-Acid Battery
Charge Current: 4A Max Trickle Charging, Constant Current, Constant Voltage, Float Charging Four Stages Charging dedicated for 12V Lead-Acid Battery
Float Charge Voltage: 13.55V
Over-discharge Protection Voltage: 10.8V
Solar Charge Average Efficiency (18V SOLAR IN): 94%
OutputsNote1: OUT1 5V 5A, OUT2 12V 8A, USB1 5V 2.5A, USB2 5V 2.5A
USB1/USB2 Support Three USB Charge ProtocolsNote2

Apple 2.4A: DP=2.7V, DM=2.7V
SAMSUNG 2.0A: DP = 1.2V, DM =1.2V
BC1.2: DP=DM=0V (Short)

OUT1/USB1/USB2 Efficiency: 93%@50%Load
OUT2 Efficiency: 98%@50%Load
Quiescent Current: <4 mA
Protection Functions
SOLAR IN: Backflow/Reverse Connection Protections
BAT IN: Over-discharge/Over-charge/Reverse Connection Protections
OUT1-2/USB1-2: Short Circuit/Over Current/Over Heat Protections
Operation Temperature: -40℃~85℃
Dimension: 68.0mm*68.0mm
OUT1/USB1/USB2 shared 5A current driving capacity (peak current 8A), that is, the total output power of the three outputs should not exceed 5V*5A=25W (peak 40W).

 



To ensure whether the communication devices you use are compatible with the protocols listed, please consult your communication device manufacturer or retailers for details. If your device does not support the USB charging protocol mentioned above, usually it will limit the charging power to 5V*1A=5W for security sake. This is not caused by the failure of the USB output or insufficient output capability.
SHIPPING LIST
1 X Sunflower: Solar Power Manager Micro
3 X Black Jumper
4 X Nylon pillar M3*16
4 X stainless steel screw M3*10
1 X Aluminum cooling fin (Black) 14*14*7mm
1 X Thermal conductive silicone pad (Blue) 14*14*0.5mm
1 X Aluminum cooling fin (Black) 50*50*12.7mm
1 X Thermal conductive silicone pad (Blue) 50*50*1.5mm
1 X Female DC power jack adapter
---
We Also Recommend