USR-K7 Serial UART TTL to Ethernet Module
$2700

$27.00

Save $6

(Exc. GST)
---
Available in stock
---
$ We Ship from our stock in AU (Perth) with pickup option, and Prices are Exc. GST
$ We Offer Quantity Discounts for Large Orders 10+ qty (Request for Quote)
$ We Accept Purchase Orders & Net 30 Payment for Eligible Accounts
USR-K7 Serial UART TTL to Ethernet Module
TTL UART to Ethernet module

Supports TCP server/client, UDP server/client, HTTPS client, Virtual COM

Supports Modbus RTU to Modbus TCP

Supports flow control CTS/RTS, XON/XOFF

Supports 10/100Base-T(X) self-adaptive Ethernet interface

Configuration via Web Server page, AT commands, and Windows Utility

Hardware watchdog; TI Cortex M4 Solution; MQTT/SSL special firmware (contact sales)
 Specifications
Item

Parameter

Value

 

 

Hardware

Work Voltage

DC 3.0~3.6 V,(3.3V best choice)

Work Current

130mA@3.3V

Ethernet

RJ45、10/100Mbps; Auto switch between cross and direct connection

Package type

Pin-in package

Baud Rate

600~1M(bps)

 

 

 

 

 

 

 

 

 

Software

Network Protocol

IP、TCP、UDP、DHCP、DNS、https、ARP、ICMP、Web socket

IP

Static IP or DHCP

DNS

Supports

Configure

Setup software, Web-page configuration, AT command

Work Modem

TCP Server/TCP Client/UDP Server/UDP Client

Modbus

Modbus Gateway: Modbus RTU to TCP, Modbus Polling

Web to Serial

Web socket: Web to serial

httpsd Client

Supports

Class RFC2217

Supports

Customized Webpage

Supports

Web Cache

Send:16Kbyte;Receive:16Kbyte;

Serial Port Cache

Send:2Kbyte;Receive:2Kbyte;

Average latency

On Lan , the time<10ms

Software

Setup Software, Virtual COM software

 

 

 

 

 

Others 

Certificate

/

Protection

1.5KV Electromagnetic isolation

Size

35.0x19.39x18.25 mm(L*W*H)

Work Temp

-40~85℃

Storage Temp

-40~105℃

Work Humidity

5%~95% RH

Storage Humidity

5%~95% RH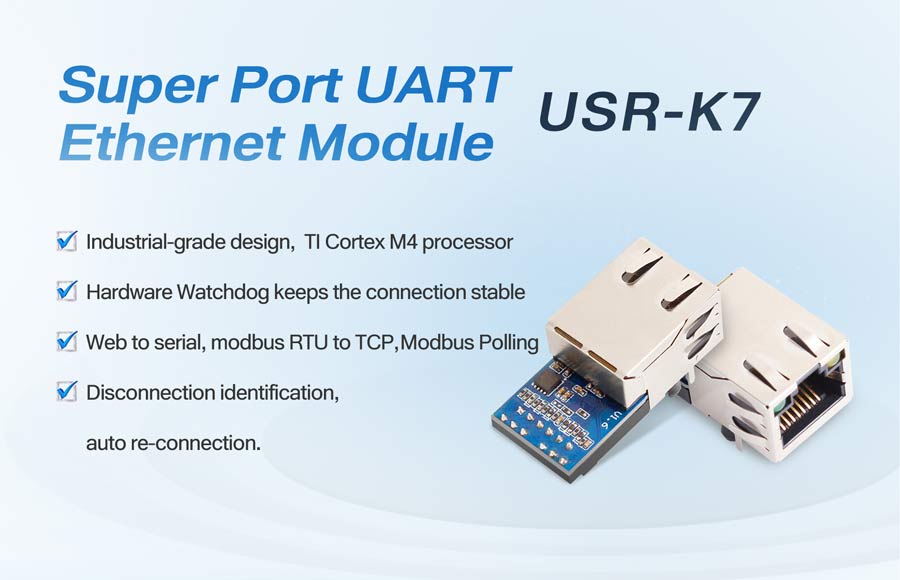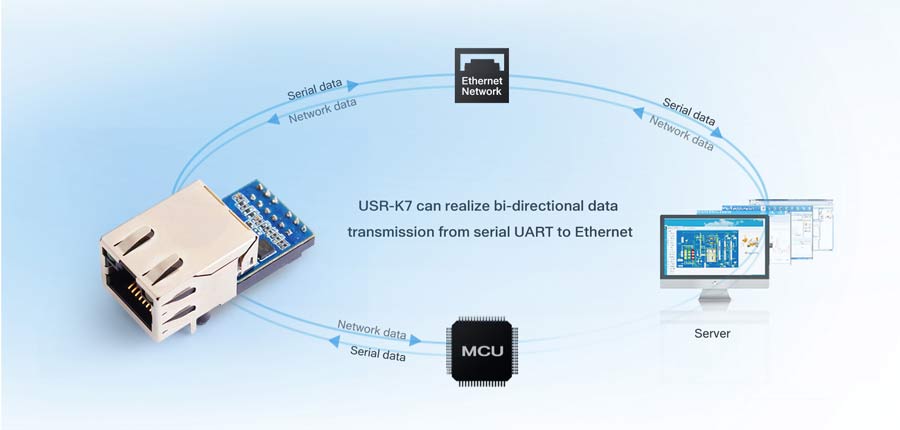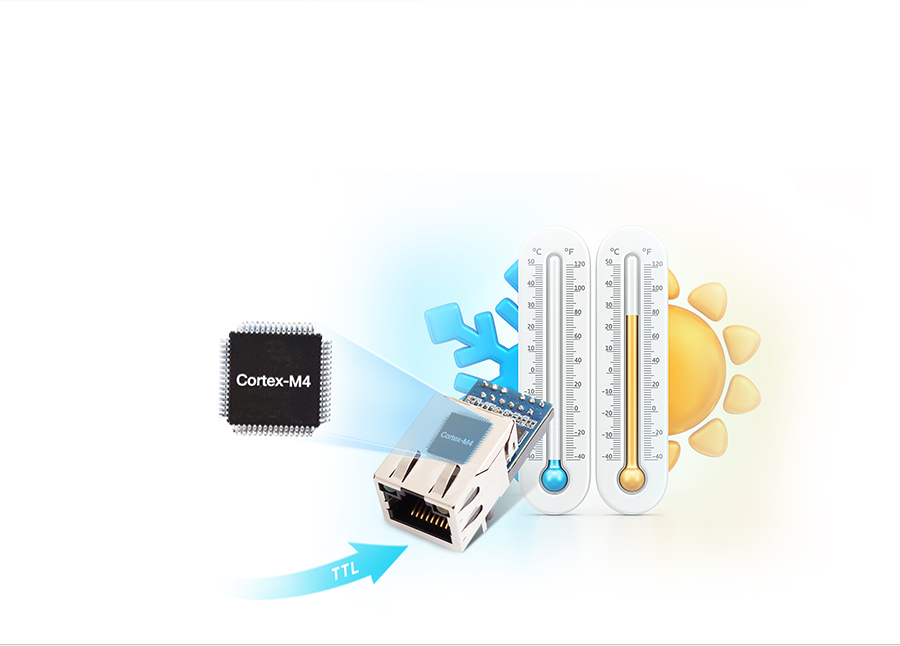 Industrial Ethernet to UART Modules
With IT scheme and Cortex-M4 processor, signal processing is more efficient and reliable.Equipped with optimized TCP/IPI protocol stack.
Ethernet Module USR-K7 can quickly realizes bi-directional data transmission stable and reliable.
The modules has been tested for a long time at - 40 - 85 C and 7* 24 hours stability pressure test.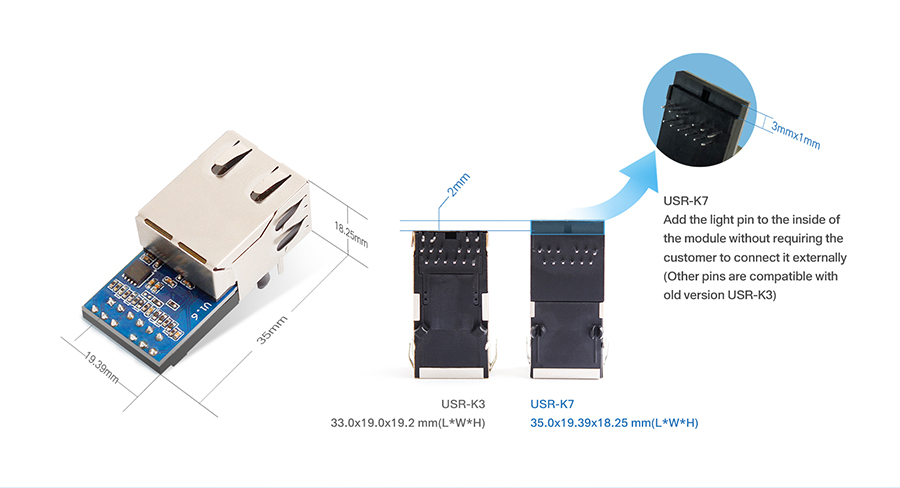 Product details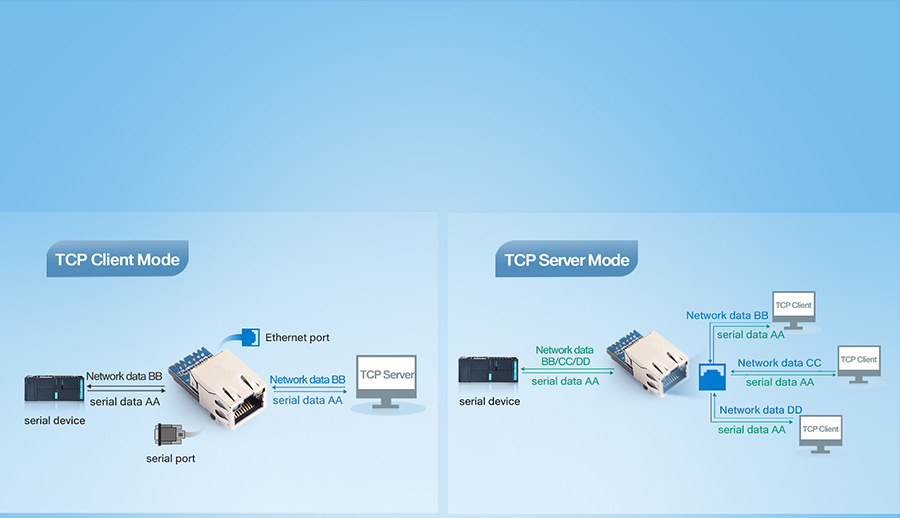 Multiple Working Modes are Optional
Ethernet to Serial Module USR-K7 supports five working modes of TCP Client, TCP Server, UDP Client, UDP Server and httpsd Client. The data transmission can be realized with simple configuration.


UDP Client is a connectionless transport protocol in which USR-K7 can only communicate with the target port of the target IP.
In UDP Server mode, the data received by serial port is automatically sent to the network target of the last communication.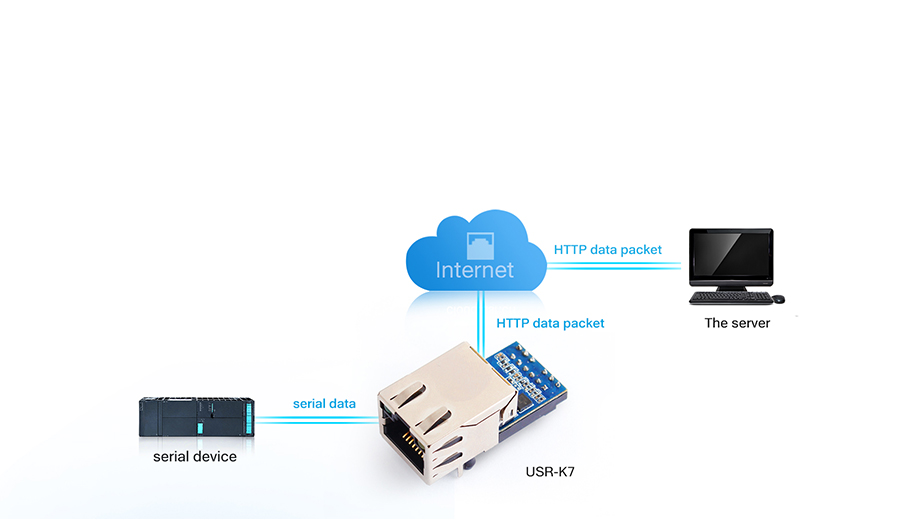 Data Submitted Directly to Web Server
Supports the data interaction between the terminal device and the webserver directly. Without considering the conversion process, the data request from the serial port to the https server can be realized quickly by simply setting parameters.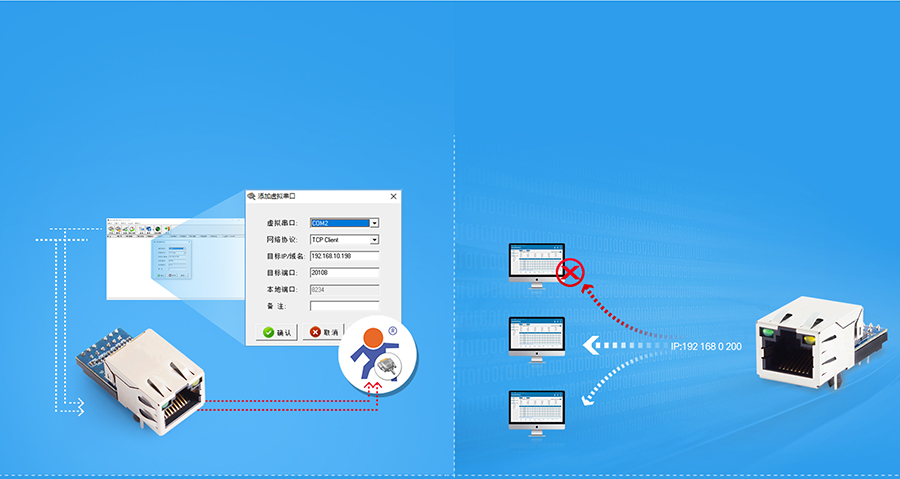 Features
Virtual COM
Solves the problem that PC software as serial port can not communicate with networked devices
Disconnection identification, automatic connection
Easy identification of dead links and auto re-connection to prevent data loss due to power outages and disconnections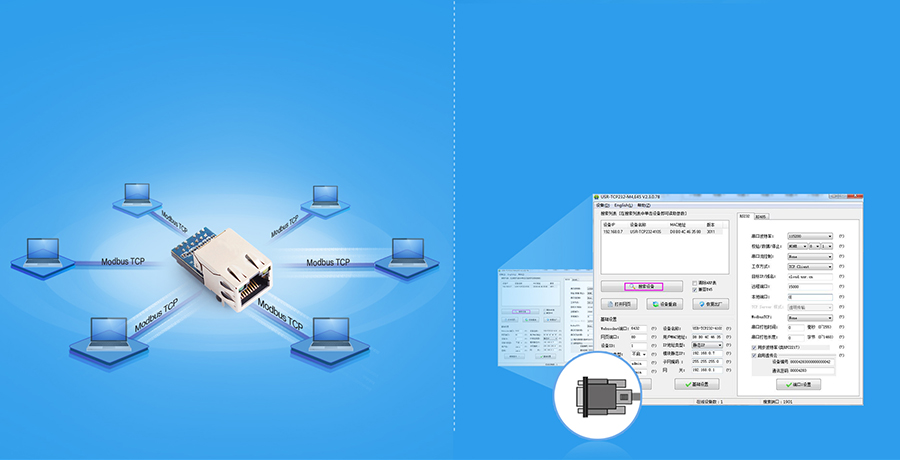 Modbus Gateway
Polling mechanism can effectively solve the problem of congestion caused by data concurrency (firmware 3009 or higher)
Custom built-in web page, Function of Web to Serial
Design built-in web pages according to project requirements, realize web page control, web page data acquisition.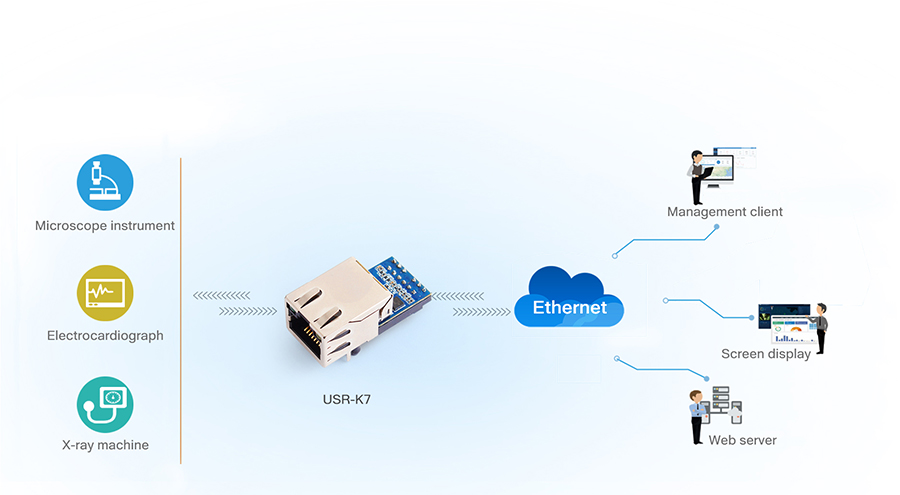 Networked Monitoring of Medical Machinery
USR-K7 can realize the data transmission between serial port and network quickly thus reducing the manpower on duty.
At the same time, multiple medical devices can be combined into a local network to realize real-time information.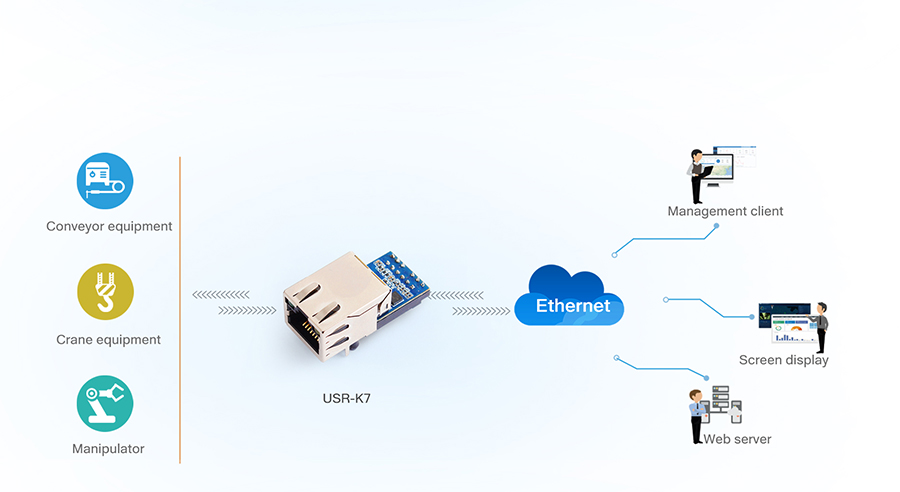 Industrial Automation Network Monitoring
Many traditional serial port devices do not have networking capability. USR-K7 module integrated TCP/IP protocol stack can provide the solution of network communication between the serial device to server via network based on socket to improve the level of industrial automation.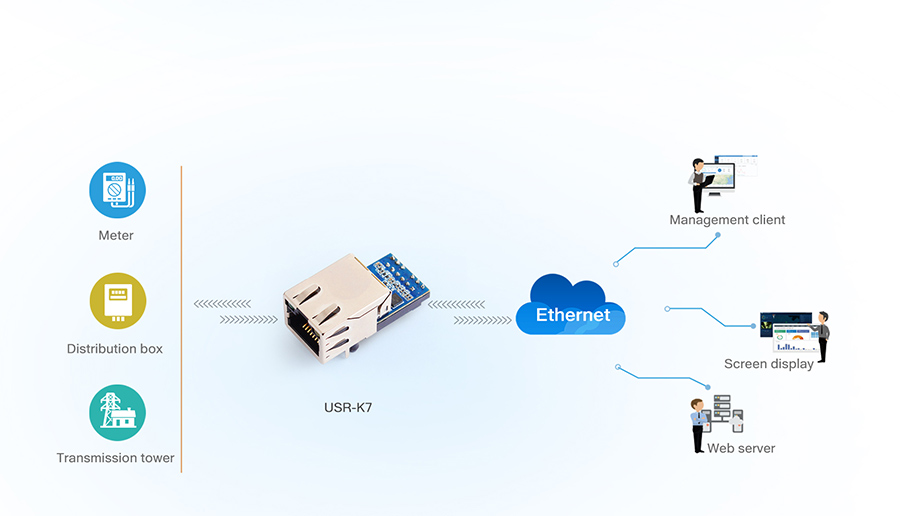 Networked Monitoring of Medical Devices
The power data of the distribution box needs to be collected and reported in real time.
Tiny size Ethernet to serial module USR-K7 is an industrial-grade design that can provide reliable and stable networking functions and suitable for the integrated project requirements of power monitoring.
Downloads
---
We Also Recommend