Mini Computer Router with Raspberry Pi CM4, Dual Gigabit Ethernet, 4GB RAM/32GB eMMC
$21800

$218.00

Save $34

(Exc. GST)
---
Available in stock
---
$ We Ship from our stock in AU (Perth) with pickup option, and Prices are Exc. GST
$ We Offer Quantity Discounts for Large Orders 10+ qty (Request for Quote)
$ We Accept Purchase Orders & Net 30 Payment for Eligible Accounts
Mini Computer Router with Raspberry Pi CM4, Dual Gigabit Ethernet, 4GB RAM/32GB eMMC
The Dual Gigabit Carrier Board powered by Raspberry Pi Compute Module 4 is equipped with dual Gigabit Ethernet ports and dual USB 3.0 ports, making it suitable for soft router applications, while keeping the hardware to a minimum. It has pre-installed Raspberry Pi Compute Module 4 with 4GB RAM and 32GB eMMC to enable fast boot-up times and a smooth overall experience. Also, this comes included with a PC/ABS case with an Aluminum alloy on top which has a large sink in order to cool down the CM4 at extreme loads
Features
Powered by Raspberry Pi Compute Module 4 with 4GB RAM/ 32GB eMMC
Compact size (75x64x21mm) with rich I/O peripherals
Dual Gigabit Ethernet connectors and OpenWrt firmware pre-installed to realize software router applications
Camera/ display connectivity using MIPI CSI, MIPI DSI, and micro-HDMI interfaces
Onboard dual USB 3.0 with an additional USB 3.0 9-pin header for more external ports
Micro-SD Card slot to load system image for non-eMMC version of CM4
More Expandability via FPC Connector (I2C, SPI)
External fan support with fan power connector
Power using USB Type-C
Aluminum alloy top with large heat sink for better heat dissipation
PC/ABS case with better protection which is suitable for industrial applications
Case with long rubber feet for better stability when placed on a flat surface
Keyhole slot wall mount with the ability to hang in two orientations
DIN rail mount support with 3 mounting holes
Description
The Dual Gigabit Carrier Board powered by Raspberry Pi Compute Module 4 is equipped with dual Gigabit Ethernet ports and dual USB 3.0 ports, making it suitable for soft router applications, while keeping the hardware to a minimum. We have pre-installed a Raspberry Pi Compute Module 4 with 4GB RAM and 32GB eMMC to enable fast boot-up times and a smooth overall experience. You can also replace the installed CM4 with any other CM4 of your choice!
Out of the two Gigabit Ethernet Ports (RJ45), one Ethernet Port is connected to the Gigabit Ethernet PHY of the CM4 module which is based on Broadcom BCM54210PE. On the other hand, the other Gigabit Ethernet Port is connected to Microchip's LAN7800 which is a USB 3.0 to GbE (Gigabit Ethernet Bridge). The USB 3.0 interface here is extended from the PCIe interface of the CM4 Module. Also, both ports can support speeds up to 1Gbps.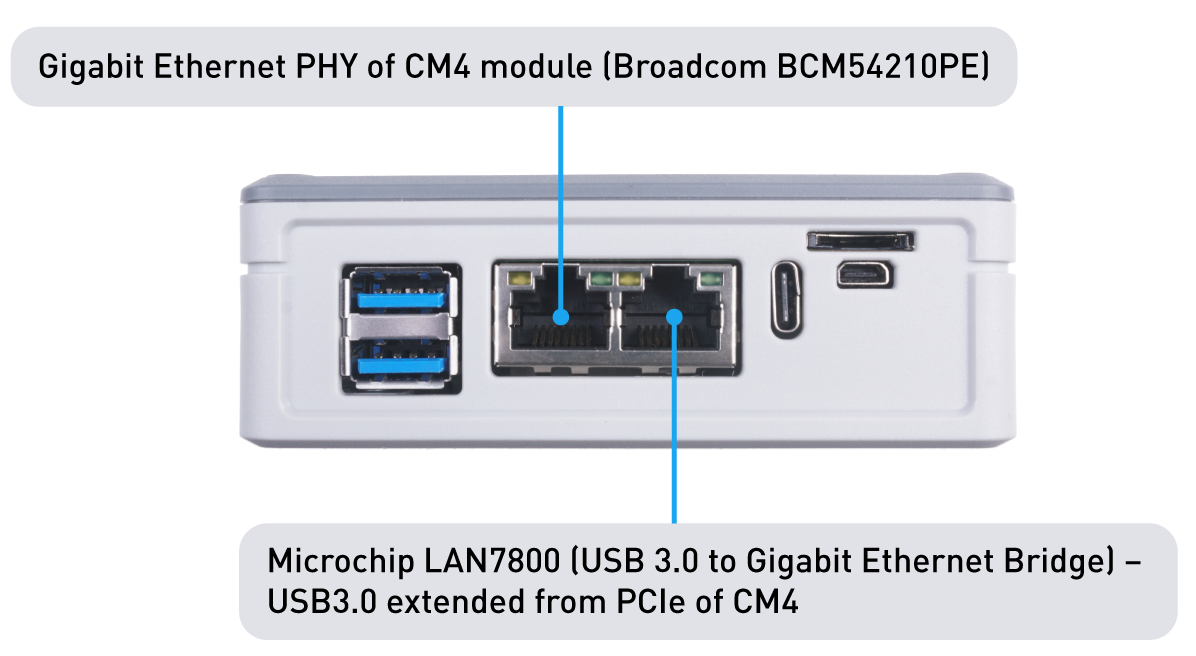 It features a variety of I/O peripherals such as MIPI CSI, MIPI DSI, micro-HDMI to connect displays/ cameras, a standard 9-pin USB 3.0 header for more USB expansion, a micro-SD card slot, and an FPC connector while maintaining a compact form factor! This board is ideal for HTPC makers, Linux developers, software router enthusiasts, and the majority of regular Raspberry Pi users.
Also, this comes included with a PC/ABS case with an Aluminum alloy on top which has a large sink in order to cool down the CM4 at extreme loads. It provides better protection as well and is suitable to be used in industrial applications.
Heat Maps
The case has long rubber feet for better stability when placed on a flat surface. You can mount this case in two different methods. One is to use the keyhole slot wall mount and hang it on the wall (you can hang in 2 different orientations). The other is to use the 3 mounting holes and mount onto a DIN rail.
Wall Mount (horizontal and vertical orientations)
DIN Rail Mount
OpenWrt Pre-Installed
The Compute Module 4 comes with OpenWrt firmware pre-installed out-of-the-box. This means you just need to unbox the package, take out the board, connect to your existing home network and have your own mini router!
OpenWrt is an open-source Linux operating system which runs on embedded devices/ routers. It offers more features, performance, and security than a traditional router. It has a filesystem that's fully writable and includes a package management system. You can make use of these packages to suit your applications in various ways. Once you connect this board to your home network and access the router from a web browser, you will be presented with a beautiful and interactive dashboard as follows.
You can navigate in this dashboard, and you will have access to a bunch of features such as:
Increase overall network performance when multiple devices are connected
Share files between devices via an external storage drive connected directly to the router
Increase network security
Run a BitTorrent client from the router
Connect a printer directly to the router to create a networked printer
Limit bandwidth usage of a particular device in the network
Active queue management
Real time network monitoring
Create Dynamic DNS
Set Up a VPN client or server
Block ads on the network
By utilizing the above features, you will have unlimited possibilities with this mini router!
Specifications
Carrier Board
Specification
Details
Networking
Dual Gigabit Ethernet Connectors
USB 3.0 to GbE
(Gigabit Ethernet Bridge)
Microchip's LAN7800
USB
2 x USB 3.0 Ports
1 x USB 3.0 9-Pin Header
Storage
Micro-SD Card Slot (load system Image for non-eMMC CM4 version)
Camera
1 x MIPI CSI Connector
Display
1 x MIPI DSI Connector
1 x Micro HDMI Connector
FPC
Interface for I2C and SPI
External Fan
Power connector for fan
Power
5V/3A using USB Type-C Port
LAN7800 Industrial
Temperature Range
-40°C to +85°C
Dimensions
75x64x21mm
Weight
43g
Compute Module 4
Specification
Details
Processor
Broadcom BCM2711 quad-core Cortex-A72 (ARM v8) 64-bit SoC @ 1.5GHz
Memory
4GB LPDDR4
Storage
32GB eMMC
Connectivity
2.4GHz and 5.0GHz IEEE 802.11b/g/n/ac Wi-Fi, Bluetooth 5.0, BLE with onboard and external antenna options
Onboard Gigabit Ethernet PHY supporting IEEE1588
1 × USB 2.0 interface
PCIe Gen 2 x1 interface
28 GPIO signals
SD card interface for SD card or external eMMC
Video
Dual HDMI interface (up to 4Kp60 supported)
2-lane MIPI DSI display interface
2-lane MIPI CSI camera interface
4-lane MIPI DSI display interface
4-lane MIPI CSI camera interface
Multimedia
H.265 (4Kp60 decode); H.264 (1080p60 decode, 1080p30 encode); OpenGL ES 3.0 graphics
Input power
5V DC
Operating temperature
0 to +80°C
Dimensions
55 mm × 40 mm
Production lifetime
Raspberry Pi Compute Module 4 will remain in production until at least January 2028
Compliance
For a full list of local and regional product approvals, please visit:
www.raspberrypi.org/documentation/hardware/raspberrypi/conformity.md
Hardware Overview
Applications
Software Router
IoT
Smart Home
Camera Projects
Part List
1 x Dual Gigabit Ethernet Carrier Board for Raspberry Pi CM4 with 4GB RAM, 32GB eMMC
1 x Aluminum Case
1 x International Wall Adapter Power Supply 5VDC 4A – Type-C (with US/AU/UK/EU plugs)
---
We Also Recommend