Industrial Din-Rail WiFi Serial RS485 Ethernet Device Server USR-DR404
Industrial Din-Rail WiFi Serial RS485 Ethernet Device Server USR-DR404
USR-DR404 is a Din-rail WiFi serial device server that can realize bidirectional transparent transmission between RS485 and WiFi / Ethernet.
1-port RS485 to 802.11 a/b/g/n WLAN Serial Device Server
Links serial and Ethernet devices to an IEEE 802.11a/b/g/n network
Supports TCP server/client, UDP server/client, HTTP client, Virtual COM
Supports Modbus RTU to Modbus TCP
Supports multiple networking mode with 1 RJ45 ethernet port
Note: This kit includes the antenna, AU power adapter
Documentations
USR-DR404 User Manual
USR-DR404 Quick Start Guide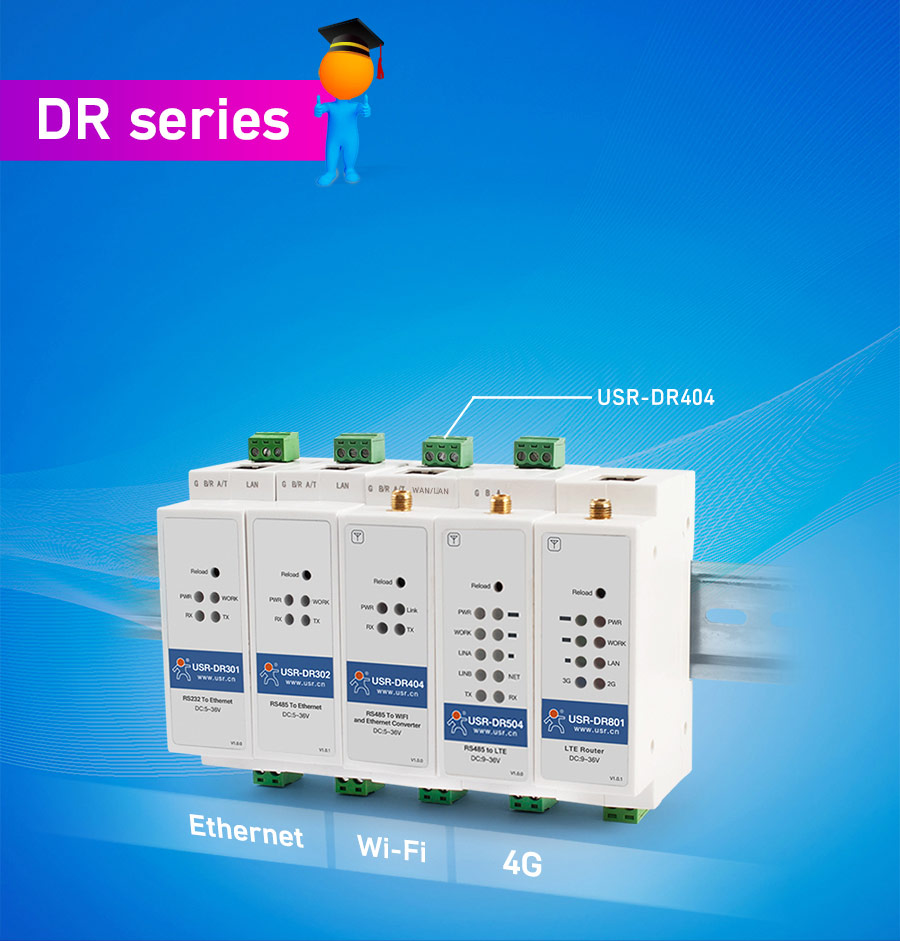 DR(Din-Rail series products are our newly launched devices which include
the serial device server, 4G cellular modem, 4G industrial router, and other product
models, Equipped with a 35mm din-rail clasp, these products are more suitable for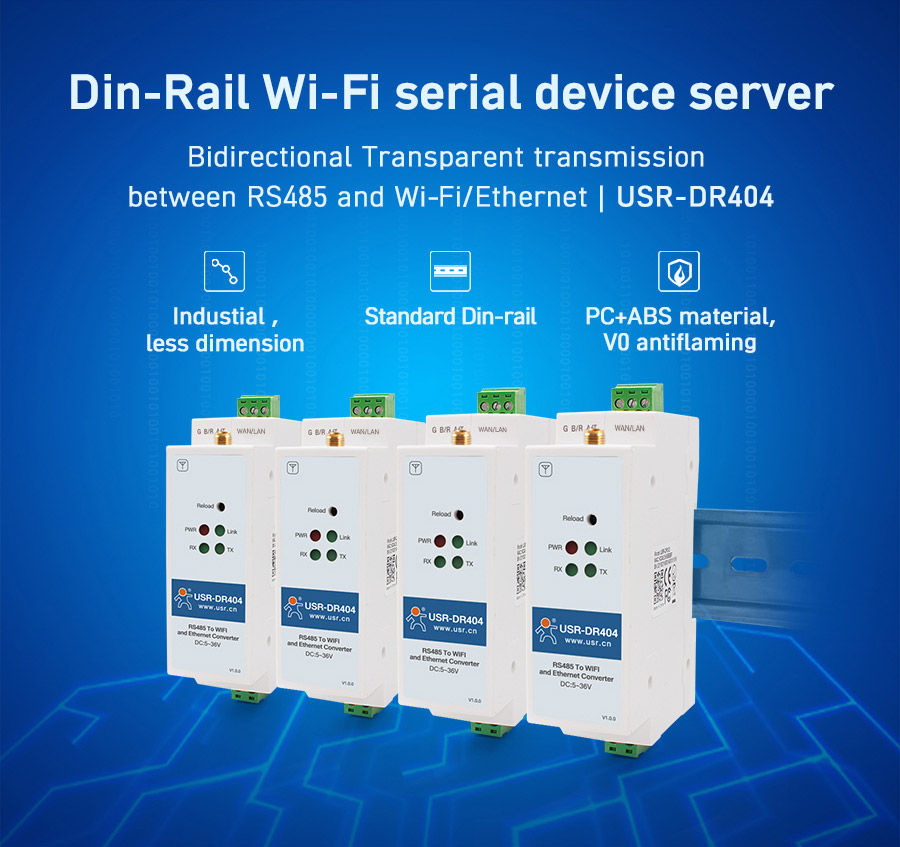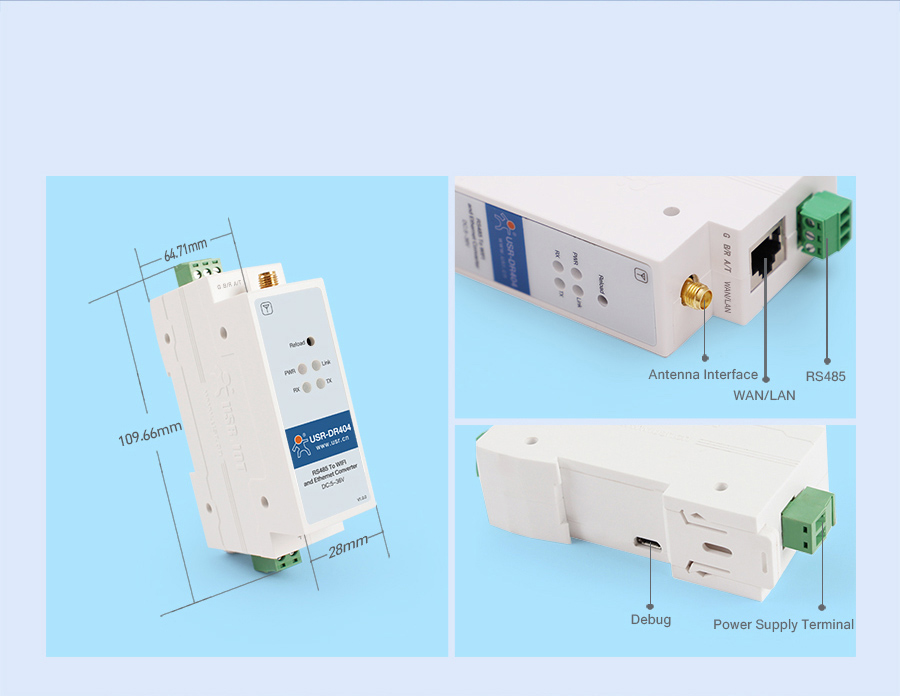 Product Detail
PC + ABS material, light and easy to carry, low cost, high performance,
V0 class flame retardant rating, to ensure the safety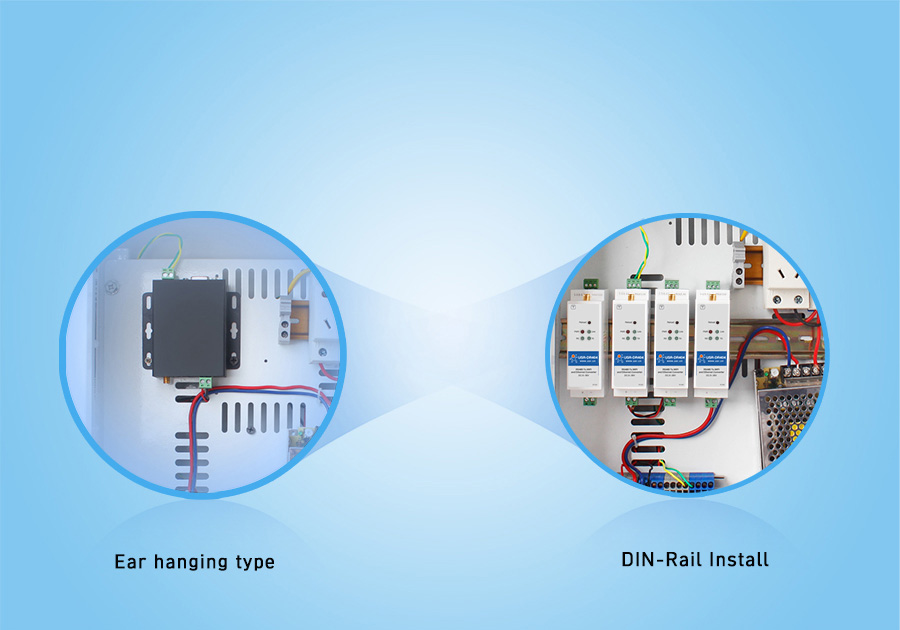 Din-rail Installation
Compact size, less space, wide application, Guide buckle, flexible and easy to install,
less management and maintenance, high cost performance.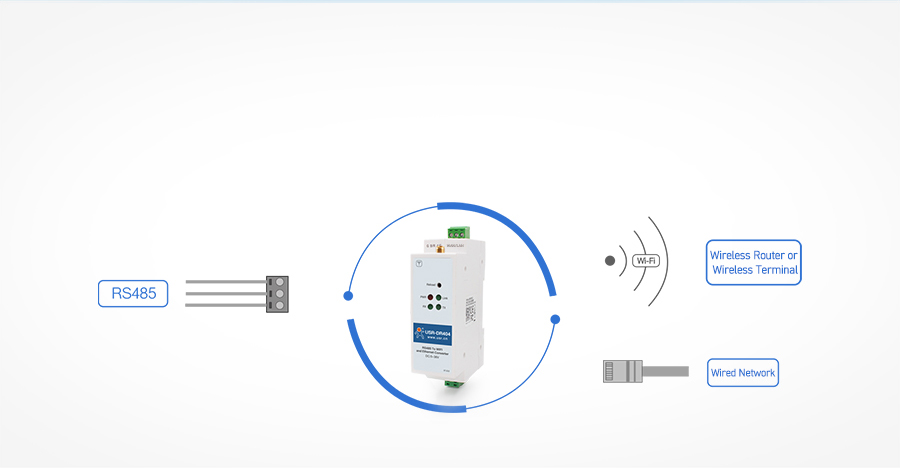 Fundamental Function
Bidirectional Transparent transmission
between RS485 and Wi-Fi / Ethernet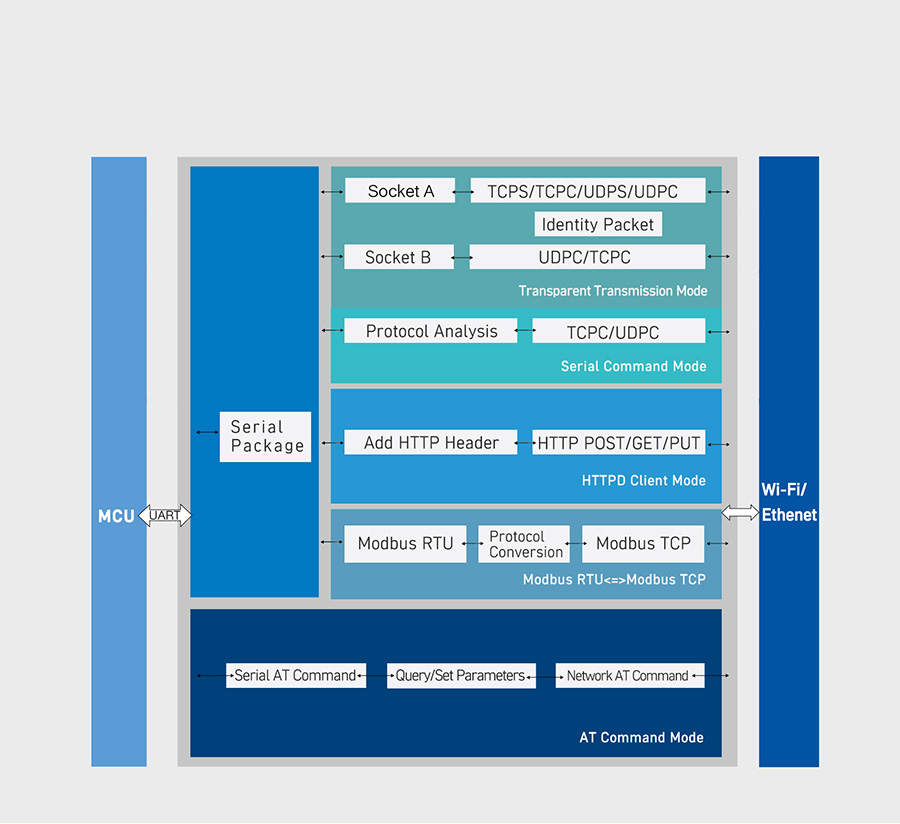 Function Structure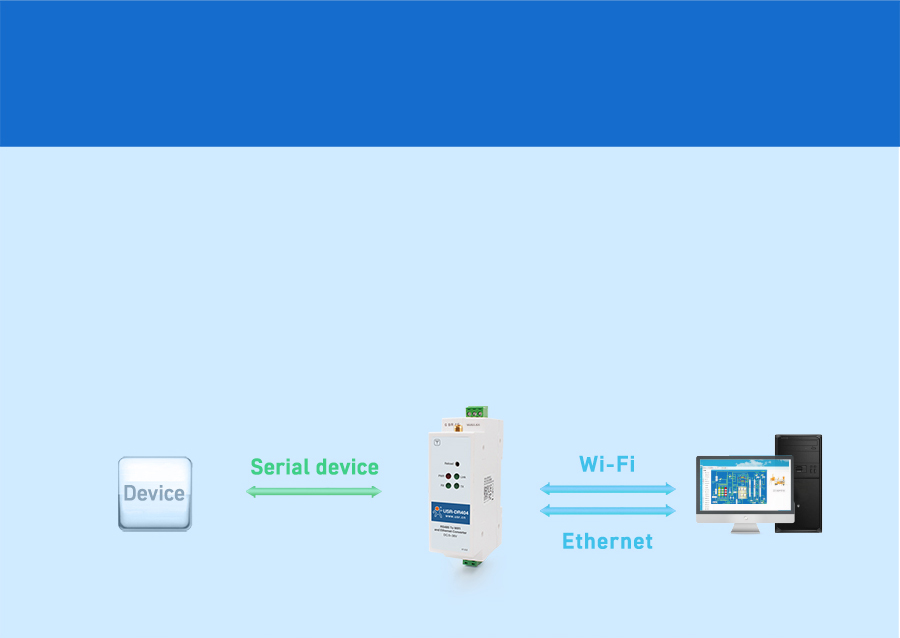 Work Mode
Transparent Transmission Mode
Data is transmitted transparently between serial port and
Wi-Fi / Ethernet via DR404, enabling data transfer
between serial port device and network device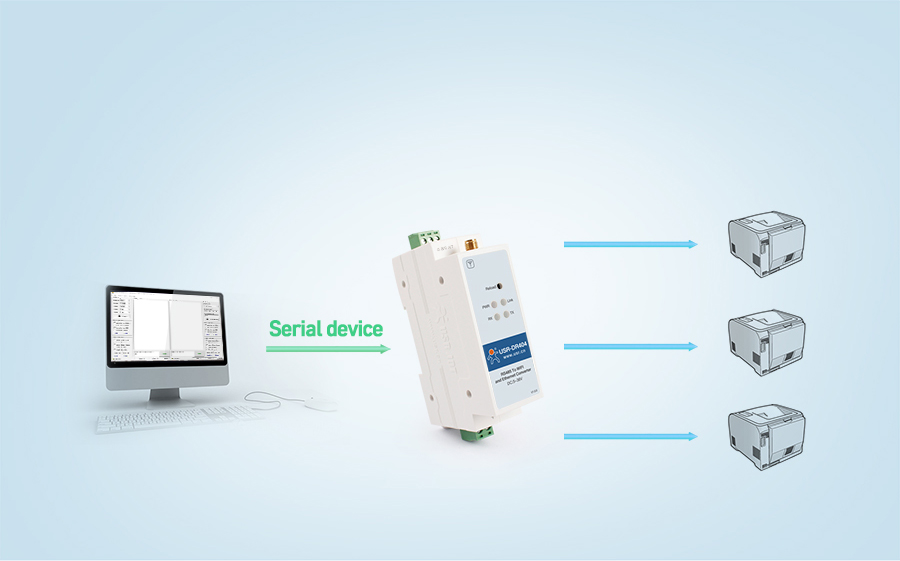 Serial Command Mode
The user sends data to the server according to the protocol
and can send data to different servers without restarting.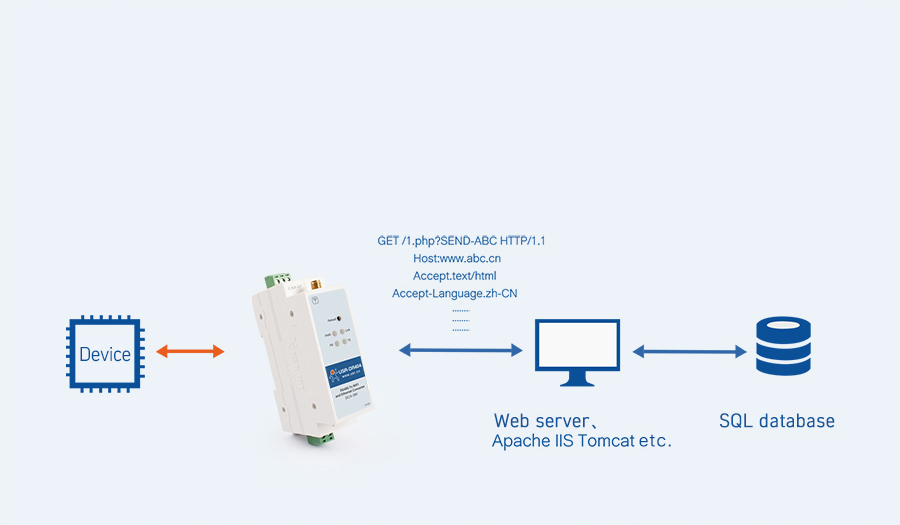 httpsD Client Mode
After the user completes the https header with an AT instruction or
web page setup, DR404 can pass data to or from the https server.
AT Command Mode
Users can query the current status of DR404
or set relevant parameters by sending AT instructions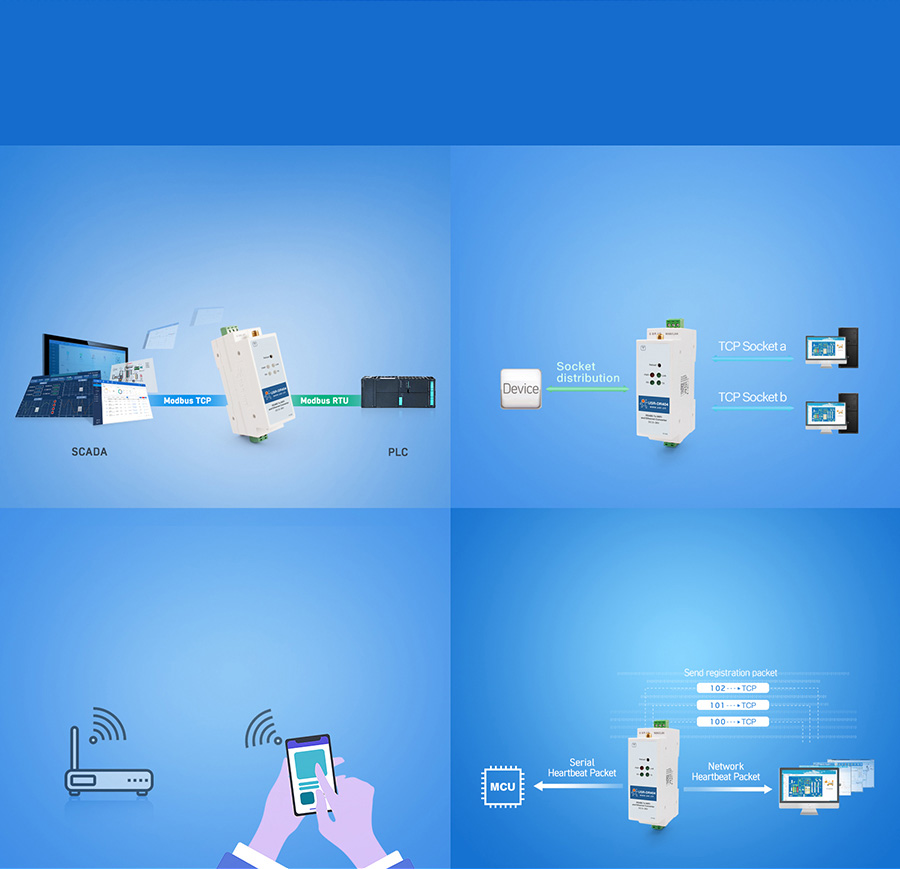 Features
Modbus Gateways
Mode of transferring data
between Modbus TCP and Modbus RTU.
Socket Distribution
In transparent transmission mode, the serial device
can send data to the specified Socket connection.
Network data for each Socket are sent to
the serial device via the serial port.
Quick Networking Protocol
USR-LINK
Mobile phone connect to the AP of DR404, you can directly
set the specified AP to which DR404 connects by querying
surrounding AP's SSID list through USR-LINK, which is
convenient and fast. You can quickly connect to the Internet
without operating DR404.
Custom Registration Package,
Heartbeat Package
The registry package is used for easy device
identification from the server.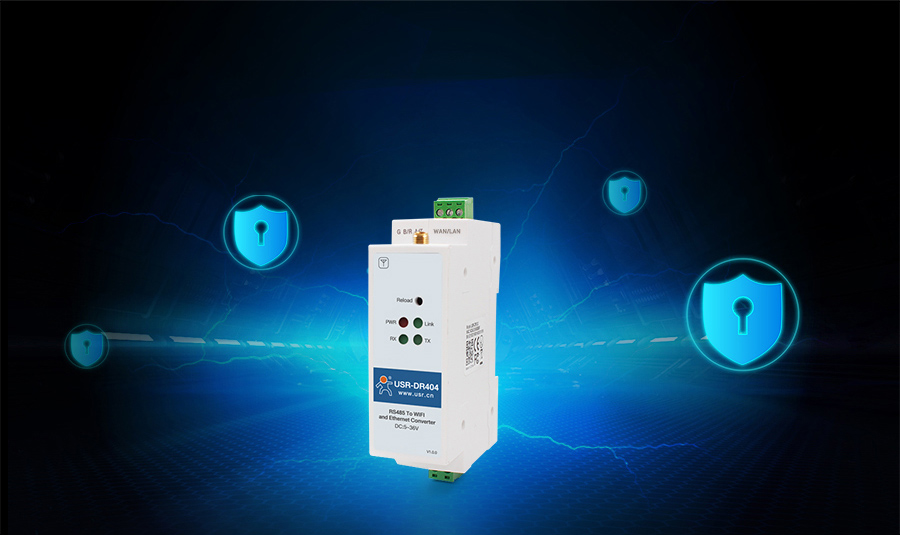 Hardware Protection
ESD 4 level Electrostatic Discharge Immunity, 3 level Surge Immunity,
EFT 3 level Electrical Fast Transient / Burst Immunity.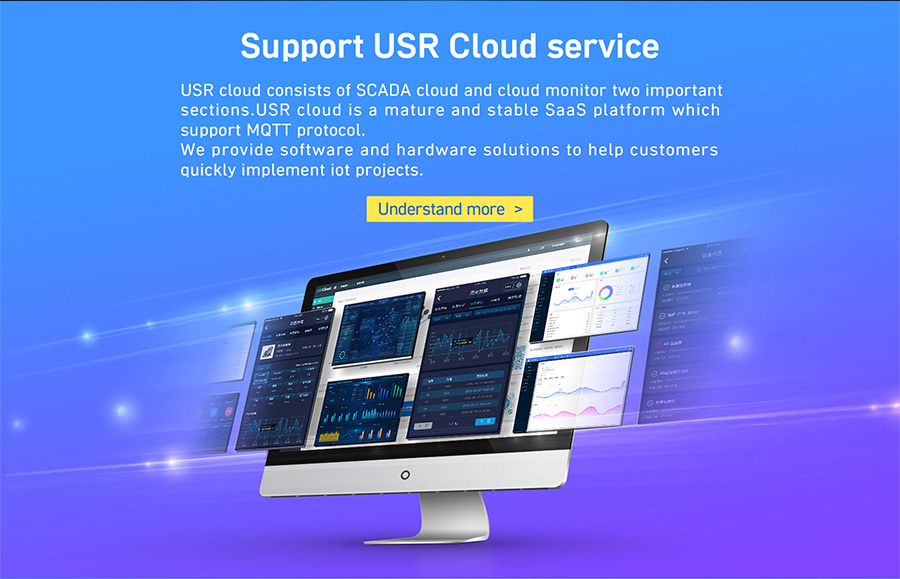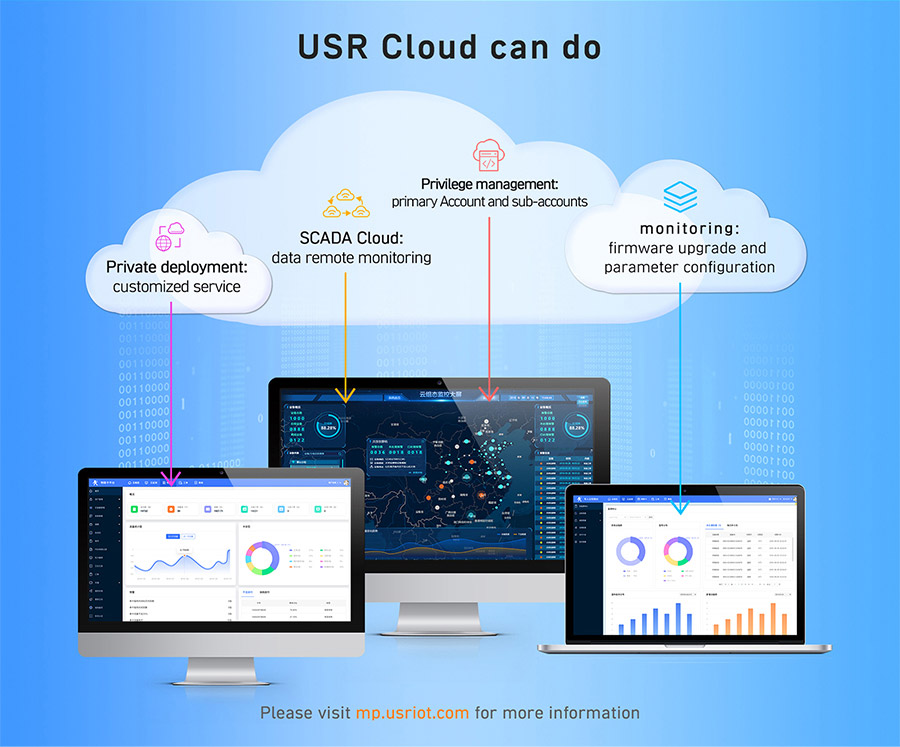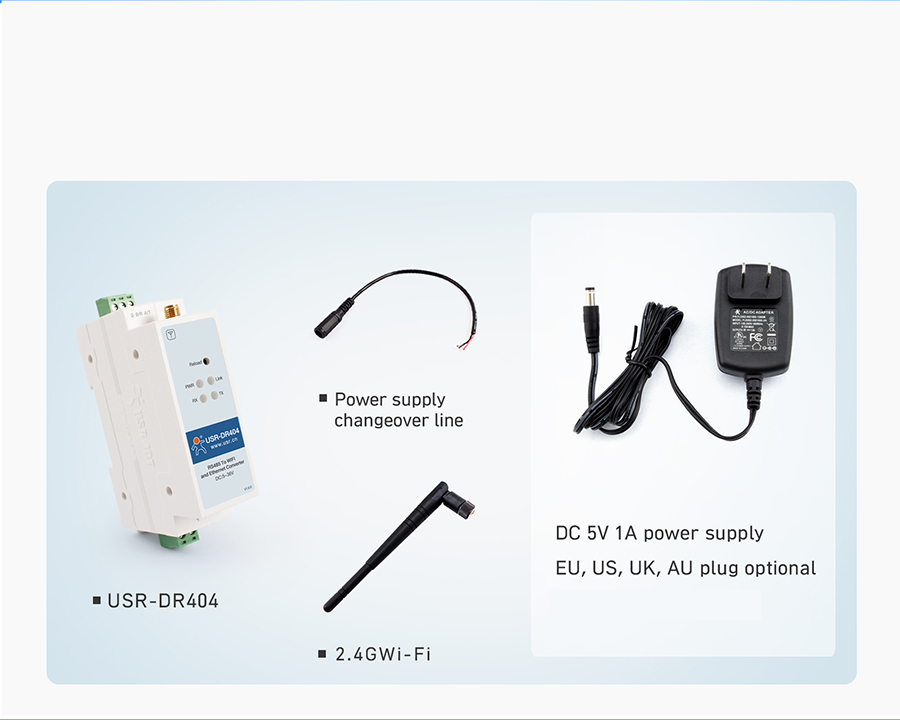 Packing list
Packing list one serial device server and Wi-Fi antenna, if you need power adapter,
contact our sales.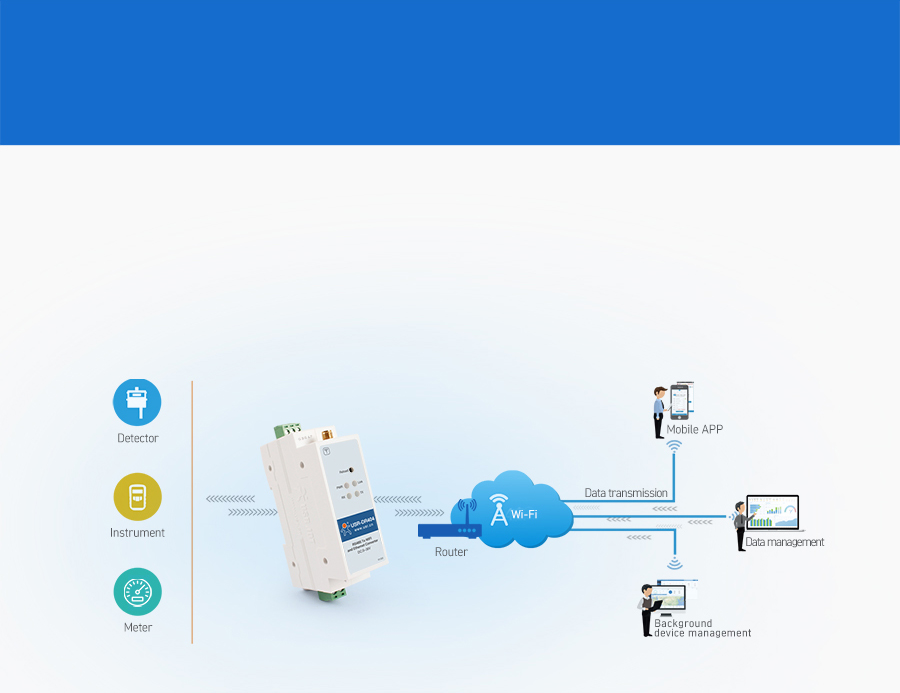 Application Case
Smart Factory Data Collection and Transmission
Compact wireless device server DR404 is connected to the serial port device in the factory, and the device
operation data is uploaded to the local monitoring platform or USR cloud
platform in real time. Through the monitoring platform, the staff can
dynamically understand the operation of the monitored equipment.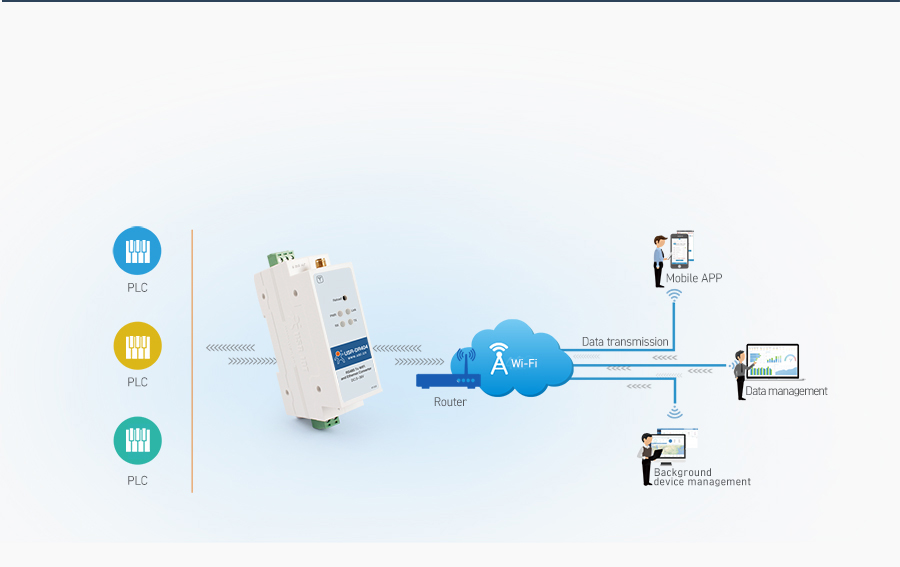 Textile Machinery Factory Data Acquisition and Transmission
Compact size, less space. Equipped with DIN- rail for easy mounted,
The terminal data of the PLC can be quickly uploaded to the monitoring platform,
so that the staff can understand the PLC work in real-time.
---
We Also Recommend